What is a Dental Assistant With Expanded Functions?
April 9, 2023
502 views
6 min read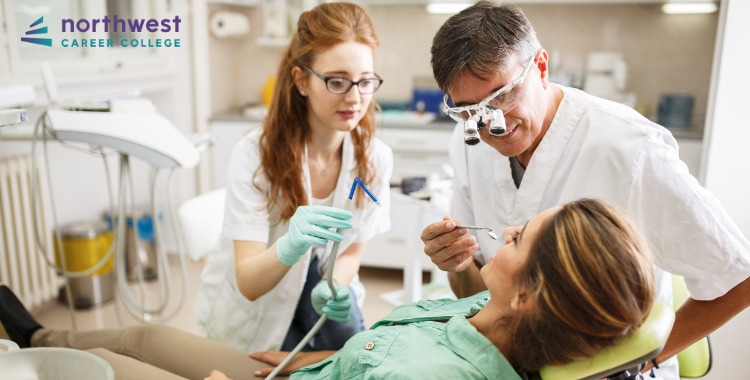 Are you considering a career as a dental assistant but want to take your responsibilities beyond just the basic requirements? If so, you may be interested in learning more about being a dental assistant with expanded functions.
Working as a dental assistant with expanded functions involves taking on an advanced level of responsibility and skill that requires specialized training and certification.
In this blog post, we will discuss what it takes to become certified as an EFDA (Expanded Functions Dental Assistant), the duties associated with such roles, and how expanding your skillset can open up new opportunities for professional development. Keep reading to find out more!
Read More: How Can I Succeed as a Dental Assistant?
An Introduction to DAEF And What They Do
Dental assistants play a crucial role in assisting dentists during dental procedures. However, some dental assistants undergo additional training to become Dental Assistants with Expanded Functions (DAEF).
These DAEF dental assistants have an expanded skill set. They are qualified to complete more advanced tasks such as placing and contouring dental fillings, adjusting dentures and crowns, and even taking impressions of teeth to fabricate new restorations.
DAEF dental assistants are a vital component of a dental practice, as they help ensure patients receive high-quality care efficiently and effectively.
By working closely with the dentist, DAEF dental assistants can make dental procedures run smoothly while providing comprehensive dental care to patients.

The Qualifications Needed to Become a DAEF
Becoming a Dental Assistant with Expanded Functions requires dedication and hard work, but the result is a rewarding and fulfilling career in the dental field.
To qualify for this position, a person must have completed an accredited dental assisting program covering dental anatomy, radiology, and infection control. Northwest Career College's Dental Assisting program gives you all the medical knowledge you need to become a successful DAEF and an important dental team member.
They must also have a CPR certification and pass a state-administered exam to obtain their Expanded Functions certificate. Additionally, skills such as attention to detail, effective communication, and teamwork are crucial.
With the right qualifications and a passion for helping others, anyone can thrive in this dynamic and vital role.

The Scope of Duties And Responsibilities of a DAEF
For those interested in pursuing a career as a dental assistant with expanded functions, it's essential to understand the range of duties and responsibilities that come with the position.
As a dental assistant with expanded functions, you will work alongside dentists to perform various complex procedures, such as restorations and crown preps.
You'll also be responsible for taking X-rays, mixing materials, and ensuring proper sterilization of instruments and equipment.
Additionally, you'll have the opportunity to interact with patients, educating them on dental hygiene and answering any questions they may have.
It's a challenging and rewarding career path that requires dedication and a willingness to learn and grow.

Advantages of Having a DAEF in a Dental Office
Having a dental assistant with expanded functions in your office can provide numerous advantages. They assist the dentist in routine procedures and are trained to perform advanced clinical duties such as placing fillings or temporary crowns.
This can save the dentist and patient time, allowing for more efficient and effective appointments. Additionally, with an expanded function of dental assistants, the workload of the dentist can be reduced, allowing them to focus on more complex procedures.
Having an assistant with these skills can also increase patient satisfaction, as they can receive all necessary treatments in one visit. Ultimately, investing in an expanded functions dental assistant can significantly benefit your dental practice and provide a higher level of care for your patients.

How a DAEF Can Benefit Patient Care
Dental assistants play a critical role in promoting oral health care. However, dental assistants with expanded functions can take patient care to the next level.
These professionals are equipped with additional skills, such as placing fillings, sealing cavities, and administering local anesthesia. With these capabilities, dental assistants can provide a broader range of services to patients, allowing them to receive treatment quickly and efficiently.
Additionally, dental assistants with expanded functions can help alleviate the workload and reduce the cost of dental procedures. By working in partnership with dentists and other members of the dental team, dental assistants with expanded functions can help improve the quality of patient care and promote oral health for all.

How to Build a Career as a DAEF
Mastering expanded functions as a dental assistant can significantly enhance your career prospects in the dental industry. Becoming proficient in expanded roles requires dedication, hard work, and passion.
As an aspiring dental assistant, you should start by enrolling in a program offering hands-on training and expanded functions certifications. Once you complete your training, it's time to network with local dentists, clinics, and dental offices to gain practical work experience.
You also need to stay updated with the latest advancements in the dental industry by attending seminars and workshops. Building a career as a dental assistant with expanded functions takes time and effort, but it can be a rewarding and fulfilling journey.
If you are considering a new career path, why not consider Northwest Career College's Dental Assisting Program? Contact one of our admission experts to learn more about our program today.
We offer comprehensive training, certifications, and the support you need to pursue a fulfilling career as a dental assistant with expanded functions. Our experienced instructors will guide you every step of the way as you embark on your journey to success.



Join one of the best Dental Assistant training schools in Vegas
Here at our Las Vegas dental assistant school, we firmly believe that learning is a process that continues on the job. 
Our Dental Assistant Training Course gives you all the critical skills and experience you'll need to find the best dental assisting employment opportunity in Las Vegas.
Our Dental Assistant School offers morning, afternoon, and night classes to accommodate your busy work and family schedule.
Our established, seasoned instructors have helped our students achieve a 91% national exam pass rate. Call us at (702) 403-1592 to speak to one of our admissions assistants about your new dental assisting career.