What is Paralegal Studies?
September 15, 2021
614 views
4 min read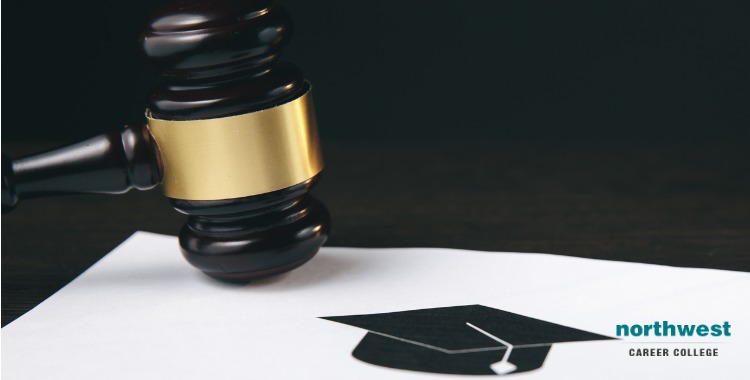 Paralegal studies is a great way to get qualifications in law without going to university.
It provides the knowledge and skills for people who want to work in legal settings, but don't have degrees or other qualifications.
This article will explore what paralegal studies are all about, how long they take, and what benefits there are of studying for a qualification in paralegal studies.
What Is a Paralegal?
Paralegals are an important part of any legal firm.
They work closely with lawyers, doing research for cases and providing important services that help the firm run smoothly.
Even though they are not part of legal teams themselves, paralegals can make a huge difference in how quickly cases move along.
What Are the Responsibilities of a Paralegal?
Paralegals have a lot of responsibilities.
They must be able to work as part of a team, and they need to be great at communication skills too.
In addition, paralegals are responsible for doing research on cases before the trial starts, organizing documents that lawyers will use during case proceedings, and being an important source of information for clients who may not know how legal systems work in their country or state.
Some of the more common duties of a paralegal include:
Researching laws and court procedures

Preparing legal documents, such as summonses or subpoenas

Keeping track of all the evidence in a case

Interviewing clients about their cases to collect facts that will be used in trials.
Paralegals also need to keep detailed records of every step they take when working with lawyers.
They must make notes for each stage of developing an argument or strategy so that important points can easily be recalled during trial proceedings.
This is called "legal transcription" and it requires excellent writing skills along with attention to detail.
All information gathered by paralegals should be organized carefully too since any given piece of data could become crucial later if new details emerge regarding the case at hand.
What Does the Average Paralegal Earn?
In Nevada, the average paralegal earns an average of $41,450 per year.
In California, the average salary is around $55K and in New York, it's even higher at an annual rate of over $65K.
Other states where paralegal jobs are growing include Washington DC, Florida, Pennsylvania, and Texas.
The top-paying cities for paralegals currently include San Francisco, New York City, Boston, and Los Angeles.
How Do I Become a Paralegal?
The first thing you need to do is make sure that this career path suits your personality type.
If you're organized and detail-oriented, a good fit for this job would be if you love the law and plan to work in it after graduation!
As mentioned above, paralegals often assist attorneys with research, organize evidence and data gathered during investigations, draft legal documents such as contracts or affidavits among many other tasks.
When it comes to qualifying as a paralegal , you will need to complete a paralegal certificate, diploma or degree program from an excellent vocational school such as Northwest Career College.
What Are Some Skills Needed?
There are several essential skills necessary for someone interested in pursuing a career as a paralegal, including strong communication skills (both speaking and writing), critical thinking abilities along with outstanding computer literacy including experience working with databases.
What Are the Job Prospects?
Although there is no official data on how many people hold this profession in the United States, it's estimated that nearly 400,000 work as paralegals and legal assistants according to Career One Stop which indicates demand for new professionals entering the workforce.
Furthermore, employment opportunities should grow faster than average through 2022 (U.S. Bureau of Labor Statistics).
Becoming a paralegal can be an excellent career choice when looking at current market trends such as growing demand with anticipated growth rates outpacing most other professions based on U.S labor statistics forecasts report from 2016-2026 by occupational outlook.
Join One Of The Best Paralegal Schools In Las Vegas Today!
Here at Northwest Career College, we run the top paralegal program in Nevada, offering our students the skills and experience they need to successfully enter the field of paralegal work and position themselves to maximize their earnings.
Our Paralegal instructors are seasoned attorneys and highly trained professionals who are able not only to teach you the law but also to guide you through the many ways a paralegal integrates into a Las Vegas law practice.
We offer on-campus and online paralegal classes to accommodate your work and family schedule. Our Career Services team will work with you to help you find the best paralegal employment opportunity in Las Vegas.
Call us today at (702) 403-1592 to find out what our paralegal program can offer you.