What Is A Medical Administrative Assistant?
Medical Administrative Assistant
September 12, 2021
611 views
5 min read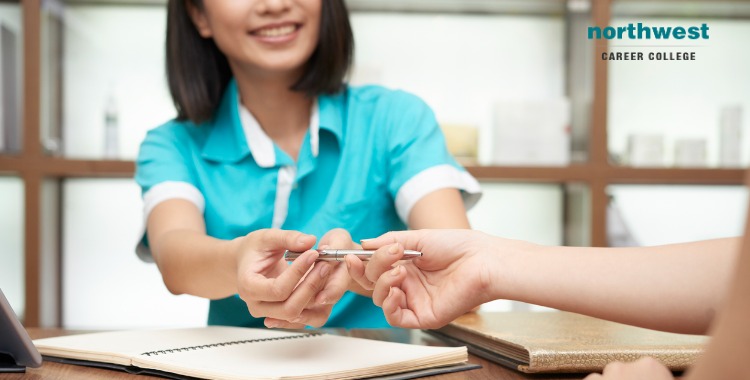 Are you interested in a career with a great salary, job security, and plenty of opportunities for progression?
If so, then becoming a medical administrative assistant is a perfect choice. In this article, we will look at what it means to be a medical administrative assistant and some of the benefits of qualifying as one.
What Is a Medical Administrative Assistant?
A medical administrative assistant is responsible for the day-to-day running of a medical office or other health care environment. They are often expected to prioritize multiple tasks, multitask in busy environments, and work well under pressure.
Unlike a medical assistant, a medical administrative assistant does not assist with medical procedures but is a clerical role that ensures front-line medical professionals can do their jobs.
What Does a Medical Administrative Assistant Do?
A medical administrative assistant is responsible for providing clerical support to doctors, nurses, and other health professionals by performing various tasks such as scheduling appointments, filing documents, preparing reports, taking care of billing, and answering phones.
Some of the more common duties of a medical administrative assistant include: 
taking notes during patient examinations 

updating medical records accordingly

sending out invoices to patients and insurance companies once treatment has been provided

filing health care documents appropriately in the patient's file (i.e., immunizations)

arranging for hospital admissions or laboratory services as needed by physicians' referrals  

managing inventory of supplies used on a regular basis at the healthcare facility 

handling correspondence with other doctors/medical facilities if there are questions about tests or procedures performed or results received etc 
A medical administrative assistant also needs to be aware of any changes required due to new laws that affect billing procedures.
Medical Administrative Assistants work closely with both nurses and other clinical professionals; however, they do not generally provide direct hands-on care themselves. They can train to become proficient in these procedures but are expected to rely on the expertise of other healthcare professionals for patient treatment.
These are just some examples showing how Medical Administrative Assistants help make things easier for medical staff by handling some aspects of their everyday duties so they can focus on treating patients instead.
As well as this hands-on approach working within an office environment, another important aspect of being a successful assistant is having excellent communication skills – both written and verbal – which will allow them to liaise effectively.
How Much Does a Medical Administrative Assistant Make?
The average salary for a medical administrative assistant is $30,000 per year. The average salary for a medical administrative assistant in Nevada is $49,000 per year.
The amount a medical assistant can earn depends on what type of facility they are employed with and the amount of time they have spent in the industry.
The U.S Bureau Of Labor Statistics (BLS) also found that employment opportunities are expected to increase by 20 percent through to 2025. This growth comes primarily from more people having health coverage due to new laws and aging baby boomers requiring increased care. 
What Is the Difference Between a Medical Assistant and an Administrative Assistant?
Medical assistants work within the healthcare industry under direct supervision while administrative assistants do not need to be supervised closely, but may require more experience in order for them to understand how their job relates to other aspects of the organization.

Medical assistants are trained to focus on clinical duties while administrative assistants are trained in office management.
Both can have similar skills, but they will be used differently depending on the industry where they work.
A medical assistant may need accounting knowledge for billing purposes or an interest in insurance policies if their job requires them to deal with these aspects of healthcare.
Administrative assistants usually don't participate in medical procedures but they may need to know about them in order to answer questions from patients.
How Do I Become a Medical Administrative Assistant?
The first step in becoming a medical administrative assistant is to earn a certificate or degree from an accredited school like Northwest Career College. 
This education will give you the knowledge and skills needed to excel as a medical administrative assistant.
Training can include coursework in subjects such as office management, typing, transcription, filing systems, accounting, health information administration and computer applications including word processing and data entry programs.
You should also expect hands-on training that prepares you for work in a healthcare setting by teaching you how to take medical histories, collect lab specimens, manage records and patient registration, provide emergency first aid, prepare charts/graphs/reports, maintain inventory, control supplies, and other administrative tasks.
How Long Does it Take to Train as a Medical Administrative Assistant?
most medical administrative assistant training programs can be completed in about nine months.
The course content is designed to meet the needs of today's healthcare industry, which includes providing computer literacy skills and an understanding of insurance billing procedures.
Start Your Career As A Medical Administrative Assistant With Us
Here at Northwest Career College, our student-centered philosophy means that you come first. We offer a flexible schedule so you can care for your family and have a balanced life in Las Vegas while advancing towards your new career. 
We pride ourselves on being the premier Medical Administrative Assistant Schools in Las Vegas and our established, seasoned instructors offer online and on-campus night classes to accommodate your busy work and family schedule. Call us at (702) 403-1592 to speak to one of our admissions assistants about your new medical administrative assisting career.