What is Massage Therapy?
September 9, 2021
144 views
4 min read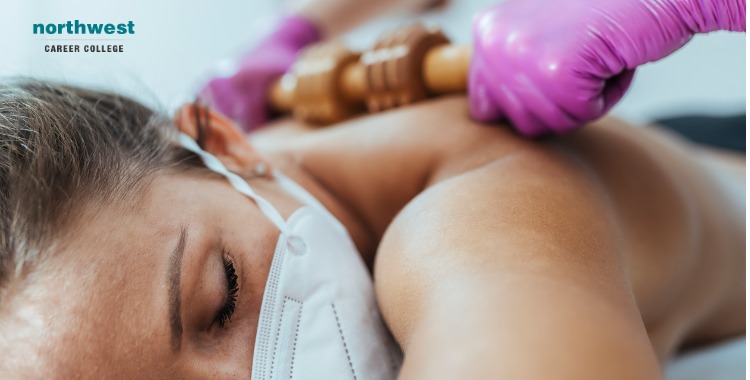 Massage therapy is what you might call a "relaxation profession." It's an industry that can provide many benefits to people who need them. 
This blog post will discuss what massage therapy is, what it does for the body, and how you can go about getting qualified in this field.
What Exactly Is Massage Therapy?
The first thing to mention regarding massage therapy is what exactly it entails. Massage therapists are trained professionals who have been taught how to work with the soft tissue of their clients by using different techniques such as compression, shear, tension, or vibration.
These types of techniques help decrease stress within muscles and other tissues while improving circulation throughout the entire body which results in increased energy levels among individuals receiving massages regularly from a therapist at school.
Essentially what they provide is a level of relaxation and comfort.
What Makes Massage Therapy Such an Effective Treatment?
Well, there are many ways this profession is beneficial to both mind and body.
First off it has been scientifically proven that people who get their blood flowing through deep tissue pressure release endorphins into the brain which helps with pain management while also promoting feelings of well-being.
This alone should show anyone why getting more individualized training at school would be so advantageous since you would essentially learn how to do what your clients need most when they come in for relief from sore muscles or stress levels.
Finally what may be one of the biggest benefits is how relaxing and calming massage therapy can truly be, some studies have even gone on to show what a huge psychological benefit this would be for anyone looking to improve their overall mental health while also working hard in school or at work.
Is Massage Therapy a Good Career?
Yes, massage therapy is a good career choice. There are a range of benefits to choosing massage therapy as your career.
As far as job satisfaction goes, there are plenty of opportunities out there. Especially since it's an occupation where you get paid by simply giving good service and making sure that your client walks out more relaxed than they came in.
Massage therapists can also work in a variety of places, including hospitals, clinics, spas, and professional sports teams.
Some people choose what they do based on what kind of salary they can make by doing it.
The average salary for a massage therapist is around $31,000 per year.
This is what you should expect to make as a massage therapist:
Entry Level: $20-$25k annually
Mid-Career: $30-$35K annually
Experienced: $40+K annually
How Do I Train as a Massage Therapist?
Some of the best places to start include colleges that offer massage therapy programs, what is referred to as vocational college degrees in the US.
These generally take around two years, although with NCC you can graduate in as little as 10 months, and you can learn what it takes to become a great therapist while also getting all of your classes paid for (in most cases) through student finance.
Is It Really That Expensive To Attend Massage Therapy Schools?
As far as what is required at these schools goes, they're usually very affordable!
And what you end up with when graduating will be worth more than what you put into it since there are plenty of jobs out there that would love hiring people who have gone through this process before. 
Join One Of The Best Massage Therapy Schools In Las Vegas Today!
At Northwest Career College, we operate one of the best Massage Therapy Schools in Las Vegas, and our Massage Therapy Course will teach you the skills you'll need to apply the benefits of sports massage. 
The benefits of massage therapy are widely recognized, with employment for massage therapists expected to increase by 22% between 2014-2024, with an average massage therapist earning $39,360 a year. Additionally, many massage therapists maintain active, private practices, increasing both their flexibility and earnings. 
Our massage student clinic is open seven days a week, for both your and your client's convenience, and we offer day and night classes to accommodate your work and family schedules. 
Our instructors are experienced professionals who will prepare you to sit for either the NCBTMB (National Certification Board of Therapeutic Massage) or the MBLEX (Federation of State Massage Therapy Boards) exams, and we are proud of our 100% board pass rate. Call us at (702) 403-1592 to speak to one of our enrollment specialists today!