What Is It Like To Work As A Medical Assistant?
April 6, 2021
183 views
4 min read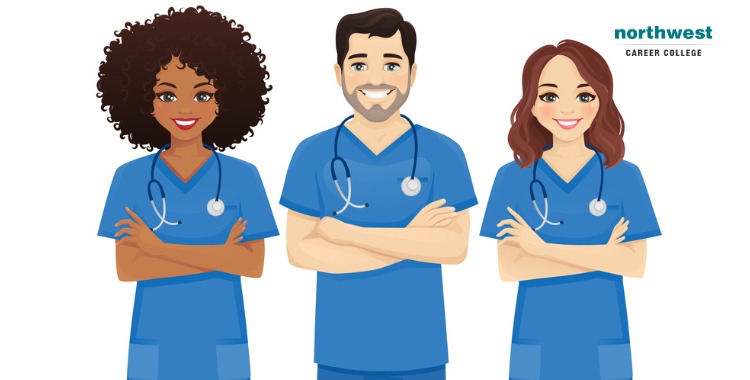 Working in the healthcare sector doesn't have to mean spending huge amounts of money and time getting a fully-fledged medical degree. 
Becoming a doctor is just one of the routes into a job in the medical sector and there are a huge number of important careers in healthcare that don't require spending four years at university. 
Becoming a medical assistant means becoming a critical part of the rapidly growing U.S healthcare system. Medical assistants provide vital frontline support to doctors and nurses and are often the first point of contact for many patients. 
Becoming a medical assistant only requires you to have an associate's degree, which, through our Medical Assistant Program, you can achieve in as little as nine months! 
So, if you're considering a career in healthcare and would like to know more about what it's like to work as a medical assistant, we've prepared a snapshot of this vital role.
What Does a Medical Assistant Do?
The role of the medical assistant has a diverse range of responsibilities including performing both patient care duties and both front and back-office tasks. 
This makes the medical assistant a fairly unique career in healthcare as most positions are focused on either the patient care side or the administration side. Medical assistants are a critical bridge between the medical and clerical sides of the healthcare system.
On the patient care side, medical assistants are broadly responsible for: 
Recording patient's vital signs

Updating patients' medical charts

Administering medications while under the supervision of a physician

Assisting doctors and nurses in their patient care duties
On the administrative side, medical assistants are often responsible for: 
Scheduling appointments

Assisting with billing

Helping patients fill out insurance forms

Compiling patients' medical histories
What Are Their Common Duties?
The general duties of medical assistants depend on their place of work. The most common job settings for medical assistants are in doctor's offices or clinics and in hospitals.
What Does a Medical Assistant Do in a Clinic?
Medical assistants working in doctor's offices and clinics tend to take on a more generalist role, assisting in the day-to-day activities of the clinic by doing everything from greeting patients and answering telephones to minor medical procedures like changing wound dressings and removing sutures.
What Does a Medical Assistant Do in a Hospital?
Medical assistants working in a hospital can perform many of the same minor medical and clerical functions as those working in clinics. The main difference being that medical assistants in hospitals are often part of a specialized unit, such as phlebotomy, OBGYN, EKG technicians, or medical administration.

The role of a medical assistant in a hospital is more varied than in a clinic because of the wider range of facilities that need staffing. Their day-to-day duties might include working in a medical lab, scheduling procedures, administering immunizations, and coordinating billing and coding.
Are Medical Assistant Roles in Demand?
Absolutely they are. The growing and aging population in the U.S has resulted in a massive surge in the need for qualified medical assistants. 
According to the U.S Bureau of Labor Statistics, job growth for medical assistants is currently at19%, which is much higher than nearly all other sectors. Between now and 2029, a predicted 139,200 will open up for medical assistants across the U.S healthcare system.
Start Your Career In Medical Assisting Today!
Here at Northwest Career College, we have a student-focused attitude that prioritizes giving our graduates the training and skillset they'll need to excel as medical assistants. 
Our established and seasoned instructors work with you, teaching you every aspect of Medical Assisting. We help you build your skills, abilities, and confidence, and we are proud of our 88% national exam pass rate.
If you'd like to learn more about what our medical assistant course can offer you, call one of our enrollment specialists at (702) 403-1592 today. We provide flexible learning, with online and on-campus morning, afternoon, and night classes to accommodate your Las Vegas work and family schedule. 
Once you've graduated, our dedicated and experienced Career Services team will work with you to help you find the best employment opportunities in Las Vegas. Call us now at (702) 403-1592 to start your journey!