What Is An Infection Control/Prevention Coordinator And How Can I Qualify As One?
April 12, 2021
519 views
3 min read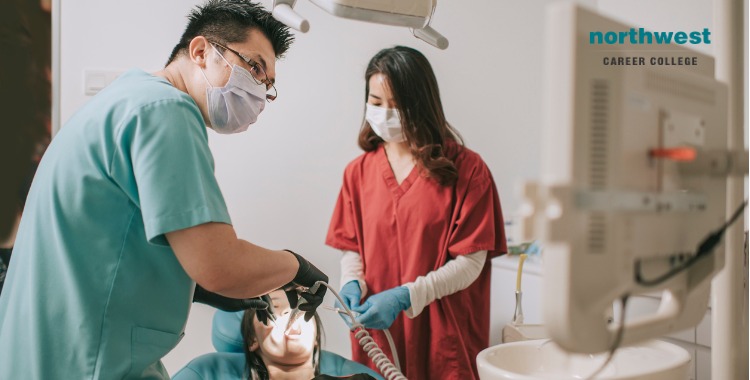 Dental assistant is just one of the career paths you can access with an associate's degree from our Dental Assisting Program.
Infection control/prevention coordinator is another path and one that is vital to the effective running of a dental office. It is an ideal role for a dental assistant looking to take on more responsibility and a greater challenge.
In this article, we'll be looking at what the role of an infection control/prevention coordinator entails, what their primary duties are, and how you can become one.
What Does an Infection Control/prevention Coordinator Do?
Regulations in the area of infection control are constantly being updated to react to new risks and advances in technology. In order to stay on top of these regulations, every office needs an infection control and prevention program.
An infection control and prevention program is a dental-office-specific system of policies, procedures, and practices that minimizes the risk of transmission of microorganisms and disease.
When properly implemented, these programs protect both patients and team members. It also allows dental practices to ensure compliance with local, state, and federal guidelines, standards, and regulations. It also takes into account professional standards and best practices, ethics, and standard operating procedures specific to the dental practice.
The role of the infection control/prevention coordinator is to oversee and implement the infection control and prevention program.
What Are the Responsibilities of an Infection Control/prevention Coordinator?
The infection control/prevention coordinator is responsible for maintaining relevant regulatory and guidance documents and make sure these are available to all personnel.
They are also responsible for generating, updating, and maintaining logs of other safety-related records in compliance with federal, state, and local regulations, including:
Training

Sterilization records

Biological monitoring

Medical records of employees

Equipment maintenance logs

Hazardous waste compliance records

Fire extinguisher certificates

Manifests from medical waste haulers

Radiographic equipment certifications

Hazardous waste manifests
What Qualifications Do I Need to Become an Infection Control/Prevention Coordinator?
Other than an associate's degree in Dental Assisting, a nationally accepted and standardized core curriculum elements for dental infection prevention education did not exist.

However, the Organization for Safety and Asepsis Procedures, the Dental Assisting National Board (DANB), and the Dental Auxiliary Learning and Education Foundation (DALE Foundation) collaborated to develop a multiyear infection prevention education and certification initiative to support the education of the infection prevention coordinator.
Currently, there are two qualifications that will be launched in late 2010. The OSAP-DANB Certified in Dental Infection Prevention and Control and the OSAP-DANB Dental Industry Specialist in Infection Prevention and Control certification.
While these certifications aren't required for the role of infection control/prevention coordinator, having them does set you apart and demonstrates your commitment to ensuring patient and provider safety.
Join One Of The Best Dental Assistant Training Schools In Vegas
Here at Northwest Career College, we firmly believe that learning is a process that continues on the job. Our Dental Assistant Training Course gives you all the critical skills and experience you'll need to find the best dental assisting employment opportunity in Las Vegas.
Our Dental Assistant School offers morning, afternoon, and night classes to accommodate your busy work and family schedule. Our established seasoned instructors have helped our students achieve a 91% national exam pass rate. Call us at (702) 403-1592 to speak to one of our admissions assistants about your new dental assisting career.