What Is An Administrative Assistant In Business?
Business Administrative Assistant
January 26, 2023
678 views
5 min read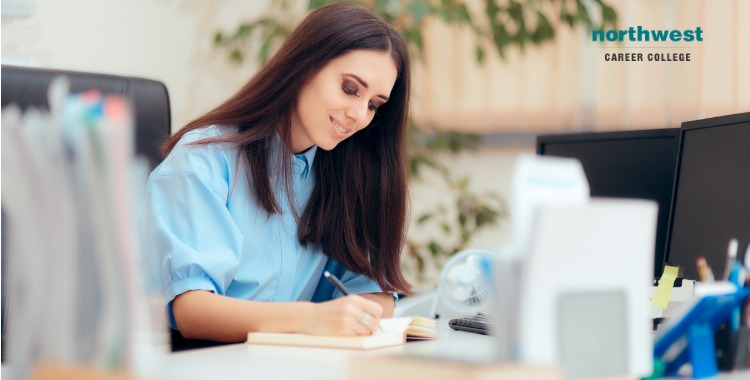 Do you want to work in business, but don't know what role would be a good fit for you? If you're interested in administrative work, then a career as an administrative assistant might be the perfect option for you!
Keep reading to learn more about what an administrative assistant in business does and what skills you need to succeed in this role.
The administrative assistant is responsible for providing support to the business owner or manager.
The administrative assistant plays an integral role in the success of any business by providing organizational and administrative support to a business owner or manager.
On a daily basis, they are involved in activities such as scheduling appointments, preparing agendas, taking minutes, and ensuring that all office systems are running as smoothly as possible.
Their experience and efficiency helps ensure that tasks are completed correctly and on time, allowing busy business owners or managers to stay focused on their core goals. In short, the administrative assistant is a vital contributor to the overall functioning of many businesses.
They handle a variety of tasks, including scheduling appointments, handling correspondence, and managing records.
Administrative professionals play a key role in the success of any business by providing support to colleagues, supervisors, and clients.
They are often the unsung heroes who are responsible for tackling a multitude of tasks each day, including scheduling appointments, handling correspondence, managing records, and facilitating other everyday operations.
What's more, administrative professionals have an eye for detail, meaning they're able to recognize and address even the smallest of issues. As such, they are an invaluable asset to any organization.
Administrative assistants must be able to multitask and have excellent organizational skills.
Administrative assistants have the ability to manage multiple tasks at once and a strong sense of organization. This is important for their success in a fast-paced work environment, as they are expected to juggle several tasks simultaneously.
Most administrative assistant roles require great attention to detail, the completion of complex assignments in a timely manner, and the ability to prioritize work depending on urgency. These capabilities allow them to remain professional and efficient when handling various tasks.
Organizations rely on administrative assistants for many duties, so having these skills make them an asset to any team or business.
They may also be responsible for training new employees or handling customer service inquiries.
Working with new employees and handling customer service inquiries can be among the most challenging tasks for department or team leaders.
Not only must a leader motivate and help bring out the best in each new employee, but they must also have the skill sets to successfully handle customers and their questions and/or comments.
A leader that is able to demonstrate good problem-solving skills, sensitivity towards customer issues, and an unfaltering determination to get things done is essential in any job of this nature. Having approaches to problem-solving which reduce stress levels and allow those involved to collaborate freely are key components that many businesses look for in their managers.
If you are interested in becoming an administrative assistant, you should have strong communication and computer skills.
If you are interested in becoming an administrative assistant, there are a few skills that you should possess. At the minimum, strong communication and computer skills are essential for this role.
Being able to communicate with colleagues and clients effectively is key to success in this job, as well as having a good understanding of different computer programs and tools. This will help you be able to perform tasks quickly and efficiently.
Good organization skills will also come in handy when dealing with administrative tasks. Knowing how to prioritize tasks is important; it will let you tackle those tasks that need immediate attention first and ensure nothing slips through the cracks.
By investing time in acquiring these skills and talents, an individual can become successful in their role as an administrative assistant.

Begin your new career in business administrative assisting
If you are looking for a career in which you can use your strong communication and organizational skills, then becoming an administrative assistant may be the right path for you. Administrative assistants play a vital role in businesses by handling many important tasks, such as scheduling appointments and managing correspondence.
If you are interested in pursuing a career as an administrative assistant, Northwest Career College offers a Business Administrative Assistant Program that can help you gain the skills and knowledge you need to succeed in this field.
Contact us today to learn more about our program and how we can help you start on the path to a successful career as an administrative assistant.

Become a vital part of a business today
Northwest's Business Administrative Assistant Program Las Vegas offers on-campus and online Business Administrative Assistant classes to accommodate your work and family schedule.
We value real, hands-on experience, which is why you'll be visiting businesses and organizations of different sizes, industries, and structures and why our instructors are all experienced business professionals with extensive backgrounds working in, starting up, and operating various businesses and organizations.
Featuring a host of business professionals and guest speakers, our classes will give you all the skills you need to play a vital part in any business, and still graduate in as little as 9 months.