How Can I Succeed as a Dental Assistant?
August 8, 2023
348 views
5 min read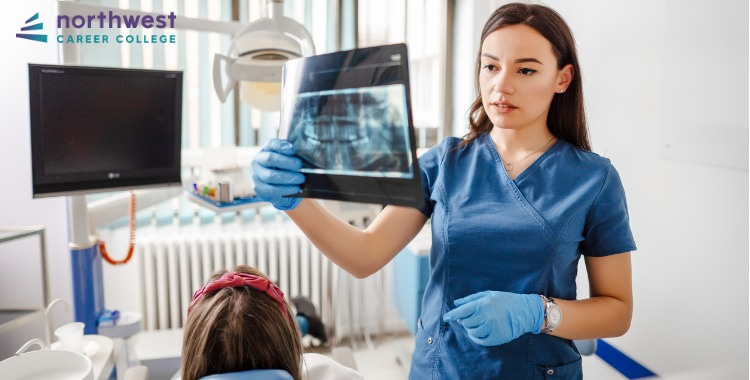 Are you considering a career as a dental assistant? If so, you're right to be excited! As both an in-demand and rewarding profession, becoming a dental assistant has the potential to help make your dreams of financial independence and job satisfaction come true.
But don't take our word for it. In this blog post, we'll examine why being a dental assistant is appealing. We'll also advise on how to achieve success should you decide to pursue this career path.
So continue reading if making excellent pay while helping patients safeguard their smiles sounds like something that would align with your goals!

Understand the Job and Its Responsibilities
Becoming a dental assistant is an exciting and rewarding career path requiring certain skills to succeed. Proper education and training will equip you with the knowledge and hands-on experience needed to excel in this profession.
As a dental assistant, you will perform a wide range of tasks, such as taking X-rays, preparing patients for procedures, or keeping dental records. You'll need to be able to multitask, effectively communicate with patients, and have strong attention to detail.
By getting the right education and training, you'll develop these important skills and gain the confidence to perform your job excellently. With dedication and hard work, you'll be on your way to a fulfilling career as a dental assistant.

Develop Your Communication Skills
As a dental assistant, it is important to have exceptional communication skills to provide your patients with the best care. Being able to communicate effectively with patients, colleagues, and supervisors is crucial for success in the field.
Patients want to be able to trust their dental assistant and feel comfortable discussing their concerns and treatment options. Colleagues and supervisors rely on strong communication skills to ensure that office processes run smoothly and efficiently.
Developing both verbal and written communication skills is essential for any dental assistant looking to excel in their career. By honing your communication skills, you'll be able to build better relationships with those around you and ultimately provide better care for your patients.
Stay Up-to-Date with Knowledge and Technology
As a dental assistant, staying up-to-date with your field's latest knowledge and technology is crucial. Whether it's new techniques for teeth cleaning or advancements in dental materials, keeping yourself informed means you can better serve your patients and improve their overall experience.
With the rapid pace of technological innovation, it can be tough to know where to start, but plenty of resources are available to help you stay on top of the latest developments.
Whether it's attending conferences, subscribing to industry publications, or simply reading up on the latest research, taking the time to build your knowledge and skills is an investment in yourself and your future as a dental assistant.

Seek Opportunities for Growth and Advancement
Working as a dental assistant can be an incredibly rewarding career path. As with any professional field, however, it's important to seek out organizations that offer opportunities for growth and advancement.
Whether you're just starting out as a dental assistant or looking to take the next step in your career, plenty of organizations can help you achieve your goals. By researching these organizations and exploring the opportunities they offer, you can position yourself for a successful and fulfilling career in dentistry.
So don't hesitate – take the time to research and find the organizations that can help you achieve your career ambitions as a dental assistant.

Network with Other Professionals
Pursuing a career as a dental assistant can be exciting, but it can also be challenging. One of the best ways to make your journey a little easier is by networking with other professionals in your field.
Attending conferences, seminars, or workshops related to dentistry can offer the perfect opportunity to connect with colleagues, mentors, and potential employers. By building relationships with other dental assistants and dentists in your area, you can gain valuable insights, tips, and tricks to help you reach your professional goals.
Whether you're a new dental assistant just starting out or a seasoned pro seeking fresh perspectives, networking events can help you go further in your career.

Build a new career in dental assisting with Northwest Career College
In conclusion, becoming a successful dental assistant takes dedication and hard work. From understanding the basic responsibilities of the job to developing your communication skills and staying up-to-date with knowledge and technology, there are several important steps to build upon if you wish to succeed in this field.
Additionally, seeking out opportunities for growth and advancement, as well as building professional networks within the field of dentistry, can also prove to be beneficial.
If you're interested in becoming a certified dental assistant, Northwest Career College offers an excellent Dental Assisting Program that is both comprehensive and well-rounded—contact us today to learn more!



Join one of the best Dental Assistant training schools in Vegas
Here at Northwest Career College, we firmly believe that learning is a process that continues on the job.
Our Dental Assistant Training gives you all the critical skills and experience you'll need to find the best dental assisting employment opportunity in Las Vegas. 
Our Dental Assistant School offers morning, afternoon, and night classes to accommodate your busy work and family schedule.
Our established, seasoned instructors have helped our students achieve a 91% national exam pass rate. Call us at (702) 403-1592 to speak to one of our admissions assistants about your new dental assisting career.