What Exactly Is a Court Clerk?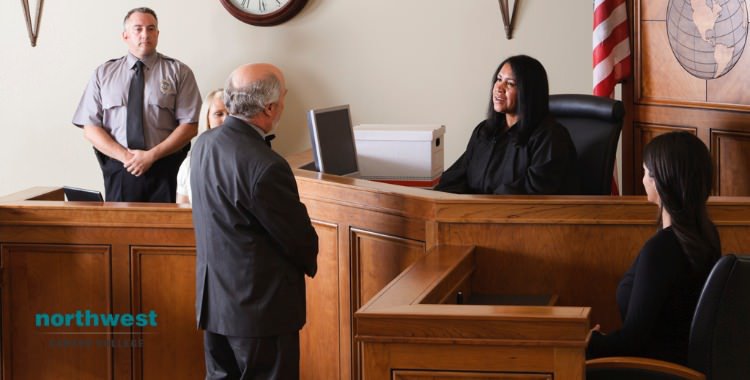 When you think of court proceedings, there is a good chance you are thinking of somber black-robed judges, bewigged lawyers, or defendants in orange jumpsuits. 
As with most proceedings that are commonly misunderstood, these images have more in common with TV shows than the actual courtroom and often miss out key members of the US judicial system, such as the Ballif, court stenographer, and the court clerk.
The court clerk is a vital, although less visible, a position that deals with the administrative side of the legal system. So, if you are considering a career in law, but want to bring your administrative abilities to bear, read on to learn more about what exactly a court clerk does.
What Does a Court Clerk Do?
According to the US Department of Labor, some of the most common duties of a court clerk are:
Preparing and issuing orders of the court, such as probation orders, release documentation, sentencing information, or summonses.
Preparing dockets or calendars of cases to be called, using typewriters or computers.
Recording case dispositions, court orders, or arrangements made for payment of court fees.
Preparing documents recording the outcomes of court proceedings.
Examining legal documents submitted to courts for adherence to laws or court procedures.
In essence, the clerk of the court is there to handle the many administrative tasks that crop up during the standard operation of the court and to keep the processes of the court running smoothly.
What Skills Does a Court Clerk Need?
According to the US Department of Labor, some of the most sought after skills in a court clerk are:
Active Listening- Giving full attention to what other people are saying, taking time to understand the points being made, asking questions as appropriate, and not interrupting at inappropriate times.
Speaking – Talking to others to convey information effectively.
Reading Comprehension – Understanding written sentences and paragraphs in work-related documents.
Writing – Communicating effectively in writing as appropriate for the needs of the audience.
Time Management – Managing one's own time and the time of others.
What Education Does a Court Clerk Need?
Nealy all court clerk positions require a minimum of a high school diploma or equivalent and many employers are now looking for applicants with an Associate's degree in a relevant subject, such as our Criminal Justice degree.  
What Does a Court Clerk Earn?
According to the Bureau of Labor Statistics, the average annual wage for court clerks is around $38,450. The average Court Clerk salary in Nevada is $41,099 as of November 25, 2019, but the range typically falls between $34,117 and $50,662.
Court clerk jobs are projected to grow 4 to 6 percent from 2018 to 2028, which is on a par with the average rate of employment growth for all occupations.
Qualifying For Your Future
Gaining a qualification from our Criminal Justice School puts you in an excellent position to access a variety of employment opportunities as you look for one that suits your skills and interests. At Northwest Career College, our Criminal Justice instructors include licensed, practicing attorneys and degree instructors able to teach, not only the law but also to guide our students in the many ways a criminal justice graduate integrates into a Las Vegas legal profession.
As part of our Criminal Justice Program, you'll visit courts, jails, meditation centers and more to experience first-hand the law in action which will make your criminal justice training applicable to the Las Vegas legal system. Northwest offers a flexible blended program with all criminal justice classes Las Vegas law classes taught on campus by an attorney and general education courses offered online. Our experienced instructors are on-campus to review and support your learning experience at all times. 
Call us at (702) 403-1592 to speak to one of our enrollment team about joining our Criminal Justice Program today!
Written by:
Lisa Myers, J.D., L.L.M.
Legal Studies Department Director
J.D. L.L.M. Campbell University
B.A. Corllins University