What Are The Responsibilities Of The Administrative Dental Assistant?
Dental Administrative Assistant
January 23, 2023
727 views
5 min read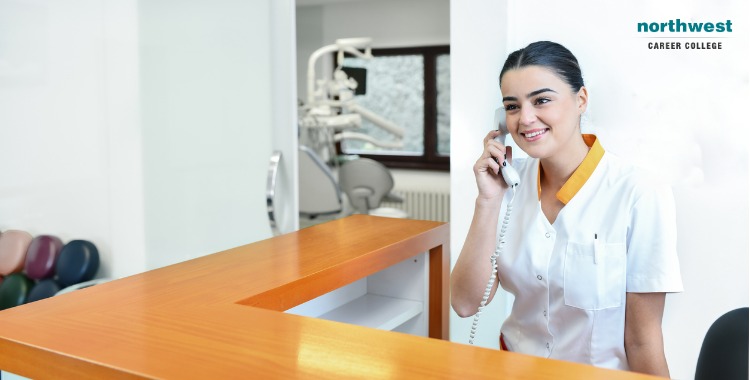 The administrative dental assistant is responsible for a variety of tasks, including greeting patients, scheduling appointments, and handling patient billing. In addition to these administrative duties, the dental assistant may also be responsible for providing patients with educational materials about their oral health.
The administrative dental assistant must be able to work well under pressure and juggle multiple tasks simultaneously. Excellent written and verbal communication skills are essential in this role.
In this article, we will discuss the general duties and responsibilities of an administrative dental assistant in more detail. By understanding what is expected from this role, you will be better prepared to pursue a career as an administrative dental assistant.
The administrative dental assistant is responsible for scheduling appointments, handling patient records, and billing
The administrative dental assistant has a very important role in the dental office. This profession requires impeccable organizational skills and attention to detail.
The primary responsibility of the administrative dental assistant is to handle patient records, including scheduling appointments, filing documents, and completing billing forms accurately. This position requires that assignments are completed and compliant with medical regulations, as well as state and federal mandates.
The duties of an administrative dental assistant often extend beyond just paperwork; they may be asked to greet patients on arrival and provide general customer service to ensure patients have a good experience.
They also answer phone calls, take messages, and greet patients
Medical receptionists are an important part of the medical field, providing a vital role in the smooth running of a practice. They act as a primary point of contact to provide information and assistance to patients, answering phone calls and taking messages on behalf of practitioners.
In addition, they greet patients when they arrive and ensure they have access to the right paperwork ready for their appointment. Through this, they help ensure that appointments start on time, with minimal disruption to existing schedules.
All-in-all, medical receptionists are key contributors to the efficient running of a practice, delivering friendly support with professionalism.
In some cases, they may also be responsible for ordering supplies and keeping the office clean
Administrative office workers play an important role in many offices and businesses. They typically answer phones, manage the flow of incoming and outgoing documents and packages, and help coordinate any events or meetings that might be taking place.
In some cases, they may also be responsible for ordering supplies needed to keep the office running smoothly, as well as keeping the office organized and clean. Without their contributions, companies wouldn't be able to operate as efficiently or effectively.
Because of this, it's important for administrative office workers to have good organizational skills and great attention to detail.
Their ultimate goal is to make sure the dental office runs smoothly and efficiently
The dental office must run like a well-oiled machine, and dedicated team members are the essential ingredient to making this happen. Its ultimate goal is not only to provide quality care but also to ensure the day-to-day operations of the practice go smoothly and without disruption.
To make sure this happens, tasks must be completed in an organized fashion; roles need to be established and respected; and a clean, efficient system needs to be maintained. Attentiveness, enthusiasm, and an unwavering commitment to providing great service are key traits that all dental office staff should strive for in order to reach their goal of efficient operations.

Administrative dental assistants must have excellent organizational skills and be able to multitask effectively
Administrative dental assistants are important members of a dental office team, as they play a crucial role in the smooth running of day-to-day operations.
Successful administrative dental assistants must possess excellent organizational skills in order to efficiently manage patient records, billing information, and other paperwork while paying attention to detail. They should also be able to multitask effectively and remain calm under stressful situations.
It is essential that administrative dental assistants have good communication skills to interact with patients, staff members, and other team members in order to maintain an efficient office environment.

Start your new career today
An administrative dental assistant is responsible for a variety of tasks, all of which contribute to the smooth and efficient running of a dental office.
If you are interested in becoming an administrative dental assistant, Northwest Career College offers a Dental Administrative Assisting Program that can help you develop the skills you need to be successful in this career.
Contact us today to learn more about the program and how we can help you achieve your goals.
Start your dental administrative assisting career with us!
Employment for entry-level employment in the dental field is expected to increase by 23% over the next 10 years, faster than average for all occupations, according to the Bureau of Labor Statistics.
With this growing demand for DAAs, it is essential that graduates cultivate the skills and traits that will help them stand out in the employment market.
Here at Northwest Career College, our Dental Administrative Assisting Program prepares students to work in any dental office. Our expansive, nine-operatory lab provides students with real-life dental office experience.
You will be trained to handle clerical duties such as scheduling appointments, handling insurance claims, and monitoring inventory. You will work with documents, forms, and computer systems. No other Dental Administrative Assistant Program in Las Vegas offers this type of advanced training.
Our student-focused approach will help you cultivate the skills you will need to stand out. Our experienced Career Services team will work with you to help you find the best dental administrative assistant employment opportunities in Las Vegas. Call one of our enrollment specialists at (702) 403-1592 to find out more.