What Are The Benefits of a Business Administration Associate Degree?
April 22, 2023
536 views
5 min read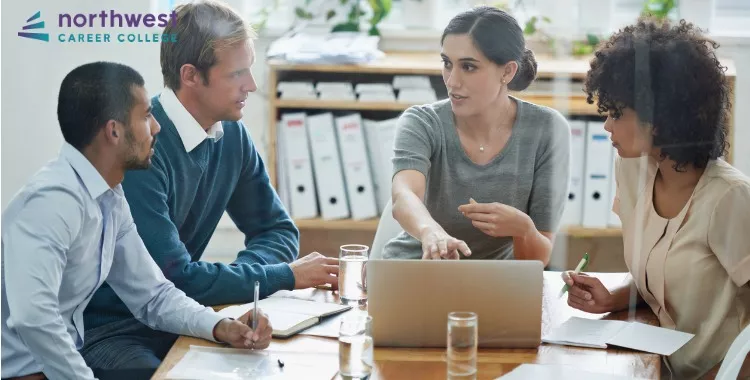 A business administration associate degree can be a great way to start launching your career in the business world. With various specializations from marketing to finance, you will have the skills to analyze data and create solutions that boost operational efficiency in any company or organization.
Understanding core business principles will give you an edge when it comes time to interview potential employers or explore different industries. In addition, numerous other benefits are associated with pursuing a two-year degree program in business administration, such as increased job security, earning potential, and flexible scheduling options.
Let's examine why an associate's Degree in Business Administration could benefit your future!

Overview of a Business Administration Associate Degree
A Business Administration Associate Degree program is undoubtedly a crucial milestone in the business world. It provides students with a solid foundation to develop essential skills highly sought after by employers.
With subjects ranging from financial management, marketing strategies, operations management, and business law, this program prepares students to handle various tasks and make informed decisions professionally.
As a result, graduates can work in different fields, such as accounting, advertising, management, and finance. So, if you're considering pursuing an associate in business administration, know that you'll be investing in yourself, and your future career and the rewards will be worth it.

Advantages of Obtaining an Associate Degree in Business Administration
If you want to make a solid investment in your future, obtaining an associate degree in business administration may be just the ticket.
It will provide you with a strong foundation of business knowledge and skills, leading to increased job opportunities and higher salaries. With courses focused on accounting, marketing, management, and more, you'll have the chance to explore different business areas and find your calling.
Plus, with the option to transfer credits to a four-year institution, you may even decide to continue your education and pursue a bachelor's degree. Don't underestimate the value of an associate degree in business administration – it can open doors and set you up for success.

Career Opportunities After Earning a Business Administration Associate Degree
Earning a business administration associate degree can open many opportunities for those interested in pursuing a career in the business world.
The degree covers various disciplines, including finance, accounting, marketing, and management. With this degree, you can work in multiple fields, such as retail and e-commerce, finance, and real estate.
Graduates can work in different roles, such as management trainees, administrative assistants, analysts, or sales representatives. Additionally, pursuing higher education opportunities such as a bachelor's or master's degree can lead to more advanced positions and higher salaries.
The business world is constantly evolving, and having a degree in business administration means you'll have the skill set and knowledge to stay competitive in the job market.



Job Outlook for Business Administration Graduates
Business administration graduates have good employment opportunities, as there is a growing demand for professionals with business skills in various industries.
The job outlook for business administration graduates remains positive, and the Bureau of Labor Statistics (BLS) estimates faster-than-average growth between 2019 and 2029 for many occupations in this field.
According to the BLS, the median annual salary for business and financial operations occupations was $56,980 in May 2019. Jobs that might be available to those with a degree in business administration include human resources manager, accountant, loan officer, and marketing manager.



Advancement Opportunities After Earning an Associate Degree in Business Administration
Career advancement may initially seem daunting for those who have completed their Associate Degree in Business Administration. However, there are many opportunities for growth and development in this field.
With additional training, networking, and work experience, individuals can advance to higher-level management, finance, and marketing positions. Pursuing a Bachelor's or Master's degree is also a viable option for those seeking to enhance their knowledge and opportunities for promotion.
Ultimately, it takes persistence, dedication, and a solid work ethic to succeed in the business world, but with the right mindset and resources, the sky's the limit.
An Associate Degree in Business Administration provides the necessary skills and knowledge to start or advance your career. With this degree, you will learn about business management from the ground up.
Furthermore, you will gain insight and analysis into how companies operate and tools that can be applied to other industries or businesses. After obtaining an Associate Degree in Business Administration, you will have multiple options for career opportunities that may range from entry-level manager to working consultant.
Additionally, more advanced degrees are available if you continue your education.
If you're ready to take the next step to enter business administration or take your career further, contact Northwest Career College and ask about our Business Administration Program. Our knowledgeable staff is here to answer any of your questions and guide you toward a rewarding career!

Join NCC to learn Business Administration today!
Here at NCC, we offer a range of Business Administration courses, both online and on-campus.
Our teaching style is interactive and engaging, focusing on practical skills that will help you in your career. You'll have access to our online resources on 24/11, including textbooks, lecture notes, and tutorials.
So what are you waiting for? Call us today at (702) 403-1592 to speak to one of our admissions specialists about your new Business Administration career.