What is the Average Health Administration Salary?
Healthcare Administration
April 23, 2023
435 views
5 min read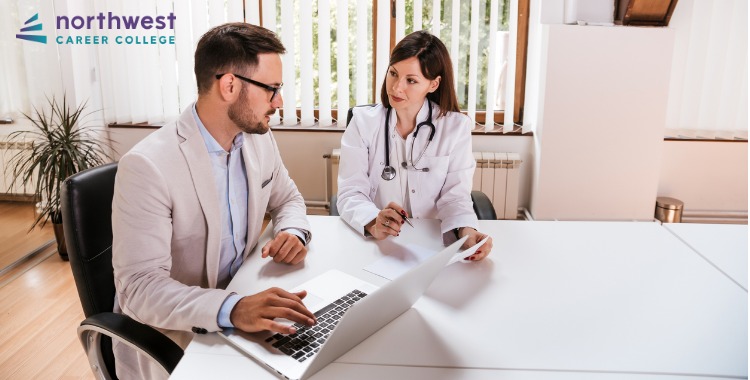 If you're a student looking to enter the field of health administration, salary is likely an essential factor for you. After all, when embarking on your career path, knowledge about income potential can help ensure your choice will be financially sustainable in the long term.
So what exactly is the average health administration salary?
This blog post can arm you with information so that you can make informed decisions and different considerations depending on various factors such as level of seniority or location. Keep reading to discover more about salaries for health administrators.

Overview of Health Administration
Health Administrators are responsible for managing operations within the healthcare industry. This includes overseeing facility operations and personnel, creating budgets and maintaining financial records, analyzing data, developing policies, and ensuring that all health regulations are met.
Health administrators also work with other medical professionals to ensure patient safety and satisfaction.
The most common duties of health administrators include:
Developing and implementing policies and procedures
Overseeing facility operations and personnel
Creating budgets and maintaining financial records
Analyzing data to identify trends in healthcare services
Maintaining quality control standards for medical equipment, supplies, staff, and patient care
Implementing strategies to improve efficiency within the organization
Assessing risk management and patient safety protocols
Coordinating marketing and outreach campaigns
Ensuring compliance with all applicable laws and regulations
Developing strategic plans to improve healthcare access and quality
Evaluating staff performance and addressing any disciplinary issues that may arise

The Average Salary for Health Administrators
According to the Bureau of Labor Statistics, the median annual salary for healthcare administrators is $100,980, with top earners making over $182,600.
In addition to a competitive salary, many healthcare administration positions offer benefits such as health insurance, retirement plans, and paid time off.
With the demand for healthcare administrators rising, it's a promising career path for those willing to put in the hard work and dedication.

Factors that Impact Health Administration Salaries
Regarding health administration salaries, several factors can impact how much someone in this field earns. One of the most significant factors is location. Those working in more urban areas earn higher salaries than those in rural or remote areas.
Education also plays an important role, with those having advanced degrees like a Master's in Health Administration often earning more. Experience is also essential, with more experienced individuals commanding higher salaries.
Finally, the type of facility one works in can also be a factor, with hospitals typically offering higher wages than smaller clinics.
By understanding these various factors, individuals interested in pursuing a career in health administration can make informed decisions about their education, job search, and career path.

How to Negotiate a Higher Starting Salary in Health Administration
When negotiating a higher starting salary in health administration, it is essential to approach the conversation confidently and prepared.
Do your research and know your worth in the industry. Consider the specific experience and skills you bring and highlight them during the negotiation. It is also essential to understand the company's budget and limitations and be open to compromise.
Remember to remain professional and positive throughout the talks, as building a solid relationship with your employer is critical to long-term success. With these tips, you can confidently negotiate a higher starting salary and kick off your healthcare administration career on the right foot.

Tips for Career Advancement in the Field of Health Administration
In the constantly evolving field of health administration, it can be challenging to stay ahead of the game and have fast career advancement. However, achieving your goals with the right mindset and strategies is possible.
Firstly, make sure to prioritize your professional development continuously. Attend conferences, workshops, and other opportunities to expand your knowledge and skills.
Networking is also essential in this industry, so build relationships with colleagues and leaders in your field.
Another important factor is staying current on industry trends and advancements, as this knowledge can give you a valuable edge. Most importantly, be proactive and take the initiative whenever possible, demonstrating your skills and value to your team and superiors.
If you're looking for the right kind of qualification to kickstart your career in healthcare administration, Northwest Career College's Healthcare Administration
Programs can provide the specialized education you need to succeed.
Our program offers comprehensive healthcare policy, management, and operations instruction that prepares you for a successful career in this field.
Contact us today to learn more about how you can benefit from our Healthcare Administration Program.
With a solid foundation in the fundamentals of healthcare administration, you can make your mark in this essential field and take your career to new heights!



Start your new Health Administration career here at NCC
Here at NCC, we offer an Associate's Degree in Health Administration, which can be completed in as little as one year. The course focuses on the practical side of health administration and prepares you for your future career within this field.
Our Health Administration instructors have experienced professionals who work in the field and bring their industry experience into the classroom.
Our goal is to provide you with a broad knowledge of health administration that can be applied immediately upon graduation or later as your career progresses.
To start your new rewarding career in health administration, call us today at (702) 403-1592.