What Are Some of the Best Career Options for Military Spouses?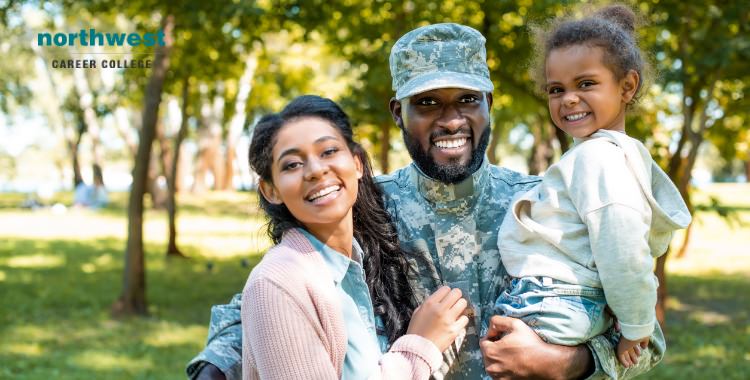 If you are the spouse of an Active Duty Service Member, you may be eligible for up to $4,000 of Financial Assistance from the Department of Defense. This scholarship grant encourages spouses of military personnel to pursue education, training, licenses, certificates, and degrees leading to employment in so-called "Portable Career Fields."
This means that, even if you have to move every few years due to the military lifestyle, you can pursue your own career without having to worry about the financial burden of going back to college. In this article, we will be looking at what career and study options are available for Military spouses in portable career fields.
Programs of Study
Dental Assistant
Dentistry is a growing sector with good job security, because, no matter what the economy is like, everyone needs to get their teeth looked after, right? The benefits fo training as a dental assistant or dental administrative assistant is that there are job opportunities in both civilian and military settings.
What dental assistants do:
Prep patients for dental work
Take x-rays
Keep records
Schedule patients
Sterilize instruments
Hand instruments to the dentist
Veterinary Assistant
This veterinary healthcare field is expected to grow by 19% through 2026, which means qualified assistants are becoming increasingly in demand. If you love working with animals and want to make a real difference in their lives, then this might be the job for you
What vet assistants do:
Observe animal behavior and conditions
Clean and disinfect animal living quarters
Sanitize equipment
Provide first aid to sick or injured animals
Groom animals, including nail cutting, bathing, and brushing
Restrain animals during exams
Collect blood and tissue samples, as needed
Medical Assistant
The healthcare field is one in constant need of qualified medical assistants and medical administrative assistants and is the ideal setting for those who are physically active, compassionate, patient, and detail-oriented. Medical assistants and medical administrative assistants can find work in hospitals, doctors offices, and nursing homes.
What Medical Assistants do:
Clean and bathe patients
Help patients use the bathroom
Reposition and move patients between beds and wheelchairs
Gather details on patient health concerns to report to nurses
Check vital signs
Serve food and help patients eat
Massage Therapist
As a licensed massage therapist, most importantly you are helping your clients achieve maximum, personal wellness. Often, massage therapists have their own business, which allows them to work on a freelance basis, setting their own hours and rates.
What massage therapists do:
Talk with clients about treatment goals
Use hands to manipulate soft tissue to improve circulation and heal injuries
Advise clients on stretching, strengthening, and relaxing
Record client progress
How Do I Pick the Program That Suits Me Best?
Picking a new career can be daunting, so asking yourself the following questions can help you narrow down what you want from a particular job and choose the one that is right for you
What are my skills and interests?
How long do I want to be in school?
Does the program curriculum look interesting?
What are my goals and would this program help me achieve those?
If you are still struggling to decide, or just want to talk to someone who can give you more specifics on a particular program, go ahead and call us on (702) 403-1592 to speak to one of our enrollment experts.
How Do I Apply?
Online – You can apply for your chosen VA benefits program online through the VA Website. This streamlined process will only take around 30 minutes to complete.
In Person – You can apply in person through your local VA Office. The Regional VA Office for Nevada is located in Reno at 5460 Reno Corporate Drive, Reno, NV 89511.
By Mail – If you prefer to apply by mail, Call 1-888-GI BILL®-1 (888-442-4551) to have an application pack mailed to you.
At Northwest – Northwest is committed to providing every assistance it can to our country's servicemembers. Call us on (702) 403-1592 to speak to one of our enrollment experts and we will provide you with all the information you'll need to start your application.
Written by:
Dr. Thomas Kenny   
Chief Compliance Officer

Disclaimer: GI Bill® is a registered trademark of the U.S. Department of Veterans Affairs (VA). More information about education benefits offered by VA is available at the official U.S. government Web site at www.benefits.va.gov/gibill.