Top 5 Reasons Why You Should Pursue A Career In Healthcare
June 2, 2023
318 views
6 min read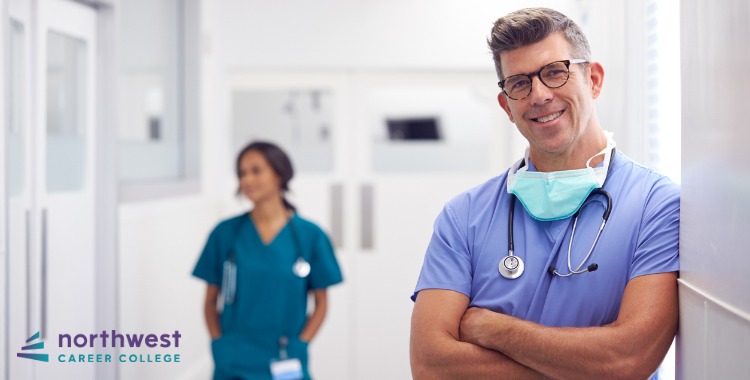 Are you passionate about helping others live better lives? Do you crave excitement and adventure in your career choice? From improving health outcomes to creating meaningful connections with patients, the medical field can provide an enriching opportunity for those looking to make their mark.
Healthcare is one of the world's most diverse and dynamic industries – but why should you get involved? To help answer that question, here's a look at five compelling reasons why pursuing a career in healthcare just may be the right decision for you.
Whether you are looking for job security, financial opportunities, or simply want to make real change in people's lives, read on how a healthcare career could put your destiny into motion!
Job Security – Healthcare jobs are projected to grow by 14% in the next 10 years, making it one of the most secure jobs available
In today's fast-paced economy, job security is a significant concern for many people. With the rise of automation and the decline of specific industries, it's difficult to predict which jobs will stand the test of time. However, one thing is clear – healthcare jobs are here to stay. In fact, they're projected to grow by an impressive 14% over the next decade.
This growth can be attributed to several factors, including an aging population and advances in medical technology. Whatever the reasons, one thing is certain – if you're looking for a stable, secure career, healthcare is a great place to start. Beyond the financial benefits, there's also the satisfaction of knowing that you're making a real difference in people's lives.
With so much uncertainty in the job market, it's nice to know that healthcare offers something that's genuinely dependable.
Helping Others – Working in healthcare means that you can make a direct impact on people's lives by providing care and support
Working in healthcare is one of the most rewarding professions out there. The opportunity to help others and make a direct impact on their lives is truly special.
Every day, healthcare professionals provide care, support, and comfort to people at their most vulnerable. Whether it's holding a patient's hand or offering words of encouragement, these small gestures can make a big difference in someone's life.
Those who work in healthcare understand the importance of their roles in society and take pride in their ability to help those in need. If you're someone who has a passion for helping others, working in healthcare may be the perfect career for you.
Professional Growth – You will have opportunities for career development as well as personal growth in an ever-changing field
In the healthcare industry, there is never a shortage of opportunities for professional growth. With the constant advancements and changes happening, the field always presents a chance to learn and develop new skills.
Whether it's going back to school for a higher degree or attending conferences to stay up-to-date on the latest technologies, healthcare professionals can constantly improve themselves and their careers.
But it's not just about career development – personal growth is also an important aspect of working in healthcare. From forming relationships with patients to honing communication and empathy skills, the industry also offers ample opportunities for personal growth.
With so much potential for self-improvement, the healthcare field is the perfect place for those seeking a fulfilling and ever-evolving career.
Diversity of Opportunities – From research to administration, there is a wide variety of job roles available for you to pursue
The healthcare industry offers a plethora of job opportunities that are diverse in nature. From conducting research, providing direct patient care, and managing healthcare facilities to overseeing administrative operations, the options are endless.
What's truly impressive is the diversity of roles available within each of these categories. For instance, within the research domain, professionals can specialize in areas such as genetics, biostatistics, or clinical trials. Similarly, the administrative domain offers roles such as healthcare IT specialists, HR managers, and finance executives.
So regardless of your interest or expertise, the healthcare industry offers ample opportunities for growth and development.
Community Support – Working in healthcare will also give you access to a strong network of professionals and colleagues who can help you succeed in your career
One of the many benefits of working in healthcare is the opportunity to build a solid network of professionals and colleagues who can support you in your career. Whether you're just starting out or have been in the industry for years, having a strong community of like-minded individuals can make all the difference in achieving your goals.
From offering mentoring and guidance to sharing resources and insights, these connections can help you stay up-to-date on the latest trends and best practices and navigate any challenges that may arise.
Additionally, the support and encouragement you receive from this network can help boost your confidence and sense of belonging in the industry, making it a more rewarding and fulfilling experience overall. So if you're looking to thrive in healthcare, don't underestimate the power of community support.
Healthcare: The perfect career for you
Pursuing a career in healthcare can be priceless to an individual who values job security, helping others, personal and professional growth, and access to a strong network of colleagues and professionals.
These are just some of the fantastic benefits of choosing a healthcare career. In particular, the Medical Assisting Program offered by Northwest Career College is an ideal option for aspiring students looking to join this exciting industry. The program combines traditional academic learning with hands-on experience through externships and clinical laboratory courses, giving students the essential skills needed for success.
So if you're looking for a rewarding and impactful career in healthcare – look no further! Contact Northwest Career College today about our Medical Assisting Program to learn more. Together we can help build a better future for everyone!
Start your new career today
Here at Northwest Career College, we have a student-focused attitude that prioritizes giving our graduates the training and skills they'll need to excel as medical assistants.
Our established and seasoned instructors work with you, teaching you every aspect of Medical Assisting. We help you build your skills, abilities, and confidence, and we are proud of our 88% national exam pass rate.
If you'd like to learn more about what our medical assistant course can offer you, call one of our enrollment specialists at (702) 403-1592 today. We provide flexible learning, with online and on-campus morning, afternoon, and night classes to accommodate your Las Vegas work and family schedule.
Once you've graduated, our dedicated and experienced Career Services team will work with you to help you find the best employment opportunities in Las Vegas. Call us now on (702) 403-1592 to start your journey!