The Uses of Platelet-Rich-Fibrin Therapy in Dentistry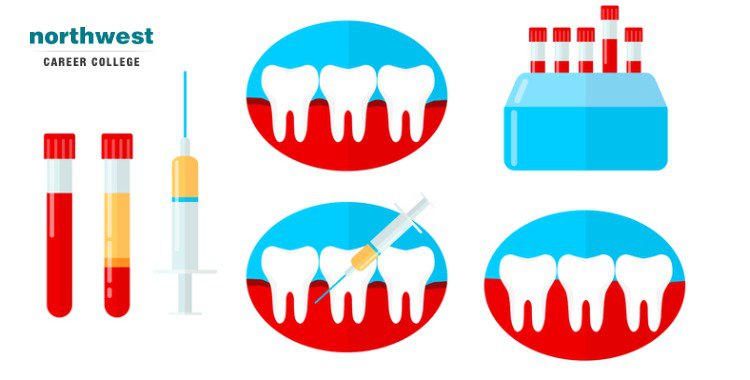 While the uses of phlebotomy are normally associated with medical procedures, a recent rise in the popularity of Platelet Rich Plasma (PRP) and Platelet Rich Fibrin (PRF) therapies has led to a dramatic rise in the number of dental practitioners looking to employ qualified phlebotomists.
In this article, we'll be looking at what exactly Platelet Rich Plasma (PRP) and Platelet Rich Fibrin (PRF) therapies and how they are used in dentistry.
What are Platelet Rich Plasma (PRP) and Platelet Rich Fibrin (PRF) Therapy?
At its most basic, PRP and PRF treatments use platelets taken from the patient's own blood to promote and maintain the healing of wound. This therapy has been shown to enhance healing and reduce recovery time.
Platelets are collected from blood and are concentrated in a small volume of plasma known as platelet-rich plasma (PRP). PRP is used in gel or liquid form to enhance tissue repair. PRP and platelet-rich fibrin (PRF) are autologous platelet concentrates prepared from the patient's own blood. 
How Is it Done?
To create PRP, the patient's own blood is drawn and then separated into platelet-rich and platelet-poor components. The separation is done with a centrifuge and a test tube. The resulting platelet-rich plasma injected back into the patient to enhance healing around sites of dental surgery or implants.
Platelet-rich fibrin (PRF) therapy is a second-generation natural fibrin-based biomaterial made from an anticoagulant-free blood harvest without any artificial biochemical modification, thereby attaining fibrin enriched by platelets and growth factors.
What Are the Benefits Of PRP/PRF in Dentistry?
PRP is used to speed patient recovery in dental procedures while also aiding in wound healing and bone regeneration properties. Bone grafts, implants, sinus lifts, ridge augmentation, and the closure of cleft lips are just some of the procedures PRP is helping augment.
Why Is a Phlebotomist Needed?
Although drawing blood is a common medical procedure, it is not commonly a part of dental training. A qualified phlebotomist is a vital part of the successful use of PRP/PRF as it is dependant on a good blood draw. 
Additionally, a trained phlebotomist is able to keep the patient calm, minimize the impact of the blood draw on the patient, and has greater knowledge of how to manage any complications that might arise during the blood drawing process.
Learning New And Important Skills
At Northwest Career College, we pride ourselves on providing one of the premier Phlebotomy Schools in Las Vegas. Our phlebotomy students have an 89% national exam pass rate and you can graduate in as little as three months. Our established seasoned instructors will take you through every aspect of Phlebotomy and Northwest offers day, afternoon and night classes to accommodate your busy Las Vegas work and family schedule. Call us today at (702) 403-1592 to speak to one of our admissions specialists about your new Phlebotomy career.

Written by:
Jenette Ashcraft, N.C.M.A.
Allied Health Department Director