The surprising benefits of Massage Therapy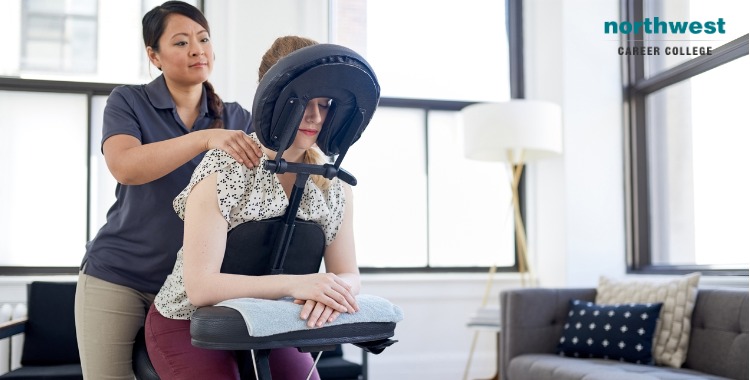 Massage therapy has a huge range of benefits that qualified massage therapists can impart to their patients. So, if you are considering joining our Las Vegas Massage Therapy School, here are some of the benefits you can offer as a qualified massage therapist.
It's Awesome for Office Workers!
Most of us spend our entire working lives sitting in front of a computer screen, which has a compounded and negative effect on our back and shoulders. 
More advanced forms of postural stress show up as pain or weakness in the low back and glutes caused by prolonged periods of sitting.
Massage therapy is an excellent way of counteracting the stress put on your shoulders, back, and glutes by constantly sitting, which is why many big companies now employ in-house massage therapists. 
It Counteracts Anxiety and Depression
Given the times we're all living through at the moment, it's not surprising that rates of anxiety and depression have risen rapidly. 
Although it should be taken as part of a comprehensive mental health remedy that includes therapy and antidepressants a study published in the Journal of the American Academy of Child and Adolescent Psychiatry, found that patients who were depressed and anxious were much more relaxed and happy, and had reduced stress levels after massage.
It Boosts Your Immune System
A 2010 study published in the Journal of Alternative and Complementary Medicine found that massage boosts patients' white blood cell count, which plays a large role in defending the body from disease. 
It Helps With Tension Headaches
Researchers estimate that as many as 2 in 3 adults in the U.S. get tension headaches on a regular basis. 
Chronic tension-type headache (CTTH), occurring on more than 15 days per month, affects 1-3% of adults. CTTH often begins during the teenage years, affecting three women to every two men.
Research from Granada University in Spain found that a single session of massage therapy immediately affects perceived pain in patients with chronic tension headaches.
Join One Of The Best Massage Therapy Schools In Las Vegas Today!
At Northwest Career College, we operate one of the best Massage Therapy Schools in Las Vegas, and our Massage Therapy Course will teach you the skills you'll need to apply the benefits of sports massage. 
Our massage student clinic is open seven days a week, for both your and your client's convenience, and we offer day and night classes to accommodate your work and family schedules. 
Our instructors are experienced professionals who will prepare you to sit for either the NCBTMB (National Certification Board of Therapeutic Massage) or the MBLEX (Federation of State Massage Therapy Boards) exams, and we are proud of our 100% board pass rate. Call us at (702) 403-1592 to speak to one of our enrollment specialists today!
Written by:
Barbara Alcaraz, M.A., B.A., L.M.T.
Massage Therapy Program Chair
M. A. Organizational Management, University of Phoenix
B.A. University of Minnesota, American Studies
L.M.T. Northwest Health Careers