The Rise of Invisible Orthodontics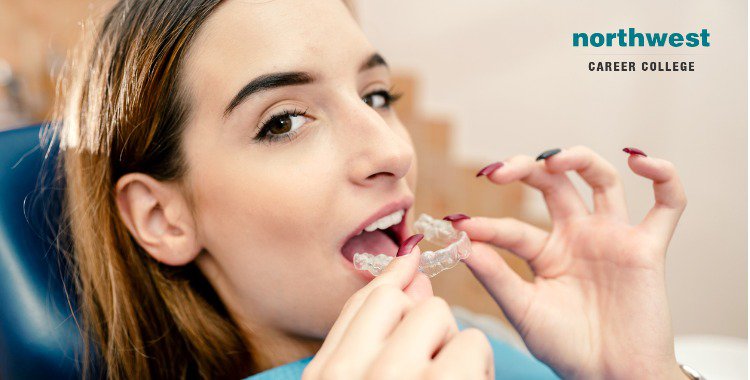 An estimated 4.5 million Americans, most of them children and teenagers, wear braces on their teeth, according to the American Association of Orthodontics. About 80 percent of those who currently undergo orthodontic treatment range in age from 6 to 18 years old.
However, the number of adults seeking orthodontic treatment is on the rise, with a recent survey showing that 75% of orthodontists have reported an increase in adult private patients.
The survey also shows that the majority of patients are in the 26 to 55 age bracket and most likely to be women, but the number of men seeking treatment is also on the rise.
One of the reasons for this is the rise in the utility of invisible orthodontics.
What Are Invisible Orthodontics?
In essence, invisible orthodontics is a system of clear, sometimes removable braces that are very hard to see. They're often a favored option of many adults and teenagers alike who really don't like the idea of wearing clearly visible metal braces for months on end.
Popular types of invisible braces include ceramic brackets, inside braces and clear aligners.
Ceramic braces are just like metal braces, except that they use tooth-colored brackets, and sometimes tooth-colored wire rather than metal, to straighten teeth. Inside braces are attached to the back of the teeth so they are hidden from view.
Clear aligners are a series of clear, removable aligners made from plastic and custom-fitted to the patient's teeth.
All of these invisible orthodontics give the patient the benefits of cosmetic orthodontic treatment without the social stigma of standard metal braces in adults.
The invisible orthodontics market has witnessed significant growth due to the growing prevalence of misalignment or incorrect relation between the teeth of the two dental arches when they approach each other as the jaws close (malocclusion) and increasing demand for sensitive, accurate dental procedures.
The wider availability of invisible braces is likely to boost the global invisible orthodontics market during the coming years. The increasing need for looking attractive with safe orthodontic products is expected to drive the growth of the segment.
Start Your Dental Administrative Assisting Career With Us
Employment for entry-level employment in the dental field is expected to increase 23% over the next 10 years, faster than average for all occupations, according to the Bureau of Labor Statistics. With this growing demand for DAA's, it is essential that graduates cultivate the skills and traits that will help them stand out in the employment market.
Here at Northwest Career College, our Dental Administrative Assisting Program prepares students to work in any dental office. Our expansive, nine operatory lab provides students with real-life dental office experience. You will be trained to handle clerical duties such as scheduling appointments, handling insurance claims, and monitoring inventory. You will work with documents, forms, and computer systems. No other Dental Administrative Assistant Program in Las Vegas offers this type of advanced training.
Our student-focused approach will help you cultivate the skills you will need to stand out. Our experienced Career Services team will work with you to help you find the best dental administrative assistant employment opportunities in Las Vegas. Call one of our enrollment specialists at (702) 403-1592 to find out more.
Written by:
Cynthia Lofquist, R.D.A.
Dental Assisting Program Chair
Concorde Career Institute