The Pros of Training as a Phlebotomist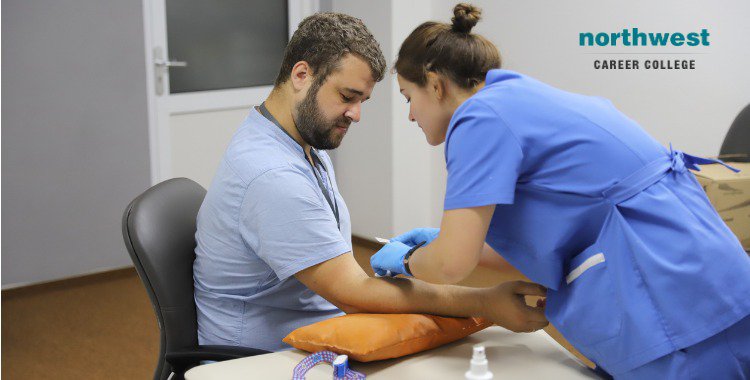 Phlebotomists are an integral part of the medical diagnosis cycle, collecting vital blood draws that allow for the diagnosis, and then treatment of a huge range of diseases and ailments. 
With the field expected to grow by 15% over the next five years, now is an excellent time to train as a phlebotomist and, if you are considering it, here are five benefits you might not have thought of.
You Can Get Qualified Quickly
A lot of jobs in the medical sector require a four-year bachelor's degree, but if you want to get into the workforce and start making a difference quickly, training as a phlebotomist is a great place to start.
Here at Northwest, our phlebotomy training course can see you fully qualified in as little as 3 months and we also offer training to help you obtain your Lab Assistant / Office Laboratory Assistant License through the Division of Public and Behavioral Health. Our students have an 89% national exam pass rate.
Earn a Good Salary
According to the Bureau of Labor Statistics, on average, the annual salary of a phlebotomy technician is around $33,000 with the top 10 percent earning around $40,000 yearly. Experienced phlebotomists who have obtained their Lab Assistant / Office Laboratory Assistant License can earn up to $49,000. 
Great Career Opportunities
As we mentioned earlier, the phlebotomy field is expected to grow by as much as 15% over the next five years. This is in response to the increased need for medical care for an aging population in the U.S.
This significant increase in the number of required phlebotomists means excellent job security and hugely improved career progression opportunities. Specialization can also increase you opportunities for career advancement by giving you a specialized skill set that is increasingly in demand.
Flexible Scheduling
Not everyone has the ability to work the standard 9-5 shift pattern and the good news is that, as a phlebotomist, you don't have to. Most phlebotomists are employed by hospitals who are open 24/7, meaning there is far more flexibility in the available shift patters and you can work the hours that suit you, and your responsibilities best.
Learning New And Important Skills
At Northwest Career College, we pride ourselves on providing one of the premier Phlebotomy Schools in Las Vegas. Our phlebotomy students have an 89% national exam pass rate and you can graduate in as little as three months. Our established seasoned instructors will take you through every aspect of Phlebotomy and Northwest offers day, afternoon and night classes to accommodate your busy Las Vegas work and family schedule. Call us today at (702) 403-1592 to speak to one of our admissions specialists about your new Phlebotomy career.

Written by:
Jenette Ashcraft, N.C.M.A.
Allied Health Department Director
R.M.A. National Education Center