The Pros and Cons of Working in a Hospital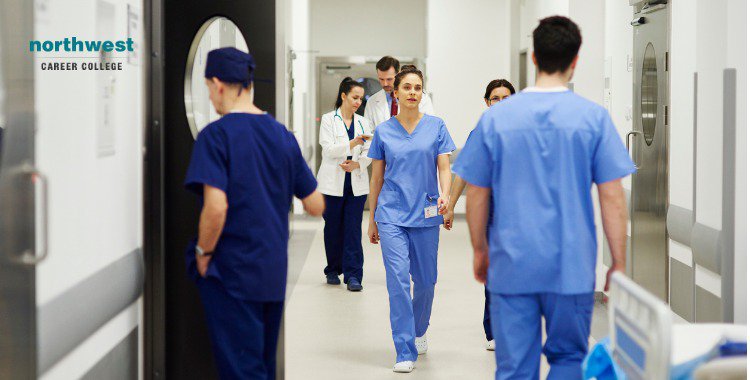 One of the more common venues to find employment as a medical biller or coder is at one of 6,146 hospitals across the U.S. 
In this article, we'll be looking at the pros and cons of joining the 924,107 staff who work in hospitals across American and giving you the information you need to decide if working in a hospital is right for you.
The Benefits of Working in a Hospital
To start off with, we'll be looking at the benefits of working in a hospital, from the obvious ones to those you might not have considered.
The Chance to Make a Difference 
Working as part of a team in a hospital means that you have the opportunity to make a difference every day, whether you are an ER doctor or whether you work behind the scenes making sure patients aren't getting overcharged for their hospital care. 
A 2018 survey of healthcare workers in the US indicated that job satisfaction was quoted as one of the main benefits of working in the healthcare industry and that hospital staff experienced some of the highest rates of job satisfaction in the sector.
Projected Job Growth
In response to our aging population, the US healthcare system is growing, with the Bureau of Labor Statistics projecting that the healthcare industry will add roughly 2.4 million new jobs by 2026. This growth rate is faster than any other occupational group.
So, if you are looking for job security and the chance of promotion, a hospital is a good place to work.
Variable Hours
Hospitals, by their nature, work on a 24/7 basis. This means that you can normally choose you working hours with a freedom that most workers just don't have. So, if you're a night person or have other responsibilities, such as child care, a more flexible schedule might suit you.
The Downside of Working in a Hospital
While there are some obvious upsides, working in a hospital has its definite downsides.
Sickness and Death
There's no getting away from it, Hospitals see a lot of sickness and death. While most medical billers and coders are insulated from that in a way that frontline healthcare staff are not, it doesn't mean you won't experience it.
Variable Hours
Yes, I know we also put this in as a benefit, but it is somewhat of a double-edged sword. Even though you might be able to pick your own hours in a manner that an office worker can't, there is also the possibility that you might find your hours rearranged to cover sickness or absence and end up working shifts at 3 am.
The Right Work Environment for You
At the end of the day, only you know what the perfect working environment is for you. If you want to work regular shifts at regular times and have every holiday off, then maybe working in a hospital isn't the right place for you.
However, if you want the chance to make a real difference in people's lives, then a hospital is exactly where you need to be working. 
A Vital Part Of The Healthcare Cycle
Taken together, medical coding and billing form a link between patients, healthcare providers, and insurance companies. As a medical biller or coder, you'll need to be accurate, detail-oriented and well organized as you'll be a vital part of any healthcare provider's staff.
As one of the premier Medical Billing and Coding Schools in Las Vegas, Northwest Career College employs established, seasoned instructors to teach you every aspect of medical billing and coding. Our student-focused approach puts you first and we offer online and on-campus workshops to accommodate your work and family schedule.
We continue to support our students after they graduate as our experienced Career Services team works with you to help you find the medical billing and coding jobs in Las Vegas. Call us today on (702) 403-1592 to learn more about the exciting opportunities that our Medical Billing and Coding School can offer you!
Written by:
Nancy Ferrante, C.M.B.S.
Medical Billing & Coding Program Chair