The Impact of 3D Printing on the Dental Industry
November 8, 2019
535 views
3 min read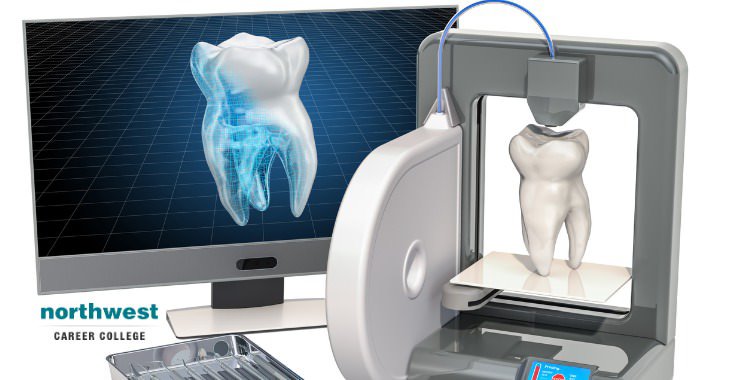 3D printing has become of the most prevalent design technologies of the modern age, coming on it leaps and bounds over the last decade to represent the future of modern industry. However, the use of a technology that can quickly and cheaply print 3D objects doesn't just apply to manufacture, dentistry has also benefited from this new wave of easily accessible custom 3D objects.
For example, In the Netherlands, an 83-year-old woman had a jaw reconstruction thanks to 3D printing. Her 3D printed jawbone has been made with titanium powder and a bioceramic coating. 
A special dental bridge has been added to the jawbone, in order to implant new teeth to the patient. Due to her age, doctors chose to use this method, saying that it was less risky than the traditional procedure.
In this article, we'll be looking at the increasing impact of 3D printing on the dental industry.
Why Do Dentists Need a 3D Printer?
3D printers can be used to create tools, prostheses, dental implants and a whole range of other items essential to dental medicine for a fraction of the price of traditional manufacturing methods and often in-house.
EnvisionTEC, a 3D printer manufacturer, saw sales of 3D printers for dentistry increase by 75% from 2015 to 2016 as more and more dentists began to see the utility of being able to use this quickly evolving technology to their benefit.
In the healthcare field, some solutions have to be adapted to the patients. Typically, prosthesis or implants have to match with the patient's morphology. And it is also particularly true for dentistry because everybody has his own dentition, all patients' mouths are different. It is now possible to get an accurate 3D model of the patient's dentition, which will lead to 3D dental restoration, with solutions totally adapted to the patient.   
The combination of high accuracy laser scanning, dental CAD modeling software, and dental 3D printers has already led to impressive steps forward in dental technology. For example, the King Abdullah University of Science & Technology in Saudi Arabia is currently developing smart 3D printed braces that use LED lights to help speed up the process of the teeth moving into place.
Additive manufacturing has also been trialed in dental implant surgery as it allows the quick and efficient creation of replacement teeth and, as in the example of the 83-year-old woman at the beginning of the article, even jawbones.
Join One Of The Best Dental Assistant Training Schools In Las Vegas 
Here at Northwest Career College we firmly believe that learning is a process that continues on the job. Our Dental Assistant Training Course gives you all the key skills and experience you'll need to find the best dental assisting employment opportunity in Las Vegas. Our Dental Assistant School offers morning, afternoon and night classes to accommodate your busy work and family schedule and our established, seasoned instructors have helped our students achieve a 91% national exam pass rate. Call us at (702) 403-1592 to speak to one of our admissions assistants about your new dental assisting career.