The five traits of a successful Dental Administrative Assistant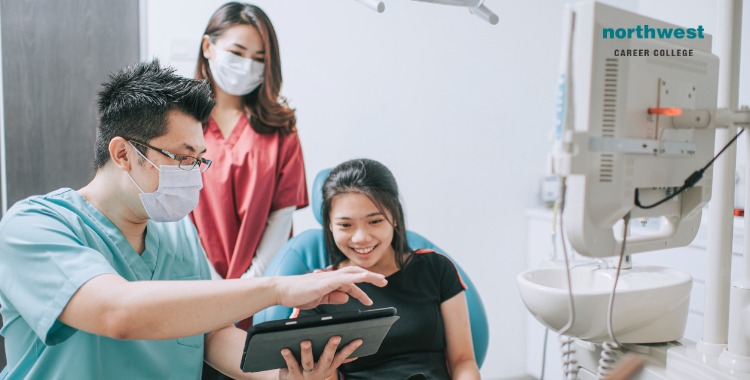 So you want to be a dental administrative assistant? That's great! With the right training and education, you can get on a fast track to becoming a dental administrative assistant. But a career in dental assisting takes more than a certification. 
If you want to be successful, you'll also need the right personality and attributes. Below we're outlining the five important traits every dental administrative assistant needs to be successful.
1. Excellent Organizational Skills
The environment in a dentist office is fast paced and ever changing, so as a dental administrative assistant, you need to be prepared for anything. 
The best dental administrative assistants take an active role in ensuring they're always prepared by staying incredibly organized. From paperwork, to patient schedules, and exam room prep, there are many ways organization will help you be successful. For example:
Keeping patient records in the proper location

Maintaining accurate patient information

Ensuring dental instruments and materials are in the right place
Your organizational skills will ensure you stay one step ahead and do your part to keep the office running in a timely and smooth manner.
2. Detail-Oriented Personality
Attention to detail is an important trait when one of your primary job responsibilities is to ensure patient safety and comfort in the office. 
In order to be successful, you'll need the ability to concentrate on and pay attention to even the smallest details. A detail-oriented personality will come in handy as you…
Ensure dental tools and instruments are properly sterilized and put away

Record patient details

Maintain patient records

Make certain all tasks are completed

Identify whether or not your patient is nervous or in pain
3. Ability to Manage Multiple Things at Once
As a dental administrative assistant, your day-to-day responsibilities run the gamut. You'll have to balance all your duties in a smooth and effortless manner. 
For example, between preparing examination rooms and sterilizing equipment, you'll need to be ready to answer phone calls, greet and escort patients, answer insurance and billing questions, and assist the other dental staff with procedures. 
If you don't like juggling multiple tasks in the span of an hour or even a few minutes, then Dental Assisting will likely be too stressful of a career path for you.
4. Professional Demeanor
dental administrative assistants play an important role in patient satisfaction – you'll often be the first and last person a patient interacts with! The way you act and present yourself will reflect (either positively or poorly) on the practice as a whole. What does it mean to be professional?
Coming into work on time

Always dressing appropriately

Taking your work seriously

Having a good attitude.
5. Strong Communication Skills
Great communication is important in any workplace, but especially in a dental office environment. In order for the day to run smoothly and on-schedule, you'll need to be in constant communication with the rest of the team. 
Additionally, you'll often serve as a liaison between different parties, so you'll need to communicate effectively with various types of people – from patients of all ages to dental staff and dentists. 

Great chairside manners are key! Here are some key types of communication you'll need to perfect:
Speaking face-to-face and over-the-phone

Explaining complex subjects in a simple way (for example, billing and insurance)

Initiating small talk with patients

Describing dental care instructions

Outlining patient status, room availability, and changes in the daily schedule
Start Your Dental Administrative Assisting Career With Us
Employment for entry-level employment in the dental field is expected to increase 23% over the next 10 years, faster than average for all occupations, according to the Bureau of Labor Statistics. With this growing demand for DAA's, it is essential that graduates cultivate the skills and traits that will help them stand out in the employment market. 
Here at Northwest Career College, our Dental Administrative Assisting Program prepares students to work in any dental office. Our expansive, nine-operatory lab provides students with real-life dental office experience. 
You will be trained to handle clerical duties such as scheduling appointments, handling insurance claims, and monitoring inventory. You will work with documents, forms, and computer systems. No other Dental Administrative Assistant Program in Las Vegas offers this type of advanced training.
Our student-focused approach will help you cultivate the skills you will need to stand out. Our experienced Career Services team will work with you to help you find the best dental administrative assistant employment opportunities in Las Vegas. Call one of our enrollment specialists at (702) 403-1592 to find out more.
Written by:
Cynthia Lofquist, R.D.A.
Dental Assisting Program Chair
Concorde Career Institute