Take a peek inside the job of a Medical Administrative Assistant
Medical Administrative Assistant
November 9, 2021
538 views
3 min read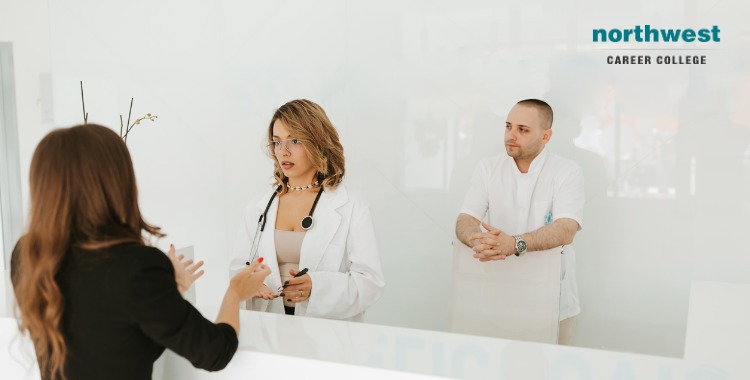 A medical administrative assistant is an important member of the healthcare team, and what they do can be very different from what many people think.
They are not just filing paperwork or answering phones – in fact, they might spend more time interacting directly with patients than anyone else at the office.
Medical assistants often have a lot on their plate! That's why it's important to get training before entering this line of work.
In this blog post, we will take a look at what goes into being a medical administrative assistant, what qualifications you should have for the job, and how much you could earn doing it.
What is a medical administrative assistant?
A medical administrative assistant is what you could think of as an "office nurse." Their administrative responsibilities include maintaining patient records, scheduling appointments and tests, handling billing for the practice, and ordering medical supplies. They can also serve as a liaison between patients and doctors.
What are the responsibilities of a medical administrative assistant?
The common administrative duties of a medical administrative assistant include:
– Taking care of filing paperwork/records
– Scheduling doctor's appointments or hospital visits
– Handling billing tasks for practices
– Arranging insurance claims from hospitals or clinics
What qualifications do I need to become a medical administrative assistant?
In order to work in this field, candidates must have at least some college education on top of their training. There are different levels that one can get into depending on what kind of degree they plan to pursue – such as vocational and associate degrees.

What does the average Medical Administrative Assistant earn?
The median annual salary for a medical administrative assistant was $33,380 according to May 2019 data from the U.S Bureau of Labor Statistics (BLS).
The lowest-paid earned less than $21,810 while the highest earners made over $49,190 per year, with most working 40 hours or more each week during normal business hours.
In general, the median salary was $31,380 or between $15 and $20 per hour.
What is the job outlook for medical administrative assistants?
The U.S Bureau of Labor Statistics (BLS) has projected that job growth for medical administrative assistants will be faster than average.
There are expected to be 15,000 new jobs by 2026 with 23% of those being replacements due to retirement or other reasons among current workers.
The BLS also reported a strong outlook in general for both health care support occupations and all careers related to healthcare as the U.S population continues to age over the next decade and beyond.
How long does it typically take someone to find a job?
A medical assistant can expect at least two weeks before they begin receiving callbacks from employers after applying for available positions, according to 2018 data from Payscale.com which surveyed people who had been looking for work recently.
The survey found respondents were often able to find a job in under two months.
Start Your Career As A Medical Administrative Assistant With Us
Here at Northwest Career College, our student-centered philosophy means that you come first. We offer a flexible schedule so you can care for your family and have a balanced life in Las Vegas while advancing toward your new career.
We pride ourselves on being the premier Medical Administrative Assistant Schools in Las Vegas and our established, seasoned instructors offer online and on-campus night classes to accommodate your busy work and family schedule. Call us at (702) 403-1592 to speak to one of our admissions assistants about your new medical administrative assisting career.