How long does it take to become a Dental Assistant?
November 8, 2021
574 views
3 min read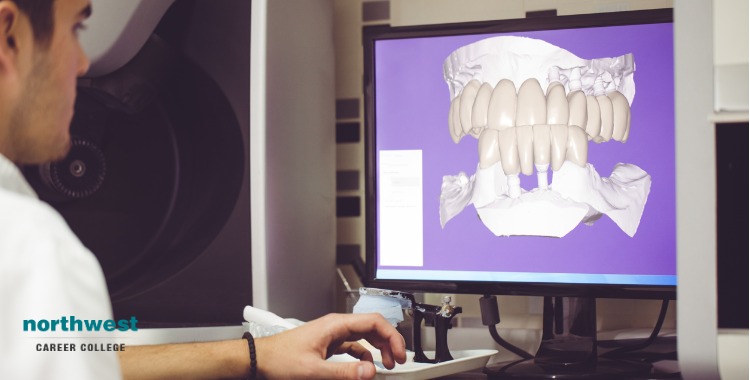 How long does it take to become a dental assistant? This is the question that many people ask themselves when they are looking for a new career. If you're one of these people, then this article will answer your questions and more!
We'll look at how much education it takes, how much training is needed, what salary can be expected, and how quickly an individual can find employment in their field.
What is dental assisting?
Dental assisting is an occupation that assists a dentist in providing care for patients.
The responsibilities of the dental assistant may include taking x-rays, sterilizing instruments and equipment used during procedures, arranging treatment rooms to ensure patient comfort, keeping records up to date, scheduling appointments with patients, and helping them prepare for their visit.
Dental assistants work under a dentist or an oral surgeon who is licensed by the state that they practice dentistry in. They report directly to the doctor only but are responsible for following all laboratory policies and regulations set forth by the organization where they work.
What education is needed to become a dental assistant?
To become a dental assistant you need at least an associate degree from an accredited program which usually takes about two years of full-time study beyond high school graduation.
However, some accelerated programs, like the one here at NCC can see you graduate in as little as 9-months!
A high school diploma or GED is usually required for admission.
What will I learn at dental assisting school?
Courses at dental assisting schools include:
Human growth and development

Medical terminology

Dental anatomy and physiology

Emergency procedures, infection control, and CPR certification
After graduation, an externship of about eight weeks in a real-life setting may be required.

In addition to training and experience requirements, many states require certification before employers can hire candidates in this field.
The American Dental Association (ADA) accredits many dental assisting programs.
The ADA offers regional certificate programs throughout the United States with courses offered at public community colleges and vocational schools nationwide.
To earn certification, the ADA requires students to take and pass a national written examination and complete continuing education courses in order to maintain their professional standing.
What is the average salary of a dental assistant?
According to the BLS, as of May 2020, the average salary for a dental assistant was $33,840 per year.
Entry-level dental assistants earned between $24,000 and $30,0000 while the top ten percent of experienced workers earned over $42,000 per year on average.
Join One Of The Best Dental Assistant Training Schools In Vegas
Here at Northwest Career College, we firmly believe that learning is a process that continues on the job. Our Dental Assistant Training Course gives you all the critical skills and experience you'll need to find the best dental assisting employment opportunity in Las Vegas. 
Our Dental Assistant School offers morning, afternoon, and night classes to accommodate your busy work and family schedule.
Our established seasoned instructors have helped our students achieve a 91% national exam pass rate. Call us at (702) 403-1592 to speak to one of our admissions assistants about your new dental assisting career.