How to stay safe while studying during Covid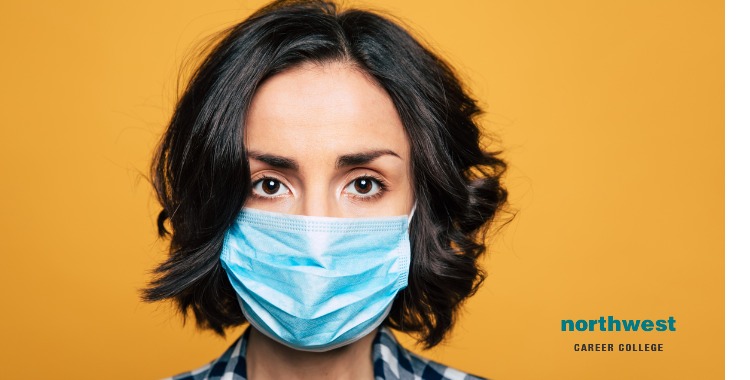 For many, the global Covid-19 outbreak has had a significant impact on their studies. However, with many states now putting new measures in place to ensure that students can continue their education, the emphasis has now shifted to how to stay safe while studying during Covid.
In this article, we'll be discussing some of the ways you can stay healthy while still getting the education you deserve. 
Prioritize Online Classes
Many education venues are now offering online classes as an alternative to traditional classroom studies. Online classes allow students to get the education they need without the added risk of a social environment.
Here at Northwest, nearly all our classes are available online and we offer each of our students a laptop as part of their enrollment in our online courses. We believe that a lack of equipment should be no obstacle between you and your education.
Wear a Face Covering 
Coronavirus (COVID-19) usually spreads by droplets from coughs, sneezes, and speaking. These droplets can also be picked up from surfaces if you touch a surface and then your face without washing your hands first. This is why social distancing, regular hand hygiene, and covering coughs and sneezes are so important in controlling the spread of the virus.
The best available scientific evidence is that, when used correctly, wearing a face-covering may reduce the spread of coronavirus droplets in certain circumstances, helping to protect others.
Wash Your Hands Regularly 
As per the advice from the CCD, during the COVID-19 pandemic, you should clean your hands after you have been in a public place and touched an item or surface that may be frequently touched by other people, such as door handles, tables, gas pumps, shopping carts, or electronic cashier registers/screens.

You should always attempt to clean your hands before touching your eyes, nose, or mouth because that's how germs enter our bodies. Washing hands with soap and water is the best way to get rid of germs in most situations. If soap and water are not readily available, you can use an alcohol-based hand sanitizer that contains at least 60% alcohol.
Student Finance Is Available and Easy to Apply for  
Title IV funding provides financial assistance towards the costs of education for more than 13 million students across the US every year. The U.S. Department of Education awards more than $120 billion a year in grants, work-study funds, and loans to cover expenses such as tuition and fees, room and board, books, supplies, and transportation. Applying for grants and loans is simple when you call one of our experienced Financial Aid Officers at (702) 403-1592 today to discuss your options.
How Do I Apply For Student Aid?
First, just complete the Free Application for Federal Student Aid (FAFSA). You can find a copy of FAFSA form, and a guide to completing it, on the Federal Student Aid website. www.FAFSA.ed.gov.  You can also fill the FAFSA out online here.  Please make sure you enter our school code: 038385. This allows your records to be sent directly to our Financial Aid office so that when you visit the campus, our FA officers can discuss your financial aid package with you in person.
Financial Aid At Northwest Career College
Here at Northwest Career College, we have Financial Aid Officers on staff that can help determine the best financing option for you. To best support our students we offer a range of financial aid including the Pell Grant, Subsidized Loans, Unsubsidized Loans, and Parent Plus Loans. Call us today at (702) 403-1592 to speak with one of our experienced Financial Aid Officers who will help find the best financial support options for you.
Written by: 
Dr. Stephanie Kenny,
Chief Financial Officer