Robotic Phlebotomist Could Help With Covid Testing
November 24, 2020
493 views
3 min read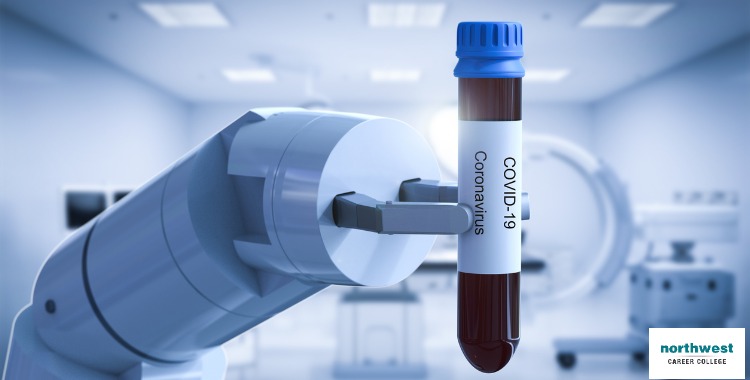 The current outbreak of Covid-19 has put immense pressure on both the wider healthcare system in the U.S and phlebotomists in particular. The greater need for antibody tests, which normally involve a blood draw, and the difficulties of conducting standard blood tests during social distancing have placed phlebotomists in high demand.
However, engineers at Rutgers University have developed a robot that autonomously draws patient blood and immediately performs hematology analysis. Such technology may help to speed up patient care, free clinicians to do other tasks, and even reduce the number of failed IV starts.
Reducing the Workload of Phlebotomists
With a combination of increased workload an overloaded healthcare system grappling with a pandemic and the increased restrictions on social content, healthcare facilities have been struggling to cover the number of blood drawn needed.
The autonomous blood-drawing robot created by Rutgers University was recently tested in a clinical trial for the first time and the results, published in the journal, Technology, showed that the robot is as good or better than trained phlebotomists at obtaining venous access.
While it is still in the early stages of development, a reliable method for efficiently drawing blood without the need for content between the patient and phlebotomist could be hugely helpful in the current crisis.
Lead study author Josh Leipheimer, a biomedical engineering doctoral student at Rutgers University reported that "A device like ours could help clinicians get blood samples quickly, safely and reliably, preventing unnecessary complications and pain in patients from multiple needle insertion attempts."
As Effective as a Human Phlebotomist
The study printed in Technology indicated that in 87% of all the volunteers, blood was drawn successfully on the first try, and for those who had easy to access veins, the rate was an impressive 97%. The robot uses ultrasound coupled with a programable algorithm to identify the best blood drawing spots.
Currently, clinicians can miss target veins in patients who lack visible veins and with veins that are not palpable. Trying the procedure repeatedly can lead to thrombosis, infections, and other maladies.

The cost of the robot is the main limiting factor in its commercialization, meaning it is highly unlikely to threaten the jobs of human phlebotomists. However, in certain circumstances, such as the need to draw blood from a large number of potentially infected individuals while maintains the safety of both patient and staff, such a machine could prove to be invaluable.
Learning New And Important Skills
At Northwest Career College, we pride ourselves on providing one of the premier Phlebotomy Schools in Las Vegas. Our phlebotomy students have an 89% national exam pass rate, and you can graduate in as little as three months.
Our established and seasoned instructors will take you through every aspect of Phlebotomy and Northwest offers day, afternoon, and night classes to accommodate your busy Las Vegas work and family schedule. Call us today at (702) 403-1592 to speak to one of our admissions specialists about your new Phlebotomy career.