Start Your New Career With the Best Vocational Training in Las Vegas
March 24, 2023
161 views
5 min read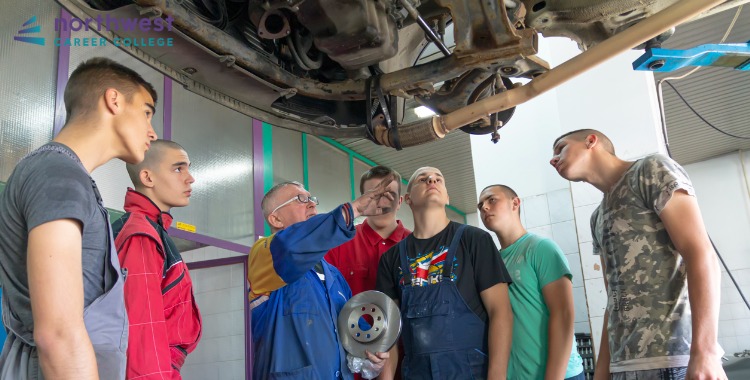 Have you been thinking about starting a new career? If you're looking for the best vocational training institute in Las Vegas, look no further than Northwest Career College and our list of top programs. From medical and dental assistant programs to paralegal training, we've got you covered.
Northwest Career College offers a range of vocational education and training programs that offer specialized training for a wide range of professions. Read on to find out more about how a vocational education from Northwest Career College can help you reach your career goals.

How to find the best vocational training for you
Finding the right vocational training can be a daunting task – luckily, with the right guidance and knowledge, you can make an informed decision.
Start by researching and making a list of potential courses that best suit your skill set and career objectives – then focus on the accreditation, fees, course duration, and job opportunities linked to those courses.
Talk to professionals in your desired field, weigh up their advice against what you've read online, and go through course syllabuses to narrow down your options even further.
Be sure also to check out career fairs, as they offer great insight into prospective industries and job opportunities. With careful research and investigations, you should be able to identify the best vocational training program for you!

What are the benefits of vocational training
Vocational training is a unique way to gain the relevant knowledge, skills, and certification needed for a career in a specific field. In many cases, this type of schooling is shorter than traditional college programs and offers students the opportunity to specialize in certain trades or courses.
There are several benefits of vocational training, such as being able to focus on the specific requirements of an occupation more quickly than when attending a traditional institution.
Additionally, these programs often provide hands-on experience in specialized fields, which can prove invaluable in obtaining jobs after graduation. By focusing on real-world situations related to their chosen field, vocational students gain practical knowledge that can benefit them throughout their careers.
Finally, it is much easier to transition into the job market with the right combination of specialized training and certification rather than going through a longer college program without those qualifications. Overall, vocational training provides many valuable benefits that can help make life easier when it comes to finding better careers.

How to choose the right program for you
Choosing the right program for you is an important decision. There are several aspects to consider when making your choice. You need to think about the type of learning environment that will best suit your needs, such as online or in-person classes.
Additionally, you should think about the specific skills you want to acquire and make sure the program offers them. Furthermore, look into any applicable accreditation requirements issued by organizations in your field which may be pertinent to your specific job search.
Finally, ensure that you have enough available time to commit to attending the desired program so that you can gain all of its benefits. With careful research and attention to detail, choosing a program tailored perfectly for you won't be hard at all.

Building toward your perfect career
Vocational education and training can be the key to unlocking your ideal career. With the right educational program, you can gain the necessary skills and qualifications to become successful in your chosen field.
Additionally, by finding a training program that meets your specific needs and interests, you can be sure that you're headed toward achieving your goals.
Although there are many vocational education and training options available, it's important to understand which one will work best for you. To begin with, consider your individual skills, interests, and needs.
With this information in hand, you can then start researching the different programs that are available. Additionally, make sure to read reviews about the programs that interest you and talk to people who currently hold positions in the field.
When you find a training program that fits your needs, make sure to examine both the format and content. It's also important to determine how long it will take for you to complete the course and any additional costs associated with it.
Finally, ask yourself if this is what you really want to do. Consider the potential rewards, such as a new career or higher wages, and weigh them against any risks that might be involved. By taking the time to do your research and make an informed decision, you can ensure that the training and education you choose are the right fit for you.



Start working toward your dream job with Northwest Career College
Here at Northwest Career College, we provide a variety of trade school programs and certifications to help you get the training you need for your new career. Our courses are tailored to meet the needs of each individual student and can be completed in as little as six months.
With our supportive faculty, flexible payment options, and 100% online learning platform, Northwest Career College is the perfect choice for those who want to jumpstart their career. We offer a comprehensive selection of programs, ranging from health care and business administration to legal assisting and criminal justice studies.
Our courses are tailored to the needs of each student. Our faculty members are experts in their fields and understand that everyone has different learning styles. That's why we make sure our classes are challenging, engaging, and highly interactive.
Call us now at (702) 403-1592 to start your journey!