Should Dental Administrative Assistants Worry About Infection Control?
Dental Administrative Assistant
June 20, 2021
526 views
5 min read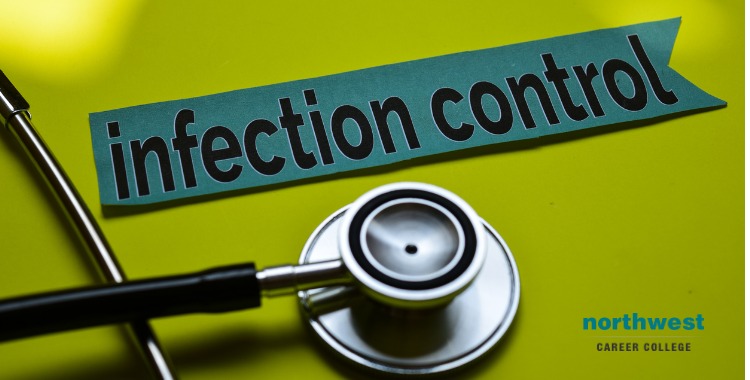 At this time, more so than ever because of the COVID-19 outbreak, the spreading of diseases is on everyone's mind. In the dental office, infection control may have been thought to be limited to the clinical setting. Nothing is further from the truth!
Here are a few tips to keep you and your patients safe from the spread of diseases.
Begin With a Clean and Organized Reception Area
Limit the number of magazines in this area. How many times have you seen a person "lick" their finger when turning pages? If you are running an efficient schedule, your patients will not wait long enough to be reading a magazine. Wipe down any children's books or toys daily with a surface disinfectant.
Have a box of tissues, hand sanitizers, and a trash can with a liner. Keep refillable supplies available at the front desk at all times. Sometimes people just don't think about what they are doing and germs will spread.
Organize Your Personal Workspace
Keep your work area clutter-free. If your office uses an outside cleaning service they are instructed not to touch any paperwork on your desk. It is up to you to sanitize your own work area and the less cluttered your space is, the easier it is to sanitize frequently.
Use surface disinfectants. Wipe down your countertop several times a day. Don't forget about your computer keyboard, mouse and, most importantly, your telephone. Be aware of how many times other patients or workers are using the telephones and consider cleaning phones every few hours.
Be very careful of which disinfectant you use, especially around computers. If you use the wipes/sprays that are used in the operatory make sure you use personal protection equipment (PPE). These include masks, gloves, and safety glasses. These chemicals are meant to be stronger and require proper PPE for your safety.
Be Alert to the Rest of the Dental Office
What about the restroom? Who is responsible to check if it is clean? During times like these, it is best to clean the restrooms in addition to any cleaning services that may come.
Light switches and doorknobs. Again, especially in the restroom. This area is used all day, every day. Check it, wipe it down and keep it clean.
Patient files and ink pens are other possible sources of cross-contamination. Not all offices are totally computerized. A patient chart will come from the operatory, where it could have been exposed to aerosol sprays, and handed off to you.
A careless staff member may even come up to you, wearing dirty gloves, and grab your pen to write up the chart. All staff should be following the same sanitation procedures and policies but it is still best for your own health to take all precautions, no matter how redundant they may seem.
Interview Your Patients
When you are confirming with patients, ask them questions such as: Have you been out of the country recently? Do you have a cold or fever? If they answer yes, you can give them the option to reschedule for the protection of others.
Should a patient come to an appointment and you suspect that they are ill, ask them "Are you feeling okay today?" Be non-confrontational, it might just be allergies. Again give them the option to reschedule. Let the patient feel you have their best interest in mind.

If an emergency patient comes in and you suspect they are ill, ask the same questions. Just remember, if they are in pain they may not be truthful if they think you will refuse to see them.
This patient can still be treated but extra precautions will need to be made. Tell the dentist immediately. The doctor may still see the patient and just provide palliative treatment until they feel better.
This patient should be placed in an operatory as soon as possible. You don't want them in the waiting room with other patients. The dentist may order an x-ray, prescribe an antibiotic/pain medication to control the infection, and bring the patient back when the infection clears.
Communication is key between the staff, patient, and dentist. Call the patient in a day or two to see how they are doing. Let the patient know you care.
Start Your Dental Administrative Assisting Career With Us
Employment for entry-level employment in the dental field is expected to increase 23% over the next 10 years, faster than average for all occupations, according to the Bureau of Labor Statistics. With this growing demand for DAA's, it is essential that graduates cultivate the skills and traits that will help them stand out in the employment market.
Here at Northwest Career College, our Dental Administrative Assisting Program prepares students to work in any dental office. Our expansive, nine-operatory lab provides students with real-life dental office experience. 
You will be trained to handle clerical duties such as scheduling appointments, handling insurance claims, and monitoring inventory. You will work with documents, forms, and computer systems. No other Dental Administrative Assistant Program in Las Vegas offers this type of advanced training.
Our student-focused approach will help you cultivate the skills you will need to stand out. Our experienced Career Services team will work with you to help you find the best dental administrative assistant employment opportunities in Las Vegas. Call one of our enrollment specialists at (702) 403-1592 to find out more.