Pharmacy Technician training: a step-by-step career guide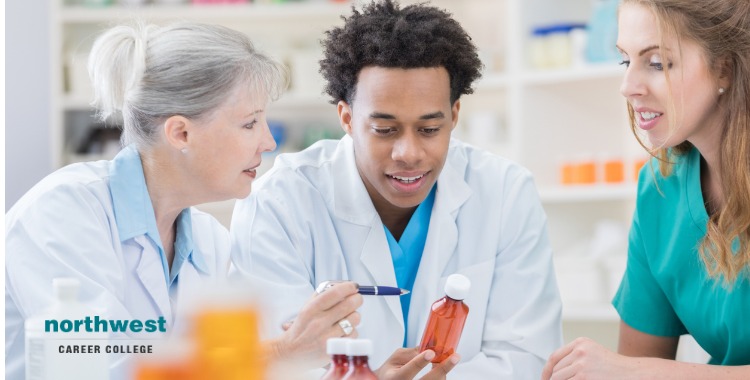 If you are considering starting your new career by becoming a Pharmacy Technician, we've put together a step-by-step guide that will walk you through how to obtain the right qualifications, how to get nationally certified, and how to start applying for the job of your dreams.
Choosing the Right Pharmacy Technician Training Program
The first step in creating your new career as a pharmacy technician is to find a training program that works for you. 
Here at Northwest, our Pharmacy Technician Training Program is designed to fit around your life and commitments, which is why we offer a blended program including online and on-campus classes with weekly workshops and whiteboard classes on campus to accommodate your work and family schedule.
In order to facilitate our students getting the best out of our online learning environment, we also offer each student a laptop for easy internet and online class access. We don't believe that a lack of equipment should stand between you and the training you need from our established, seasoned instructors.
Best of all, our Pharmacy Technician Training Program gives you all the skills and experience your need to excel as a pharmacy technician while still giving you the opportunity to graduate in as little and 9 months!
Completing Your Pharmacy Technician Training
Once you've chosen a Pharmacy Technician Training Program that's right for you, you'll be guided through modules that will give you the key skills and knowledge needed to become a pharmacy technician. 
These include:
Introduction to Pharmacy Practice

Mathematics for Pharm Techs

Introduction to Sterile Products

Introduction to Compounding

Body Systems and Pharmaceuticals I

Body Systems and Pharmaceuticals II

Pharmacy Administrative Management
Gaining Real Hands-On Experience
While the job market for pharmacy technicians is booming, the best way to differentiate yourself from the competition when it comes to applying for jobs is to have real practical experience on your resume.
This is why we offer an externship to all of our pharmacy tech students, giving them the opportunity to get some hands-on experience in the workplace to boost their resume. Using our extensive links with the local Las Vegas pharmacy community, we'll arrange for you to complete your externship with a local business where you can further your knowledge and gain important practical skills.
Getting Nationally Certified 
National certification is an excellent addition to your resume and, while you don't need to be certified to practice as a pharmacy technician in Nevada, you may need further certification to practice in other states. Becoming a nationally certified pharmacy technician CPhT enhances your ability to find employment and demonstrates your competency in the profession
We offer all our students the opportunity to take their Certified Pharmacy Technician (CPhT) exams with extensive preparatory classes. 
Applying for Pharmacy Technician Positions
Once you've graduated from our Pharmacy Technician Program, you'll be ready to start applying for the first position at the start of your new career. However, just because you've graduated from NCC doesn't mean we stop supporting you.
Our committed job placement team works with you to find you the best pharmacy tech employment opportunities in Las Vegas.
Start Your New Career As A Pharmacy Technician Now!
Northwest Career College is one of the premier pharmacy technician schools in Las Vegas. Our course provides our students with the skills and training they need to take advantage of the growing need for pharmacy technicians. 
Our experienced instructors offer online and on-campus classes to accommodate your Las Vegas work and family schedule. Once you've graduated, we continue to support you, and the commitment of our Career Services Team has led to us having a 100% job placement rate for our pharmacy technician graduates. Call us today at (702) 403-1592 to speak to one of our enrollment specialists. 
Written by:
Mark Brunton,
Pharmacy Technician Program Chair
CPhT, M.S.Ed.