Northwest Career College: The best place to qualify as a Medical Assistant in Las Vegas
December 3, 2021
549 views
4 min read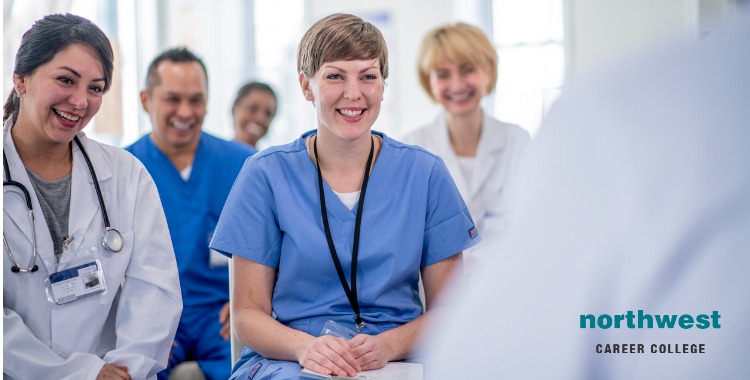 Do you want to work in medical administration, but don't know where to go to school? Northwest Career College is the best medical assistant school in Las Vegas!
With our top-notch medical training program and great job placement services, we are dedicated to getting you qualified for a medical assisting career. Are you ready to learn more about becoming a medical assistant? Continue reading this article for all the information that you need!
You can graduate in as little a nine months!
We know you're ready to get to grips with your new career, so our accelerated courses allow you to complete your training in just nine months.
We believe that everyone should have the opportunity to become a medical assistant, regardless of their previous education or experience, and make their way into the job market as fast as possible with all the right skills and experience.
We offer hands-on instruction in all facets of medical assisting
Our qualified and experienced medical assisting instructors give our students the hands-on training and instruction they need to master all facets of medical assisting.
With decades of experience under their belt, no one knows the industry better than our instructors.
Whether you're looking to go into a similar career field or just want training that will give you an edge in your current job, Northwest Career College is here for you!
We offer a flexible class schedule that fit your life
We fully understand that not everyone has the freedom to devote themselves to a strict full-time education schedule, which is why we offer flexible class times that fit your needs.
Our evening classes are perfect for working professionals, while our day program is great for busy parents with school-age children. We even offer a weekend course to accommodate those who work weekdays!
Our dedicated team of advisors can help you create a schedule that fits with your life and allows you the flexibility to fulfill family obligations, work around another job or even care for an elderly parent.
We provide online learning and a free laptop
Here at NCC, we believe that nothing should stand between you and the education you deserve, which is why we provide online learning options for your convenience.
We also offer a free laptop computer to all of our students, so that you don't have to worry about finding the time or money it takes to purchase one yourself!
We offer externships to give you hands-on experience
Our medical assistant program includes an externship with healthcare providers across Las Vegas.

This allows our graduates to enter the job market with the kind of hands-on experience and knowledge that employers really value.
Our committed job placement team helps you find the job of your dreams
We continue to support you once you've graduated from NCC. Our committed job placement team is here to help you find the job of your dreams by working in concert with local businesses to find you your first job as a medical assistant.
We are committed to providing an educational opportunity that allows students who would not otherwise be able to attend college, a chance at success in life through education and knowledge.
We offer compassionate care for every student we serve with our commitment to exceptional learning opportunities in both traditional classroom settings as well as online classes.
We have a successful track record of helping students find employment in their chosen field and we continue to support our graduates with job placement assistance, career services counseling, and ongoing training. We work hard to provide the experience that will set you apart from other applicants for your new position as a medical assistant.
Start Your Career In Medical Assisting Today!
Here at Northwest Career College, we have a student-focused attitude that prioritizes giving our graduates the training and skills they'll need to excel as medical assistants.
Our established and seasoned instructors work with you, teaching you every aspect of Medical Assisting. We help you build your skills, abilities, and confidence, and we are proud of our 88% national exam pass rate.
If you'd like to learn more about what our medical assistant course can offer you, call one of our enrollment specialists at (702) 403-1592 today. We provide flexible learning, with online and on-campus morning, afternoon, and night classes to accommodate your Las Vegas work and family schedule.
Once you've graduated, our dedicated and experienced Career Services team will work with you to help you find the best employment opportunities in Las Vegas. Call us now on (702) 403-1592 to start your journey!