How To Stay Energized On Late-Night Study Sessions
July 12, 2018
167 views
3 min read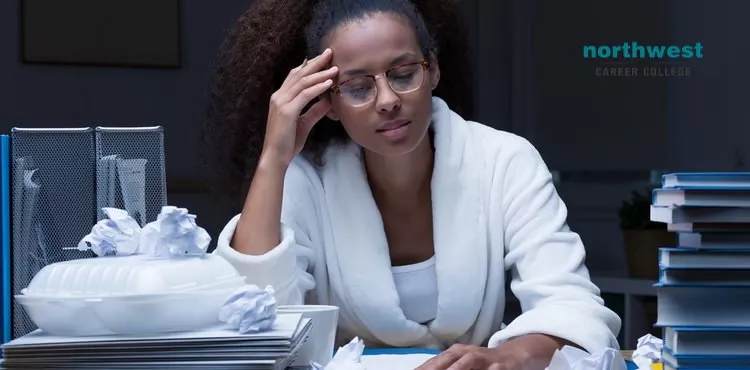 While the best way to get the most from your course is through effective time management, and leaving yourself plenty of time to hand in your assignments and prepare for your exams, at some point every student has at least one late-night study session.
As long as you don't make a habit of it, a little extra cramming at night can give you the extra time you need to study, especially for adult students with family and professional responsibilities. The main problem with staying up late to study is keeping yourself from falling asleep. To help out, we've put together some tips on how to stay energized on late-night study sessions.
Don't Binge On Sugar
While it can be tempting to give yourself a quick pick me up with sugary treats, this will cause your blood sugar levels to spike and then crash. Too much or too little blood sugar can make it difficult to concentrate and commit information to memory. If you are looking for good study snacks then try nuts or other high-protein foods, these can be a great way to keep your energy levels up without the crash that comes with carbohydrate-heavy options.
Keep Moving
While having a comfortable study space to work in will make it easier to concentrate, getting too comfortable can make it hard to stay awake. If you find yourself nodding off, get up and move around, stretch your muscles to avoid cramp and even do a bit of light cardio exercise to bring your heart rate up. Exercise improves the blood flow to the brain which has a positive effect on your ability to understand complex subjects.

Take Regular Breaks
Your brain can only absorb so much information at any one time. If you don't take regular breaks during your review sessions or study time, you will almost certainly end up staring at the same page, not taking anything in. If you've been working for a reasonable amount of time and are fighting the urge to check YouTube or Twitter, then give yourself a short break and do precisely that. Boredom will make you feel more tired, while regular breaks with different activities keep your brain active, making it understand concepts and commit them to memory.
Stay Hydrated
While a pot of coffee might be the staple of a late night study session, it's essential that you keep water on hand and make an effort to stay hydrated. Even mild dehydration comes with a host of negative side effects, including headaches, degraded mood, and loss of concentration. Keeping water on hand and drinking regularly is a great way to make sure you are making the best of your late night study hours.
Committed To Inspiring Excellence
Here at Northwest Career College, we are committed to providing our students with the best possible facilities to allow them to take advantage of the excellent courses we have on offer. In addition to our Pearson VUE testing center, we offer morning, afternoon, night, online, and blended classes to accommodate your Las Vegas work and family schedule. And, we have an experienced Career Services team to help you find the best employment opportunity for your new career. Call us today at (702) 403-1592 to find out more about what we can offer you!