Is Medical Administrative Assistant a Good Career Path?
Medical Administrative Assistant
August 10, 2023
402 views
6 min read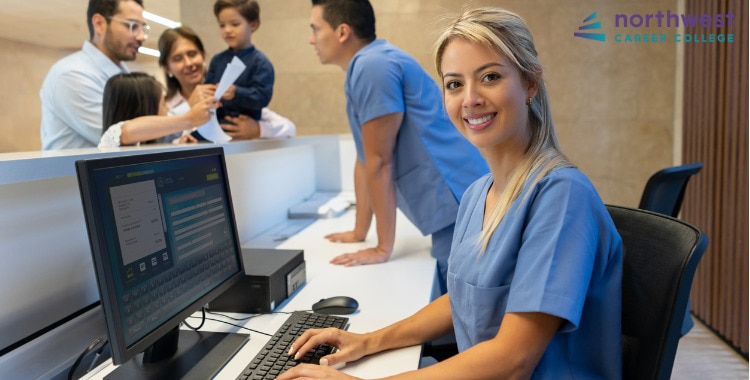 Are you looking for a rewarding career path that offers plenty of opportunities for growth? Have you considered becoming a medical administrative assistant? As the healthcare industry continues to evolve, so do the job roles within it.
Medical administrative assistants are integral to any successful health system – responsible for providing professional support in scheduling, patient intake, and recordkeeping. If you're considering taking up this profession, then make sure Northwest Career College is your top choice!
Here's why …

Overview of Medical Administrative Assistant Career Path
A career as a medical administrative assistant is a rewarding and promising path for those passionate about the healthcare field. Medical administrative assistants are critical in facilitating the smooth operation of medical offices, hospitals, clinics, and other healthcare centers.
They are responsible for performing various administrative tasks such as scheduling appointments, managing patient records, billing, and coding. In addition, medical administrative assistants are often the first point of contact for patients and visitors, making them the face of the organization.
With the healthcare industry constantly expanding, the demand for these professionals is expected to rise considerably. Pursuing a career in medical administration ensures job security, competitive pay, and opportunities for professional growth and advancement.

Benefits of Becoming a Medical Administrative Assistant
Working as a Medical Administrative Assistant can be incredibly fulfilling and rewarding for those interested in healthcare and a passion for organization. These professionals play a crucial role in the smooth operation of medical facilities and have the unique opportunity to directly assist healthcare providers in delivering top-notch patient care.
The benefits of this career path include a diverse range of responsibilities, opportunities for growth and advancement, and the chance to make a real difference in patients' lives. Whether you're just starting out in your career or looking for a change of pace, becoming a Medical Administrative Assistant can be an excellent choice that offers both personal and professional satisfaction.

Reasons to Enroll at Northwest Career College for Your Medical Administration Qualification
If you're considering a career in medical administration, look no further than Northwest Career College. With a strong emphasis on hands-on training and practical knowledge, we'll give you the skills you need to excel in this exciting field.
Our experienced instructors will walk you through everything from billing and coding to managing patient records, providing you with a comprehensive understanding of the medical industry. And with flexible scheduling options and financial aid available, there's never been a better time to start your journey to a rewarding career in medical administration.
Come join our community of successful graduates today!

Job Outlook and Opportunities as a Medical Administrative Assistant
Medical administrative assistants play a crucial role in the functioning of healthcare facilities. They are responsible for various tasks, including managing patient records, scheduling appointments, and organizing the office's day-to-day operations.
According to the Bureau of Labor Statistics, employment opportunities for medical administrative assistants are projected to grow 10 percent from 2019 to 2029, which is faster than the average for all other occupations.
This growth is attributed to the increasing demand for healthcare services and the need for administrative staff to manage the complexities of healthcare policies and regulations.
As a result, several job opportunities are available for those seeking a career in medical administration. The job outlook seems very promising for those looking to enter this field, with the potential for career advancement and job stability.

What You Can Expect In Terms of Salary & Benefits as a Medical Administrative Assistant
If you're considering a career as a medical administrative assistant, you're probably wondering about the salary and benefits you can expect. While salaries can vary based on factors like your years of experience, location, and specific job duties, the Bureau of Labor Statistics reports that the median wage for medical secretaries was $36,580 per year in 2020.
In addition to a competitive salary, medical administrative assistants may also enjoy benefits like health insurance, dental and vision coverage, retirement plans, paid time off, and continuing education opportunities.
As healthcare providers rely more and more on administrative professionals to keep their practices running smoothly, the demand for skilled medical administrative assistants is expected to remain strong for years to come.

Tips to Help You Stand Out When Applying for Positions
In today's competitive job market, standing out from the crowd is important when applying for positions. One way to do so is by showcasing your unique skills and experiences. Instead of blending in with the competition, highlight what sets you apart and how your background can benefit the company.
Another tip is to tailor your resume and cover letter to each specific job application. This shows that you've taken the time to research the company and understand what they're looking for in a candidate. Finally, make sure to follow up after submitting your application.
A quick thank you email or phone call can go a long way in showing your interest and enthusiasm for the position. With these tips, you'll be sure to catch the attention of hiring managers and increase your chances of landing your dream job.



Learn to be an Amazing Medical Administrative Assistant at NCC!
Becoming a medical administrative assistant can be a great career move. The profession offers tremendous potential for satisfying work and excellent pay. Northwest Career College is the ideal place to get started on your medical administration qualification, with its comprehensive program designed to offer you an edge in the job market.
You'll benefit from quality instruction, attain industry-standard certifications, and gain real-world training that you can put into practice immediately.
With a plentiful supply of available positions, lucrative salaries & benefits packages, and an ever-increasing demand for skilled professionals in the field, now is the perfect time to pursue this rewarding career path.
If you're interested in becoming a medical administrative assistant, contact Northwest today to learn more about their Medical Administrative Assistant Program and start your journey towards success!
Start your career as a Medical Administrative Assistant with us!
Here at Northwest Career College, our student-centered philosophy means that you come first. We offer a flexible schedule so you can care for your family and have a balanced life in Las Vegas while advancing toward your new career.
We pride ourselves on being the premier Medical Administrative Assistant school in Las Vegas, and our established, seasoned instructors offer online and on-campus night classes to accommodate your busy work and family schedule. 
Call us at (702) 403-1592 to speak to one of our admissions assistants about your new medical administrative assisting career.