Is it Hard to Make Money as a Massage Therapist?
August 7, 2023
744 views
7 min read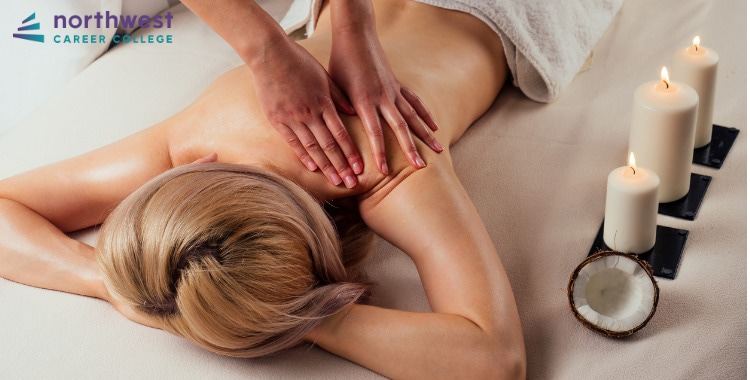 Have you ever considered a career in massage therapy? Many individuals are surprised to learn that it can be a lucrative and rewarding profession. As with any job, however, going into this field also involves overcoming certain challenges throughout your journey.
If you've been wondering how hard it is to make money as a massage therapist, you're not alone – but don't worry!
This blog post covers all the key information about getting a Massage Therapy qualification from Northwest Career College and what it could mean for your future income opportunities. So keep reading if you want to learn more and see if embarking on this career path is right for you!

Overview Of Massage Therapy And The Qualifications Needed To Become A Massage Therapist
Massage therapy is a fulfilling and rewarding profession that offers wonderful opportunities to help people feel healthier and happier.
To become a massage therapist, one must have certain qualifications, including graduating from a reputable school, passing a standardized licensure exam, and obtaining a license from the state where they plan to work.
Additionally, massage therapists should possess excellent communication skills, including active listening, clear verbal communication, and good interpersonal skills. They also must be able to work well with clients of different ages, backgrounds, and physical conditions while also being attentive and compassionate toward their needs.
Overall, it takes passion, commitment, and expertise to succeed in the field of massage therapy.

Benefits Of Becoming A Massage Therapist, Including Salary Potential And Job Security
If you're considering entering the healthcare industry, you might want to explore the benefits of becoming a massage therapist. Not only can you help clients reduce stress and manage pain, but you can also enjoy job security and a competitive salary.
As more and more people recognize the therapeutic benefits of massage, the demand for skilled practitioners continues to grow. This means that you can find employment opportunities in various settings, including clinics, spas, and sports teams.
Additionally, because of the level of specialized training required, massage therapists can enjoy a higher-than-average salary. Becoming a massage therapist can ultimately offer a fulfilling and lucrative career path for those interested in health and wellness.

What Makes Northwest Career College Different For Those Who Want To Pursue A Career In Massage Therapy
Northwest Career College stands out as a top destination in Nevada for aspiring professional massage therapists. What sets Northwest Career College apart is its emphasis on hands-on training that provides students with the practical skills necessary to succeed in this demanding field.
Students learn from experienced professionals who are passionate about their craft and eager to share their knowledge and expertise. The curriculum is constantly updated to reflect the latest industry trends and best practices, ensuring that students are well-prepared to meet the challenges of a rapidly-evolving marketplace.
Additionally, Northwest Career College offers flexible scheduling options and personalized attention so that students can balance their coursework with other demands in their lives. Northwest Career College is the place to be for those seeking a rewarding career in massage therapy.

How To Stand Out As A Massage Therapist And Make More Money
While there are plenty of massage therapists out there, there are few who really stand out and succeed in making more money. What sets those individuals apart? It's not just their technical skills. It's their ability to connect with clients and create a truly personalized experience.
These highly successful massage therapists take the time to understand their client's needs and preferences, tailoring each session to fit them perfectly. They also go above and beyond to provide exceptional customer service, building trust and loyalty with their clients. With a little extra effort and attention to detail, any massage therapist can stand out and create a thriving business.

Tips On Finding The Right Clientele To Maximize Your Earning Potential
Finding the right clientele is key to maximizing your earning potential as a massage therapist. But what exactly does that mean? It means identifying the types of clients who will benefit most from your skills and who you can provide the greatest value to.
It means understanding their needs and tailoring your services to meet them. It means prioritizing quality over quantity and seeking out long-term partnerships instead of one-off gigs.
So, how can you find these ideal clients? It starts with honing your niche and building a strong online presence. It means networking and leveraging referrals and testimonials. And it means learning to say no to clients who are not a good fit. By focusing on finding the right clientele, you can boost your earning potential and create a fulfilling career on your own terms.

Advice On How To Market Yourself As A Massage Therapist And Grow Your Business
Marketing yourself and growing your business can be daunting as a massage therapist. But with the right approach, it can be an exciting opportunity to showcase your skills to potential clients. One important aspect is to build a strong online presence by creating a professional website and social media profiles.
This will increase your visibility and help you connect with clients online. Equally important is establishing your expertise in the field by sharing informative content related to massage therapy on your website and social media. Additionally, offering incentives such as referral discounts and seasonal promotions can create a buzz and attract more business.
By taking these simple steps, you'll be well on your way to growing your massage therapy business and attracting a steady stream of clients.

Start Your New Career With A Qualification From Northwest Career College!
To sum up, becoming a massage therapist is exceptionally rewarding, and with the proper qualifications from Northwest Career College, you'll gain the background necessary to be successful in the field.
From there, mastering the art of massage therapy pales compared to mastering the skills required for being your own boss and marketing yourself to generate your own clientele. Knowing the ins and outs of both is essential for becoming a highly sought-after massage therapist.
Staying abreast of trends, monetizing expertise, engaging with clients on social media, and honing customer service skills all enable a massage therapist to stand out as an independent entrepreneur.
Finally, none of this success would be achievable without proper education and credentials, so start your career journey today by contacting Northwest Career College about their Massage Therapy Program.



Join one of the best Massage Therapy Schools in Las Vegas today!
At Northwest Career College, we operate one of the best Massage Therapy Schools in Las Vegas, and our Massage Therapy Course will teach you the skills you'll need to apply the benefits of sports massage.
The benefits of massage therapy are widely recognized, with employment for massage therapists expected to increase by 22% between 2014-2024, with an average massage therapist earning $39,360 a year. Additionally, many massage therapists maintain active, private practices, increasing both their flexibility and earnings.
Our massage student clinic is open seven days a week for both your and your client's convenience, and we offer day and night classes to accommodate your work and family schedules.
Our instructors are experienced professionals who will prepare you to sit for either the NCBTMB (National Certification Board of Therapeutic Massage) or the MBLEX (Federation of State Massage Therapy Boards) exams, and we are proud of our 100% board pass rate. Call us at (702) 403-1592 to speak to one of our enrollment specialists today!