What Qualifications Do I Need to be a Legal Assistant?
August 6, 2023
319 views
6 min read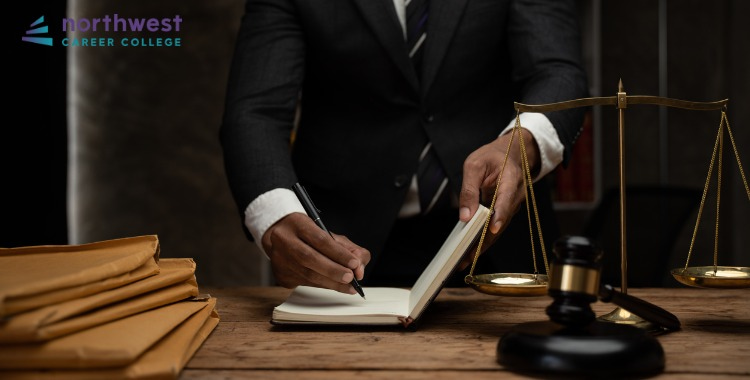 Legal assistants are the unsung heroes of law firms and legal departments. They play an essential role in the legal world, performing a wide range of administrative and supportive tasks to help lawyers prepare for cases, hearings, and trials.
In this article, we'll take a look at legal assistant as a career choice and what qualifications you'll need to excel in the exciting and challenging legal industry.

An Overview of the Responsibilities of a Legal Assistant
From conducting research, drafting legal documents, and managing case files to liaising with clients, court officials, and witnesses, legal assistants are the go-to professionals for all things legal.
Moreover, they are the glue that holds everything together, bringing their strong organizational skills, attention to detail, and communication abilities to create a seamless workflow and efficient legal practice.
Legal assistants are vital members of any legal team and indispensable players in pursuing justice.

Qualifications Needed to Become a Legal Assistant
Interested in pursuing a career in the legal field but don't have the time or resources to invest in law school?
Becoming a legal assistant may be the perfect solution. Legal assistants play a crucial role in the legal industry by assisting lawyers with day-to-day tasks, conducting legal research, and drafting legal documents.
But what qualifications are needed to become a legal assistant?
While specific requirements vary by state and employer, most legal assistant positions require at minimum a high school diploma or equivalent, as well as a certificate or degree in legal studies.
Additional qualifications that can make a candidate stand out include experience with legal research software, strong communication and writing skills, and a solid understanding of legal terminology. With the right qualifications, a career as a legal assistant can be both rewarding and challenging.

The Benefits of Pursuing a Career in Legal Assisting
If you're looking to get into an exciting and challenging field, legal assisting might just be the profession for you. As a legal assistant, you'll be responsible for helping lawyers and law firms organize and manage their workloads, ensuring that everything runs smoothly.
But that's not all – working in legal assisting comes with plenty of other benefits too. For one, you'll get to work in a dynamic and fast-paced environment that will keep you on your toes. You'll also get to work with legal professionals, learning from them and honing your skills.
Plus, with the demand for legal assistants on the rise, there's never been a better time to pursue a career in this field.

Northwest Career College's Legal Assistant Program
Are you looking to start a career in the legal field? Look no further than Northwest Career College's Legal Assistant Program!
Our program provides students with real-world training and hands-on experience to prepare them for the fast-paced environment of the legal industry. With courses covering topics such as legal research, writing, and documentation, our students gain the skills necessary to excel in this dynamic field.
Additionally, our program offers flexible scheduling options to accommodate busy lifestyles. Let us help you jumpstart your legal career today!

Why Northwest Career College is the Best Place to Get Qualified
Northwest Career College is easily the best place to get qualified. This college is unparalleled in terms of its curriculum, instructors, and facilities. The courses here are specifically designed to give students the hands-on skills they need to be successful in their chosen fields. 
The faculty members are experts in their respective fields and are dedicated to helping students achieve their career goals. Additionally, the college's state-of-the-art facilities provide students with an environment designed to optimize their learning experience.
With such a comprehensive approach to education, it's no wonder that students who graduate from Northwest Career College are among the most successful in their professions.
So if you're looking for a college that will help you excel in your career, look no further than Northwest Career College.

How to Get Started in the Legal Assisting Field Today
The legal assisting field is an excellent career choice for anyone interested in the legal industry. There are plenty of opportunities available for those who are organized, detail-oriented, and have good communication skills.
The first step to getting started in this field is to obtain the proper education and training. Many community colleges and technical schools offer legal assistance programs that can be completed in as little as two years. After completing your education, you will need to gain practical experience through internships or entry-level jobs. 
It is also important to stay up-to-date with the latest legal developments and technology to ensure that you are providing the best support to your employer. Overall, with the right education, experience, and dedication, you can embark on a fulfilling career in legal assisting.

Choose NCC to Start Your New Career as a Las Vegas Legal Assistant
In conclusion, the qualifications needed to become a legal assistant are complex and specific. Not all educational opportunities are equal, however.
With its experienced instructors and comprehensive course syllabus, Northwest Career College's Legal Assistant program offers students the chance to become experts in their field. Our courses focus on the fundamentals of legal terminology, as well as a solid base of required knowledge to practice in fields like real estate law or family law.
The advantages of pursuing a career as a legal assistant include helping people in need and developing your communication and organizational skills.
Finally, should you decide that this is the right path for you, it's never been easier to start down that path – contact Northwest Career College about our Legal Assistant program today!



Choosing your new career path
Gaining a qualification from our Legal Assistant School puts you in an excellent position to access various employment opportunities as you look for one that suits your skills and interests.
At Northwest Career College, our Legal Assistant instructors include licensed, practicing attorneys and degree instructors able to teach the law and guide our students in the many ways a criminal justice graduate integrates into a Las Vegas legal profession.
As part of our Legal Assistant Program, you'll visit courts, jails, meditation centers, and more to experience first-hand the law in action, which will make your criminal justice training applicable to the Las Vegas legal system.
Northwest offers a flexible blended program with all criminal justice classes taught on our Las Vegas campus by an attorney and general education courses offered online. Our experienced instructors are on campus to review and support your learning experience at all times.
Call us at (702) 403-1592 to speak to one of our enrollment team about joining our Legal Assistant Program today!