How to prepare for you first Medical Administrative Assistant interview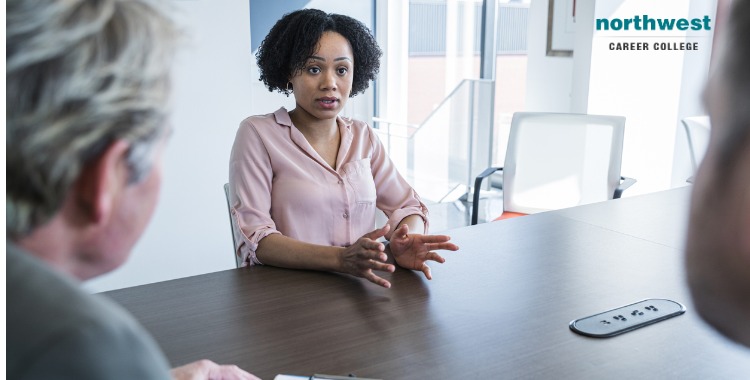 Once you've graduated from our Medical Administrative Assistant Program only one thing stands between you and starting your career in the healthcare sector, the dreaded first interview.
The good news is that interviews aren't actually as scary as you might think they are and there are plenty of things you can do to prepare for them. In this article, we'll be looking at a few interview preparation tips that can help you showcase your talents and abilities to potential employers.
Do Your Research
As a medical administrative assistant, you'll be the backbone of any practice you work for, responsible for ensuring all operations run efficiently. Because of this responsibility, it is incredibly important that you are able to demonstrate you understand the way the company you are applying for works.
Before attending an interview make sure you thoroughly research the company you're interested in working for. Having that information to hand will allow you to show your interviewer that you understand the company's objectives and you can explain why and how you can help the organization achieve its goals.
Re-Read the Job Description
A day or two before the interview, re-read the job description for the position you are applying for. Most companies emphasize what they think is important about the role in the job description, so there are key insights in there about what skills and abilities you should be emphasizing in your interview.
A complete understanding of the job description will allow you to anticipate questions and know what skills you will need to highlight. It will also help prevent you from getting bogged down in unnecessary details while you are preparing for your interview.
Understand the Key Skills and Abilities Required
While the companies you might be applying for roles with are going to differ, the role of medical administrative assistant is going to stay largely the same. This means that, regardless of where you apply, there are going to be similar interview questions on certain topics. These include:
Communication skills:

The ability to communicate clearly is essential to the role of the medical administrative assistant as you will be responsible for answering phones, written correspondence, and making various arrangements. You should have examples ready that highlight your ability to communicate effectively and deal with heavy workloads efficiently.
Technical skills:

The healthcare sector is high digitized and you will be expected to work with a variety of computer programs and show the ability to manage office equipment. To demonstrate your ability with office administration equipment you should prepare a list of all your applicable computer and technology skills.
Planning and organization skills:

Scheduling, organization, and prioritization are core parts of being a successful medical administrative assistant and the ability to multi-task is integral to succeeding in most administrative support roles. You will need to prepare some examples of experiences where you have multitasked to hit deadlines and how you prioritized heavy workloads.
Teamwork:

All healthcare providers feature a close-knit team working under high-pressure circumstances. In those conditions, good teamwork is essential and you should expect to be asked questions about your ability to work well with others. Have examples prepared of times when you were able to make a contribution as part of a team and how to build working relationships.
Understand Your Own Strengths and Weaknesses
Before going into any interview, it is important that you understand areas in which you excel and those in which you are still growing. Obviously, you will want to answer any questions about your ability to do the job by emphasizing your strengths and follow that up by giving an example of an experience where you were able to learn and grow from a challenge.
However, don't be afraid to discuss any weaknesses with the interviewer. Many employers see candidates admitting to the need for professional growth as a sign of honesty and the ability to take constructive criticism, both of which are vital in the workplace.
Start Your Career As A Medical Administrative Assistant With Us
Here at Northwest Career College, our student-centered philosophy means that you come first. We offer a flexible schedule so you can care for your family and have a balanced life in Las Vegas while advancing towards your new career. 
We pride ourselves on being the premier Medical Administrative Assistant Schools in Las Vegas and our established, seasoned instructors offer online and on-campus night classes to accommodate your busy work and family schedule. Call us at (702) 403-1592 to speak to one of our admissions assistants about your new medical administrative assisting career.
Written by:
Jenette Ashcraft, N.C.M.A.
Allied Health Department Director
R.M.A. National Education Center