How To Help With Pediatric Dental Patients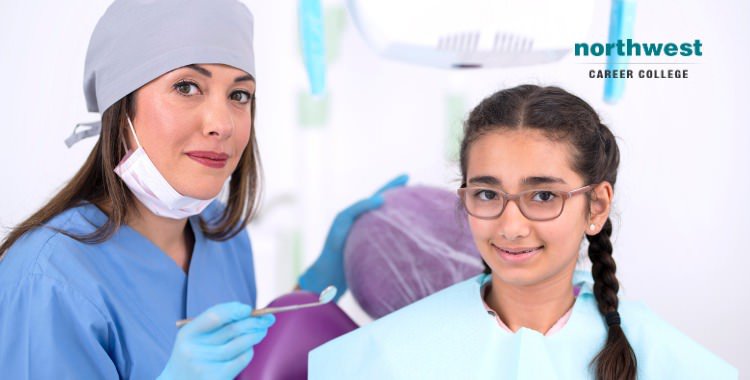 As every dental assistant knows it is much easier to treat patients when they feel comfortable. As a dental assistant, part of your responsibilities is to monitor patients during dental treatments for discomfort or distress. You can then use your interpersonal skills to calm them and put them at ease.
Pediatric dental patients come with their own unique set of challenges and require a certain approach in order to overcome those challenges. Communication can be more difficult that with adults and, although many people are wary about going to the dentist, a scared child can be very difficult to treat. To help you offer the best experience to your pediatric dental patients we've assembled some tips on how you can assist in the treatment of children.
Communicate at their level – A dental practice can be an extremely intimidating place for children and it is best to bear that in mind when you are communicating with them. Dentistry is a complex subject and it can be easy to fall into the use of industry jargon or overly complicated explanation. Remember your audience and make sure to explain and communicate in a way that they can connect with.
Distract them – While distracting young children might seem counterproductive, most children are afraid of the potential pain associated with dental work. In order to distract them from that source of fear, it is best to have a "focus object" on hand. With younger children this can be toys, but older children can also be distracted by items you normally find in a dental practice. Children are naturally curious, and explaining how and why dental tools work may be enough to keep them from becoming agitated.
Explain and demonstrate – Like most people, children react badly to the unknown. Explaining and demonstrating the treatment they are about to undergo is a good way to reduce the anxiety of most patients and this is doubly true for children, who have no frame of reference for what is about to happen. Remember that you will need to communicate potentially complicated dental procedures in a manner that is simple and easy to understand
Be patient – Patience is very much a virtue when it comes to dealing with pediatric dental patients. Anxiety, reticence and fright on behalf of the child might make a simple procedure into something complex and lengthy. If this happens it is important to stay calm and compassionate, remember how potentially frightening the situation could seem to a young child and do your best to present a calm and reassuring manner.
Join One Of The Best Dental Assistant Training Schools In Las Vegas
Here at Northwest Career College we firmly believe that learning is a process that continues on the job. Our Dental Assistant Training Course gives you all the key skills and experience you'll need to find the best dental assisting employment opportunity in Las Vegas. Our Dental Assistant School offers morning, afternoon and night classes to accommodate your busy work and family schedule and our established, seasoned instructors have helped our students achieve a 91% national exam pass rate. Call us at (702) 403-1592 to speak to one of our admissions assistants about your new dental assisting career.
Written by:
Cynthia Lofquist, R.D.A.
Dental Assisting Program Chair
Concorde Career Institute