How to Apply for Paralegal Entry-Level Jobs
May 15, 2023
107 views
6 min read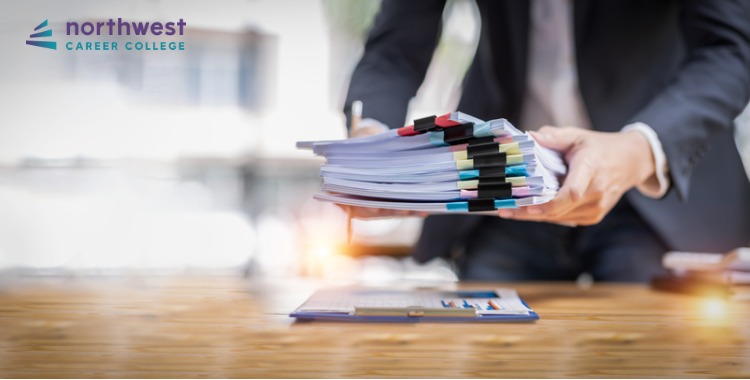 Are you looking to break into the legal field in a meaningful, impactful way? If so, becoming a paralegal may be an excellent career path for you!
Paralegals serve important roles inside law firms and corporations nationwide and can utilize their skill sets to help advance cases or research. While getting started as a paralegal can be intimidating, it doesn't have to be overwhelming.
Here are some tips on how to apply for entry-level jobs that can get your foot in the door.

Research the Requirements for Paralegal Entry Level Jobs
Are you interested in becoming a paralegal but don't know where to start? Researching the requirements for entry-level jobs is a great first step.
Paralegals play a crucial role in the legal field, assisting lawyers with research, drafting legal documents, and communicating with clients. To land a job as a paralegal, you typically need a certificate or degree in paralegal studies, and some experience working in a law office can be helpful.
It's also important to have strong organizational and communication skills, attention to detail, and a passion for the law. With the right education, skills, and attitude, you could be on your way to a rewarding career in the legal field.

Create a Professional Resume and Cover Letter
As you embark on your job search, crafting a professional resume and cover letter is a crucial step in landing the position you desire.
A well-written resume and cover letter serve as your first impression to potential employers and can make all the difference in setting you apart from other candidates. While creating these documents may seem daunting, it's important to remember that they are your chance to showcase your skills, experience, and personality.
Take the time to tailor your resume and cover letter to the specific paralegal job you are applying for and highlight your strengths in a clear and concise manner. With some effort and attention to detail, you'll be well on your way to impressing potential employers and landing your dream job.

Network with Attorneys, Law Firms, or Recruitment Agencies
Connecting with attorneys, law firms, or recruitment agencies can be the perfect way to create opportunities and get your foot in the door. By attending events, joining legal associations, or setting up informational interviews with law firms and recruiters, you can build relationships and increase your chances of getting hired.
These connections can lead to valuable mentorship, internship, and job opportunities that can jumpstart your career. Attorneys, law firms, and recruitment agencies can provide insider knowledge on the industry, including trends, job openings, and the skills necessary to succeed in the field.
In addition, networking with legal professionals can help you build lasting relationships and connections that can benefit you throughout your career. Don't miss out on the opportunity to network with these valuable resources – start building your professional network today!

Attend Job Fairs or Sign Up for Online Job Sites
Looking for a paralegal job can be a daunting task, but attending job fairs or signing up for online job sites can make a world of difference. Job fairs offer the unique opportunity to meet and network with potential employers face-to-face while also gaining insight into current job openings in your industry.
Meanwhile, online job sites provide a vast database of job listings that are easily accessible from the comfort of your own home. Both options allow job seekers to explore various career opportunities and sharpen their job-hunting skills.
So whether you prefer the personal touch of a job fair or the convenience of an online job site, take advantage of these resources to land your dream job.

Utilize Social Media to Make Professional Connections
In today's digital age, social media has become integral to our personal and professional lives. LinkedIn, Twitter, and Facebook are just a few of the platforms that allow professionals to connect and network with individuals in their industry, regardless of location.
These platforms also offer the opportunity to join groups and forums where like-minded individuals can share insights and support one another. Utilizing social media to make professional connections can lead to new job opportunities, mentorship, and even lifelong friendships.
With a little bit of effort and intentionality, you can leverage social media to expand your network and cultivate meaningful relationships that can benefit both your career and personal growth.

Participate in Internship Programs to Gain Experience
Internship programs provide an excellent opportunity to gain real-world experience in your desired profession. By participating in an internship, you can get a feel for the industry and the type of work you would be doing daily.
Interning also offers the chance to make valuable connections, receive mentorship from professionals in the field, and potentially secure a job after graduation.
It's important to note that internships can come in many forms – paid, unpaid, part-time, or full-time – and it's up to you to weigh the pros and cons to determine the best fit for your schedule and budget.
Northwest Career Colleges' Paralegal Program includes an externship component that allows students to gain real-life experience in the field of law while they complete their studies. This opportunity also provides a chance to learn from experienced professionals and make connections that can help with future job opportunities.
We work closely with local law firms, legal organizations, and government agencies to provide our students with the best possible learning environment and to help them find the right opportunities for their career goals.



Join one of the best paralegal schools in Las Vegas today!
Here at Northwest Career College, we run the top paralegal program in Nevada, offering our students the vocational education, skills, and experience they need to successfully enter the field of paralegal work and position themselves to maximize their earnings. 
Our Paralegal instructors are seasoned attorneys and highly trained professionals who can teach you the law and guide you through the many ways a paralegal integrates into a Las Vegas law practice.
We offer on-campus and online paralegal classes to accommodate your work and family schedule. Our Career Services team will work with you to help you find the best paralegal employment opportunity in Las Vegas.
Call us today at (702) 403-1592 to find out what our paralegal program can offer you.