How Northwest Can Help You Find a New Career in Phlebotomy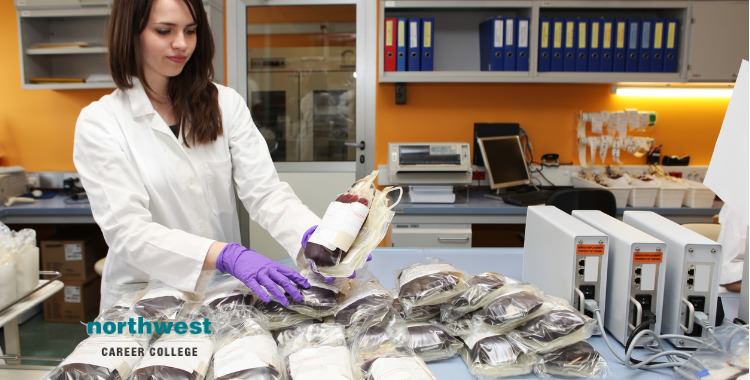 Employment for phlebotomists with a Registered Phlebotomy Technician qualification is expected to grow 25 percent from 2016 to 2026, faster than average for all occupations according to the United States Department of Labor.
On top of that, phlebotomy technician salaries are on the rise, with a Phlebotomist with an RPT earning, on average, between $34,480 to $49,060 a year.
With the need for qualified phlebotomy technicians on the rise, read on to find out how Northwest Career College can help you find your new career in this exciting field.
We'll Help You Get Your RPT (Registered Phlebotomy Technician) Qualification
Phlebotomists in Nevada are required to have a Lab Assistant / Office Laboratory Assistant License through the Division of Public and Behavioral Health. Passing your RPT national exam (Registered Phlebotomy Technician) qualifies you for the license.
After successfully completing your Phlebotomy Certification program in Las Vegas in phlebotomy training at Northwest Career College, students will receive a certificate that qualifies you to sit for the RPT exam administered by the American Medical Technologists (AMT).
Because of our commitment to getting giving our students the best possible chance of achieving their career dreams, we have worked hard for our 89% national exam pass rate.
We'll Give You Hands-on Training
When you join our Phlebotomy Technician school, you will work with established, seasoned instructors to learn every aspect of phlebotomy at Northwest's Phlebotomy Program in Las Vegas.
We offer classroom and online lessons, where you can expect to cover topics like:
Venipuncture procedure
Hematology
Safety in Health Care
Medical Law & Ethics
Medical Terminology
The Laboratory and Lab Tests
We also know how important it is to get our students out of the classroom and into the real world. Which is why we offer an externship with local healthcare providers as part of our course.
You Can Study in Your Own Time
Northwest's student-centered philosophy means that you come first in our Phlebotomy Technician Training School. Which is why Northwest's schedule allows you to attend phlebotomy training, care for family and have a balanced life in Las Vegas while advancing towards your new career.
Each student is provided a laptop for easy internet and online class access and Northwest offers day, afternoon and night classes to accommodate your Las Vegas work and family schedule, while still giving you the chance to graduate in as little as three months.
Learning New And Important Skills
At Northwest Career College, we pride ourselves on providing one of the premier Phlebotomy Schools in Las Vegas. Our phlebotomy students have an 89% national exam pass rate and you can graduate in as little as three months. Our established seasoned instructors will take you through every aspect of Phlebotomy and Northwest offers day, afternoon and night classes to accommodate your busy Las Vegas work and family schedule. Call us today at (702) 403-1592 to speak to one of our admissions specialists about your new Phlebotomy career.
Written by:
Jenette Ashcraft, N.C.M.A.
Allied Health Department Director
R.M.A. National Education Center