How Can Career College Help You Start A Medical-Assisting Career?
February 6, 2023
431 views
6 min read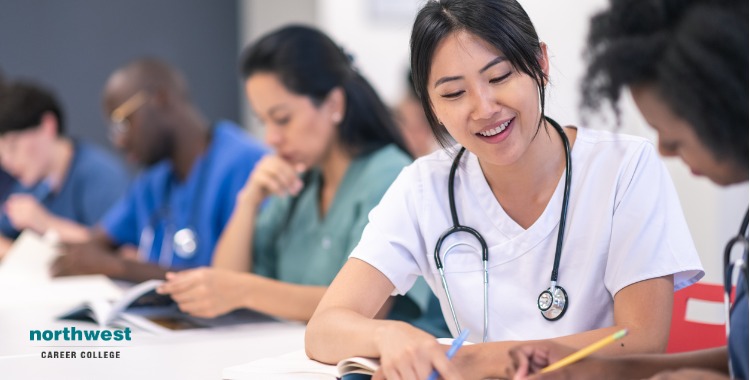 You may be wondering how you can start a medical assisting career. A great way to start is by attending a career college.
Career colleges offer training to help you get the skills and knowledge needed to begin your new career. They can also provide you with guidance and support as you start your new journey.
Keep reading to learn more about how a career college can help you create a medical assisting career!
The first step to becoming a medical assistant is completing an accredited program
Although some employers may not require medical assistants to hold a postsecondary certificate or diploma, completing an accredited program at a career college is the surest way to launch your medical assisting career.
Your educational institution should provide you with the skills and credentials needed to obtain entry-level employment in the field and be accepted into more advanced healthcare positions.
With a solid background in anatomy, physiology, pharmacology, and patient care techniques, you'll have what it takes to begin your new career on the right foot.
A career college provides you with the proper education and skills
When you're ready to pursue a career in medical assisting, a career college can provide you with the proper education and skills necessary for success.
Through comprehensive courses that touch on critical thinking and hands-on experience, you'll develop the insight and abilities essential for successfully launching your new job.
Programs often feature expert instructors providing direct instruction and an externship, so students can gain valuable real-world experience, helping them be better prepared to enter their chosen field.
Here at NCC, our medical assisting program offers students extensive opportunities to hone their skills in variety of areas. We focus on providing the most up-to-date education and training, along with relevant certifications that can help maximize your potential for career success.
We also offer an externship that provides invaluable hands-on experience in a real healthcare setting. Students will gain invaluable insight into the day-to-day operations of a medical office and learn how to best interact with patients, physicians, and other staff members.
The NCC Medical Assisting program also prepares you for certification exams such as the American Association of Medical Assistants Certification Exam
Career colleges offer many benefits, including smaller class sizes and more personal attention from instructors
Achieving a successful medical assisting career doesn't have to be overwhelming or intimidating. Career colleges offer the perfect solutions for those looking to jumpstart their new job by providing a wide range of benefits.
One of these benefits is smaller class sizes. These classes give learners more personal attention from experts in the field, allowing them to understand and master the material they're studying thoroughly. Smaller classes also have a more comfortable atmosphere and can allow learners to get closer to their instructors, leading to better learning outcomes.
Lastly, career colleges often offer flexible class schedules, allowing learners to pick the times that work best for them. Here at NCC, we offer day, evening, and weekend classes to help you fit studying into your busy lifestyle.
After completing a medical assisting program, you'll be prepared to take the certified medical assistant exam
Completing a medical assisting course from a career college is the first step to launching your journey toward becoming a certified medical assistant.
With rigorous training, comprehensive course material, and expert mentors, you'll be confident enough to tackle the certified medical assistant exam. You'll benefit from up-to-date instruction covering all the profession's fundamentals, leaving you better equipped for success in this highly-rewarding field.
In addition, NCC provides comprehensive pre-test preparation for the Association of Medical Assistants Certification Exam (AMAC). This certification is essential if you want to become an effective medical assistant in the United States. In the classroom, instructors will guide you through different types of questions and provide tips to help increase your chances of success.
Once you become a certified medical assistant, you'll be able to start your new career in healthcare!
Becoming a medical assistant is an exciting opportunity to start a career in the growing healthcare field. With a certification from a career college, you will be ready to find a meaningful role and make a difference in people's lives.
You can specialize in medical or clinical parts and prepare for exams through competency-based training. Through one-on-one instruction, experienced instructors will help you develop the skills for written communication, decision-making, problem-solving, critical thinking, and more needed for success as a certified medical assistant.
After completing your program of study from an accredited career college, you may find yourself working quickly in an entry-level position due to demand within the industry!
Let NCC help you build your new career
So, if you're interested in starting a career in healthcare as a medical assistant, the first step is to complete an accredited program. Northwest Career College can help you find the right medical assisting program to fit your needs and prepare you for certification.
Our smaller class sizes and personal attention from instructors will give you the hands-on experience and individualized attention you need to succeed.
Contact us today to learn more about our Medical Assisting Program!

Start your new career today
Here at Northwest Career College, we have a student-focused attitude that prioritizes giving our graduates the training and skills they'll need to excel as medical assistants.
Our established and seasoned instructors work with you, teaching you every aspect of Medical Assisting. We help you build your skills, abilities, and confidence, and we are proud of our 88% national exam pass rate.
If you'd like to learn more about what our medical assistant course can offer you, call one of our enrollment specialists at (702) 403-1592 today. We provide flexible learning, with online and on-campus morning, afternoon, and night classes to accommodate your Las Vegas work and family schedule.
Once you've graduated, our dedicated and experienced Career Services team will work with you to help you find the best employment opportunities in Las Vegas. Call us now on (702) 403-1592 to start your journey!