What Criminal Justice Careers Have The Highest Salary?
February 7, 2023
277 views
6 min read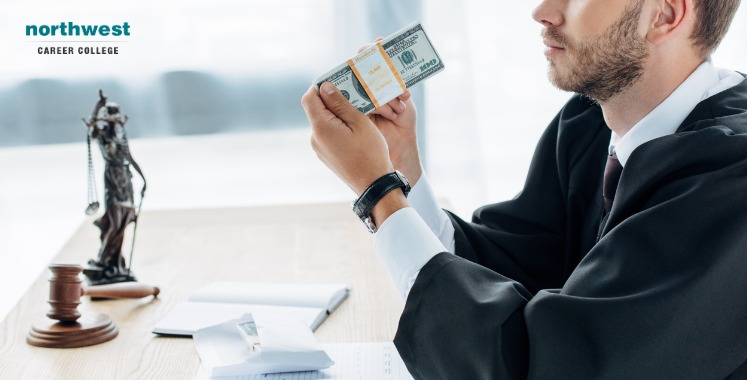 If you're considering a career in criminal justice, you probably want to know which positions offer the highest salaries. After all, earnings potential is an essential factor to consider when choosing a profession.
Here's a look at some of the best-paying jobs in the criminal justice field.
If you're interested in a career in criminal justice, you might be wondering what positions offer the highest salaries
When considering a career in criminal justice, salary is often an essential factor in decision-making. Many positions offer impressive salaries and choosing one that offers the right balance between earnings and job satisfaction can be difficult.
Those looking for the highest possible pay should consider positions such as forensic science technicians, first-line supervisors of police and detectives, judges, lawyers, and administrators.
The average salary in these fields can range from $40,000 to over $100,000 per year.
Of course, there are many other positions within the criminal justice field that are just as rewarding but may not have top-tier salary potential; it really depends on personal interests and qualifications.
While many factors contribute to salary (such as experience, education, and geographical location), there are some careers that tend to pay more than others
Many of the criminal justice careers that command the highest salaries involve positions in either management or homeland security.
These roles often require extensive experience, specialized training, and a clear understanding of the laws governing a particular field. In addition to these qualifications, employers may also consider proven aptitude and leadership and problem-solving skills when hiring for higher-paid positions in criminal justice.
Those looking to become successful candidates should have an up-to-date resume that highlights academic achievements and prior experience while showing they are equipped to handle any difficult situation quickly and efficiently.
Here are four of the highest-paying criminal justice careers, according to data from the Bureau of Labor Statistics:
According to the Bureau of Labor Statistics, there are four options that stand out in the field of criminal justice for having the highest salaries.
These jobs include
Lawyers – Lawyers are highly paid for their knowledge and expertise in the law as well as their ability to present cases in a court of law. Those with this career will be responsible for analyzing legal documents, offering advice and representation to clients, negotiating settlements and representing clients in court proceedings. The median salary for lawyers is $122,960 per year.
Judicial law clerks – Judicial law clerks are responsible for researching and writing legal opinions, preparing documents, helping to draft court orders and providing advice to judges on a variety of legal matters. They often work closely with judges as they conduct legal research and prepare written opinions. The median salary for judicial law clerks is $60,890 per year.
Paralegals – Paralegals play an important role in the legal profession by providing assistance to lawyers. They are responsible for researching and organizing legal documents, analyzing laws and regulations, preparing legal correspondence, interviewing witnesses and conducting other tasks related to the law. The median salary for paralegals is $50,940 per year
Judges – Judges preside over a variety of court proceedings. From criminal trials to civil matters, they are responsible for determining the outcome of each case. Judges must have strong analytical skills and in-depth knowledge of laws and legal procedures. The median salary for judges is $125,000 per year.
Many of these jobs have an entry-level position
If you are interested in entering a career in criminal justice but don't have the education or experience needed for higher-level positions, many of these jobs offer an entry-level position that allows you to gain the skills and experience to move up.
Paralegal jobs are a great way to enter the field and can provide you with a wide range of career options. Paralegals work closely with attorneys in legal offices, researching cases and helping draft documents.
Judges and magistrates are often required to have years of experience and have passed the bar, both of which can be done without a college degree.
Judicial law clerks are responsible for researching cases and helping judges write opinions. This is a great way to gain the necessary skills you need for higher-level legal positions, such as becoming an attorney.
Not all of them require a bachelor's degree or higher
Although most criminal justice careers require a bachelor's degree or higher to obtain the highest possible salary, there are several career options that do not need one.
The largest area in criminal justice where this is the case is law enforcement. Careers like police officers, sheriff's deputies, state troopers, and corrections officers often don't require degrees beyond high school or basic certifications or training.
Because of the nature of these positions, on-the-job training is often offered to allow individuals to gain the skills and knowledge they need to advance in their chosen careers.
Leveraging an associate's degree to start your career
While performance and experience can often lead to higher earnings over time, those with an Associate's degree often have opportunities that provide a robust financial return right away, something that can be invaluable when starting out in the criminal justice field.
Having a relevant Associate's degree can also help you stand out above other applicants and give you an edge in the job market. With a degree in hand, employers are more likely to view you as someone with the needed skills and knowledge for the position.
Additionally, some law enforcement agencies may require a minimum of an Associate's degree for certain positions, so having a degree is essential if you're looking to apply for those roles.
If you're interested in exploring a career in criminal justice, contact Northwest Career College to talk to one of our enrollment specialists about our Criminal Justice Program today.

Qualifying for your future
Gaining a qualification from our Criminal Justice School puts you in an excellent position to access a variety of employment opportunities as you look for one that suits your skills and interests.
At Northwest Career College, our Criminal Justice instructors include licensed, practicing attorneys and degree instructors able to teach, not only the law but also to guide our students in the many ways a criminal justice graduate integrates into a Las Vegas legal profession.
As part of our Criminal Justice Program, you'll visit courts, jails, meditation centers, and more to experience first-hand the law in action, which will make your criminal justice training applicable to the Las Vegas legal system.
Northwest offers a flexible blended program with all criminal justice classes Las Vegas law classes taught on campus by an attorney and general education courses offered online. Our experienced instructors are on-campus to review and support your learning experience at all times.
Call us at (702) 403-1592 to speak to one of our enrollment team about joining our Criminal Justice Program today!