How a Career in Medical Assisting Can Give You Real Job Satisfaction
March 4, 2023
488 views
6 min read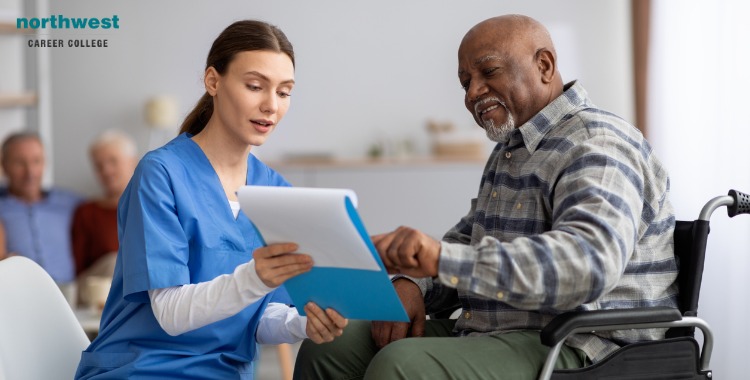 When it comes to careers, many people feel like they are stuck in a rut. They may have gone to school for something that they no longer want to do, or maybe their job just doesn't give them the satisfaction that they need in order to be happy.
If this sounds like you, then you may want to consider making a change to a career in medical assisting.
Medical assistants have some of the most rewarding jobs in the medical field. Not only do they get to work with patients, but they also have the opportunity to help doctors and nurses with their work.
If this sounds like the type of career you would enjoy, keep reading! In this article, we will discuss why medical assisting is such a fulfilling career choice.

If you're looking for a career in the medical field that is both challenging and rewarding, consider becoming a medical assistant
Becoming a medical assistant is an excellent choice for anyone looking to pursue a meaningful career in the medical field. Medical assistants play a vital role in healthcare, providing invaluable assistance to physicians and nurses so they can offer the highest quality of care possible.
As such, they must possess a keen eye for detail, multitasking capabilities, and exceptional organizational skills. They are also required to possess basic diagnostic and clinical knowledge, which can only be acquired through specialized training.
This combination of education, an exciting and challenging daily routine, and the rewards of making a real difference in the lives of others makes medical assisting a highly fulfilling career. It is a perfect choice for those who have an aptitude for care and medical work and are interested in making a long-term commitment to helping others.

Medical assistants play an important role in the day-to-day operations of hospitals and clinics and are often the first point of contact for patients
Medical Assistants provide crucial assistance to medical professionals, allowing them to run their teams efficiently while also providing stellar patient care.
As the first point of contact, they are responsible for setting the tone for a patient's experience with the hospital or clinic. They greet patients, verify their information and prepare them for their appointments with the doctor.
During their appointments, they monitor vital signs, prepare them for laboratory tests, and record pertinent medical history databases.
Medical assistants work diligently behind the scenes to ensure that no procedural steps are missed when it comes to treatment plans and other critical tasks. In short, these unsung heroes are vitally important to making sure people receive quality health care in a timely manner.
If you find your current career unfulfilling or don't feel like you're making an impact, becoming a medical assistant may be the perfect fit for you. You'll have the chance to make meaningful contributions to people's lives and enjoy a steady, stable career with plenty of room for growth.

A career in medical assisting can be very satisfying, as you will be helping others on a daily basis and making a difference in their lives
One of the main aspects of medical assisting that provides a high level of job satisfaction is the opportunity for individuals to make a positive impact on the lives of others.
In this role, you'll be responsible for ensuring that patients receive the care and attention they need to stay healthy. Not only will you provide administrative support to doctors, nurses, and other medical personnel, but you'll also have direct contact with patients throughout your day.
It can be incredibly rewarding to help people in any capacity, so if this sounds like something that interests you, then consider a career in medical assisting! You could help someone get back on the road to health, or improve their quality of life with your knowledge and assistance.

If you're interested in a career in medical assisting, many career college programs can help you get started
While becoming a medical assistant doesn't require a medical degree, you will still need to receive training and gain experience in the field. Medical assistant programs usually include classes in anatomy, physiology, patient care techniques, medical terminology, and clinical procedures.
You will be required to demonstrate technical proficiency and specialized skills to become a successful medical assistant. Many employers also require that you complete an internship or on-the-job training program before they hire you.
Additionally, certifications and licenses are often required for medical assistants. Certificates may include CPR certification, first aid certification, and infection control training.
At Northwest Career College, our Medical Assisting Program will provide you with the knowledge and skills necessary to become a successful medical assistant. Our program comprises both classroom instruction and hands-on training, allowing students to gain the practical experience employers look for in prospective hires.
We also offer an externship with local Nevada and Las Vegas healthcare providers that gives you the opportunity to practice the skills you learned in our program and gain real-world experience.
Upon successful completion of our Medical Assisting Program, graduates will be eligible to take the Certified Medical Assistant (CMA) exam offered by the American Association of Medical Assistants (AAMA). Passing this exam will enable you to become a certified medical assistant, making you eligible for a variety of job opportunities.

With the right training and dedication, you can have a successful career in medical assisting that is both personally and professionally fulfilling
Medical assisting is a growing field that offers immense opportunities for personal and professional growth.
Whether it's helping other people, building relationships with colleagues and clients, or taking advantage of the job's excellent pay and benefits, medical assistants have a lot to gain from this important career.
If you're looking for a career that provides a challenging and rewarding experience, medical assisting is the right path for you! 



Start your new career today
Here at Northwest Career College, we have a student-focused attitude that prioritizes giving our graduates the training and skills they'll need to excel as medical assistants.
Our established and seasoned instructors work with you, teaching you every aspect of Medical Assisting. We help you build your skills, abilities, and confidence, and we are proud of our 88% national exam pass rate.
If you'd like to learn more about what our medical assistant course can offer you, call one of our enrollment specialists at (702) 403-1592 today. We provide flexible learning, with online and on-campus morning, afternoon, and night classes to accommodate your Las Vegas work and family schedule.
Once you've graduated, our dedicated and experienced Career Services team will work with you to help you find the best employment opportunities in Las Vegas. Call us now at (702) 403-1592 to start your journey!