Is Healthcare Administration a Good Career?
Healthcare Administration
February 28, 2023
142 views
5 min read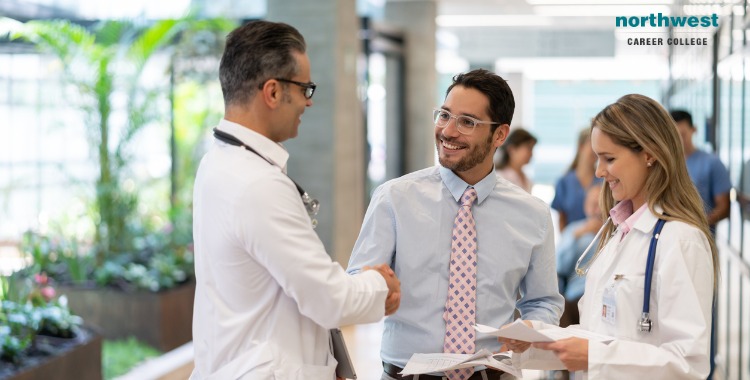 If you're considering a career in healthcare administration, you might be wondering if it's a good fit for you. With so many different types of healthcare careers out there, it can be tough to know which one is right for you.
But don't worry – we're here to help! In this blog post, we'll look at healthcare administration's pros and cons to help you decide if it's the right field for you.
Job duties of a healthcare administrator
Healthcare administrators are responsible for various tasks that keep medical facilities and healthcare systems running efficiently. On a daily basis, they must manage financial resources, keep track of budgets and ensure proper use of funds.
They also ensure the staff is organized and operating in accordance with established policies and procedures while handling personnel issues as necessary. Moreover, they conduct regular evaluations to improve patient care and meet organizational goals through processes such as auditing records, organizing safety drills, or providing continuing education to healthcare workers.
Healthcare administrators must stay abreast of all changes in the industry to remain competitive and be able to oversee their work environment effectively. Ultimately, healthcare administrators play an essential role in creating a positive impact on patient care.
The educational requirements for becoming a healthcare administrator
Becoming a healthcare administrator requires knowledge and understanding of the business, legal, and medical aspects of healthcare. Depending on the employer or job position sought, educational requirements may vary.
Typically, an Associate's degree in health services administration or a similar subject is required as a minimum baseline for entry-level positions.
Furthermore, some states also require licensure and may request that applicants submit their credentials to the Board of Medicine or Board of Nursing to be considered for work. If you are considering this line of work, ensure that you understand all relevant certification requirements before setting out.
The skills needed to be successful in healthcare administration
Healthcare administrators play an essential role in providing quality medical care to patients. To help ensure quality patient service, successful healthcare administrators must possess a suite of specialized skills.
These include knowledge about the regulations and policies that govern the healthcare system, as well as understanding the critical aspects of budgeting and finance within the field.
Additionally, communication and interpersonal skills are crucial for working with other staff members and collaborating to ensure policy and procedures are followed correctly.
Lastly, strong analytical thinking is required to interpret data from various sources and strategize solutions for any potential issues that arise. By honing all of these skills, healthcare administrators can be equipped to handle various situations efficiently and act as leaders in their respective organizations.
The job outlook for healthcare administrators
For those considering a career as a healthcare administrator, the job outlook is positive. Healthcare administrators are valuable industry members and are delightedly welcomed by many hospitals, doctor's offices, and clinics.
With an aging population and increasing demands for healthcare services, there is no shortage of employment opportunities for qualified individuals.
The Bureau of Labor Statistics estimates a faster-than-average growth rate through 2028. If you have the skills and dedication to succeed in this meaningful field, you can look forward to increased job availability and potential future promotions.
The salary range for healthcare administrators
Becoming a healthcare administrator is an excellent choice for those looking for a lucrative career path. The national average salary range for healthcare administrators begins at $58,000 and can reach up to $123,000 depending on experience level, expertise, and the location of the job.
That being said, salaries tend to be higher in large metropolitan cities compared to smaller towns and rural areas. Benefits can also vary widely, with some organizations providing generous packages that would include health insurance and retirement plans, while others offer more limited incentives in comparison.
As such, healthcare administrators should consider where they'd like to work but also factor in workplace benefits into their decision-making process when choosing which job is right for them.

Pros and cons of a career in healthcare administration
Deciding to pursue a career in healthcare administration has several advantages and disadvantages. For those looking for an intellectually stimulating job, healthcare administration offers the opportunity to learn about the inner workings of an organization that provides life-saving services.
Professionals in the field are essential in developing strategies that help create efficiencies while increasing the quality of care.
There are also challenging aspects to this type of career. Healthcare administrators must stay up to date on changing laws and regulations, as well as juggle multiple stakeholders within complex environments.
It is essential to carefully weigh all options before committing to a career in healthcare administration to make sure it is a good fit.
An excellent start to your career
There are many things to consider when deciding if healthcare administration is the right career for you.
This blog post has outlined some of the critical points, including job duties, vocational education and training requirements, skills needed, and the salary range. It has also listed some pros and cons of a career in healthcare administration.
If you're still undecided, we encourage you to contact us here at Northwest Career College. We would be more than happy to discuss our Healthcare Administration Program and other healthcare trade school programs with you and answer any questions you may have.



Start your new Health Administration career here at NCC
Here at NCC, we offer an Associate's Degree in Health Administration, which can be completed in as little as one year. The course focuses on the practical side of health administration and prepares you for your future career within this field.
Our Health Administration instructors have experienced professionals who work in the field and bring their industry experience into the classroom.
Our goal is to provide you with a broad knowledge of health administration that can be applied immediately upon graduation or later as your career progresses.
To start your new rewarding career in health administration, call us today at (702) 403-1592.