Finding the Right Shoes as a Dental Assistant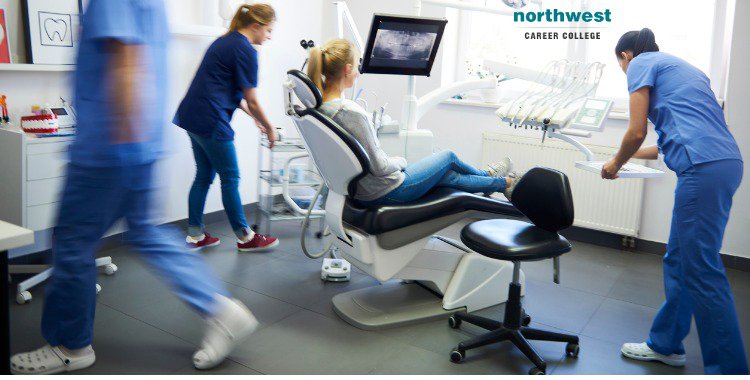 When preparing for your first day as a newly qualified dental assistant, your choice of footwear isn't likely to e the first thing on your mind. However, did you know that the average dental assistant takes about 12,000 steps, which is about five miles, every day?
Suddenly having the right shoes for the job doesn't seem like a bad idea, does it?
In this article, we'll be looking at what the usual uniform requirements are for a dental assistant and why the shoes are the most important part. 
What Uniform Will I Be Wearing?
While the exact uniform worn by dental assistants varies between dental practitioners and can vary between different procedures, the most common uniform items are:
Medical scrubs and gloves are the basics of all dental assistant's uniforms and are an important tool in infection control. 
Hair ties are there to keep your hair securely away from any dental procedure that you're assisting with, although depending on the style/length of your hair or facial hair, you may need to wear a hair/bear net.
You won't be asked to wear a surgical mask and safety goggles all the time, but they are another important part of infection control that is required for certain procedures. Similarly, you may be asked to wear a lead-lined safety shield when taking x-rays.
You shoes are what rounds out your uniform and, given you'll be spending most of the day walking back and forth between the office, the waiting room, attending a patient in the chair, then visiting the lab and walking back again multiple times, they are the part that is going to see the most wear. Which is why getting the right one is so important.
Finding the Right Shoes 
The first thing to note when shopping for work shoes as a dental assistant is that most dental practices, and some state laws, requires that dental assistants wear closed-toed shoes for personal safety and health.
What you need is a shoe that is flexible, supportive, well-cushioned and well ventilated. The support is probably the most important function as improper support for your feet when you work a job that requires a lot of standing and walking can lead to chronic foot, knee, ankle, and back issues that you'll want to avoid.
For that reason, you're best of choosing something like a tennis or squash shoe. Specifically designed to provide support for the ankle and foot, and with additional padding to cushion repeated impacts on a hard surface, tennis shoes also have the extra grip to stop you slipping if a little water gets spilled.
Investing in a good pair of shoes on your first day will help you avoid some potentially serious health complaints in the future and, quite literally, help you find your feet.
Join One Of The Best Dental Assistant Training Schools In Vegas 
Here at Northwest Career College, we firmly believe that learning is a process that continues on the job. Our Dental Assistant Training Course gives you all the critical skills and experience you'll need to find the best dental assisting employment opportunity in Las Vegas. 
Our Dental Assistant School offers morning, afternoon, and night classes to accommodate your busy work and family schedule. Our established seasoned instructors have helped our students achieve a 91% national exam pass rate. Call us at (702) 403-1592 to speak to one of our admissions assistants about your new dental assisting career.
Written by:
Cynthia Lofquist, R.D.A.
Dental Assisting Program Chair
Concorde Career Institute