Find Your New Career With a Dental Assisting Qualification
March 8, 2023
486 views
6 min read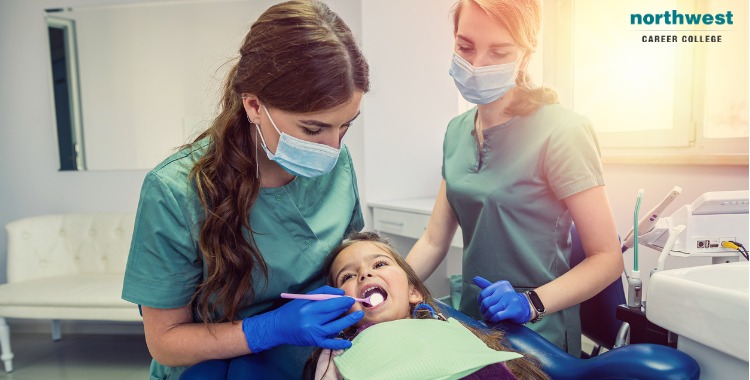 If you're looking to start a new career, a dental assisting qualification can be a great option. With this qualification, you'll be able to provide support to dentists and help with various aspects of patient care.
Plus, you'll gain valuable skills that can be applied in many different settings. So if you're ready for a change, consider pursuing a dental assistant career. It could be the perfect fit for you.

A dental assisting qualification can open up a world of new career opportunities
A dental assisting qualification can be the key to new beginnings and a brand-new career. This professional certification can help those looking for an opportunity to begin a fulfilling and rewarding career.
Having a recognized qualification in dental assistance will open the door to numerous opportunities in the healthcare field, often with higher wages and better benefits than traditional entry-level positions.
Studying for and achieving a professional certificate shows potential employers two things, first, that you are committed to getting ahead in your career; second, that you have what it takes to succeed in classic and cutting-edge procedures as part of a larger team working towards helping people achieve healthier lifestyles.
A dental assisting qualification could be the path toward your dream job. One that offers long-term satisfaction and growth individually, professionally, and financially.

With a qualification, you'll be able to work in a variety of settings, from private practices to hospitals
A qualification in dental assisting opens the door to a wealth of opportunities. Not only will you be able to work in private practice, but you could also become part of a larger healthcare environment, such as hospitals or health facilities, offering an even more diverse career path and countless rewarding experiences.
Certified dental assistants can play a key role in their chosen workplace, allowing them to gain meaningful and important experience that could further enhance their career prospects.
With this qualification in hand, aspiring dental assistants have access to fascinating roles with great benefits.

You'll gain skills that are transferable to other roles, such as customer service and administration
A dental assisting qualification can open up a range of new opportunities for you, including acquiring transferable skills.
You'll learn key skills such as customer service and administration, which are highly valued in the workplace and will help you to excel in any role. Not only will these skills be useful for your current job, but they can also be transferable to different jobs you may have in the future, giving you greater stability and career options.
A qualification in dental assisting is a great way to start your career and add some valuable life-long skills to your resume.

A qualification can help you progress in your career, with many employers offering on-the-job training
If you're looking for a new career, a dental assisting qualification can help you get started. From learning how to help with dental procedures and handling patient paperwork to understanding the inner workings of a dental office, these qualifications give you the skills and knowledge necessary to progress in many professions.
Northwest's dental assisting qualification is designed to give you the skills and confidence needed to work in a dental office environment. We cover the fundamentals of oral anatomy, radiology, oral hygiene, sterilization, infection control, patient records management, and more.
You'll gain practical experience using our state-of-the-art equipment, giving you hands-on practice before you enter the workforce. We also cover the legal aspects of dental practice, helping you understand your rights and responsibilities as a dental assistant.
Completing Northwest's qualification will give you the confidence to confidently deliver patient care, as well as handle other general duties such as taking patient records, managing appointments, and billing.
What's more, many employers are willing to provide even more on-the-job training so that individuals who hold these qualifications can continue to build on their experience and expertise.
When combined with dedication and ambition, this type of recognizable certification could quickly elevate your career in exciting ways.

Dental assistants play an important role in the dental team and contribute to the care of patients
Dental assisting has become an increasingly sought-after career, as the role of these professionals is key to ensuring a positive experience for dental patients.
The work of a dental assistant involves performing a variety of tasks in order to help dentists and other professionals on the dental team provide quality care for their patients.
This could include preparing materials and supplies, operating diagnostic and dental instruments, giving information about oral hygiene and treatment to their patients, sterilizing tools and equipment, recording medical histories, and taking impressions of teeth.
These important job functions are crucial to providing safe, efficient healthcare; without the skillset that comes with obtaining a dental assisting qualification, it would be impossible for dentists to do the work they do.
If you're looking for an invaluable opportunity to transform patient experiences while developing your professional career, then consider getting a qualification in dental assisting today.

If you're looking for a change of career, or just starting out, consider dental assisting!
Thinking of making a career change, or starting down a different sort of professional path? Consider dental assisting! Not only can you gain employment opportunities in highly reputable dental care centers, but completing the qualification for it takes far less time than many other vocational training courses.
If a more secure and steady line of work within the medical field is what you're seeking, then know that becoming a trained dental assistant could offer you just that. Take steps now to find out more about how having this qualification could be the key to unlocking opportunities for furthering your career and earning potential.



Join one of the best Dental Assistant training schools in Vegas
Here at Northwest Career College, we firmly believe that learning is a process that continues on the job.
Our Dental Assistant Training Course gives you all the critical skills and experience you'll need to find the best dental assisting employment opportunity in Las Vegas.
Our Dental Assistant School offers morning, afternoon, and night classes to accommodate your busy work and family schedule.
Our established seasoned instructors have helped our students achieve a 91% national exam pass rate. Call us at (702) 403-1592 to speak to one of our admissions assistants about your new dental assisting career.