How To Build a Career In Massage Therapy
March 7, 2023
611 views
5 min read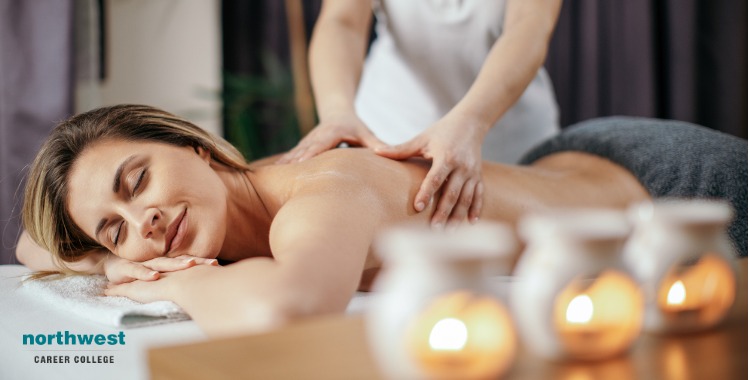 So you want to be a massage therapist? Congratulations, it's a great career choice! Massage therapy can be extremely rewarding, both personally and professionally.
But before you start your new career, there are a few things you need to know. Here's what you need to do to build a successful career in massage therapy.

What is Massage Therapy, and what are the benefits of becoming a Massage Therapist?
Massage Therapy has countless physical and mental benefits for those who receive it. It helps promote relaxation in both the body and mind, relief from chronic pain, improved blood circulation, better joint mobility, and restoration of energy levels.
For those looking to become massage therapists themselves, this fulfilling career offers a wealth of job opportunities, from spa settings to health care centers or even setting up your own business.
A professional qualification will equip you with essential skills such as techniques applied in various massage modalities, professional ethics, and hygiene practices, as well as how to advise clients on preventive self-care strategies.
This knowledge ensures practitioners are well prepared to go out into the profession fully equipped with the necessary tools in order to provide a quality service that is safe, effective, and sustainable.

What qualifications do you need to become a Massage Therapist?
If you're considering a career as a massage therapist, it's essential that you know what qualifications are necessary to gain licensure or certification in your state.
Generally, most massage therapists possess an associate degree focusing on massage therapy, bodywork, anatomy, and physiology from an accredited college, along with passing an exam from the National Certification Board for Therapeutic Massage and Bodywork (NCBTMB).
Licensure requirements will vary by state, so it's wise to research the specific criteria of your desired state thoroughly.
Northwest Career College has a reputation for excellence in massage therapy training and is approved by the NCBTMB. We offer a Massage Therapist diploma program that provides potential students with the relevant education required to become licensed massage therapists in Nevada.
This program is designed to provide the student with both theoretical knowledge and practical experience in massage modalities, anatomy, and physiology.
The Massage Therapist Program offered by Northwest Career College is designed to ensure that students have all the necessary skills, knowledge, and experience required for licensure in Nevada.
Once students successfully complete the program, they will be eligible to sit for the Nevada State Massage Therapy Licensure Exam. This exam covers all aspects of massage therapy, including anatomy and physiology, pathology and neurology, hydrotherapy, and ethics.
Graduates who pass the exam are awarded a massage therapist license from the state of Nevada and may start practicing as licensed massage therapists.

How can you use your Massage Therapy qualification to build a career in another field, such as healthcare, fitness, or the beauty industry?
Having a Massage Therapy qualification can act as an excellent stepping-stone to help you build a career in another field.
Aside from providing massage services, the extensive training and qualifications you have obtained through your massage therapy studies can assist you in developing numerous other opportunities.
Within the healthcare industry, for example, your unique set of skills could prove invaluable for areas such as physiotherapy or sports rehabilitation.
For those interested in the fitness or beauty industry, obtaining a Massage Therapy qualification provides you with capabilities such as body treatment techniques, cosmetic facial treatments, and spa development skills that can be extremely beneficial to employers in both these specialist fields.
With the right attitude and enthusiasm, the qualifications obtained through studying massage therapy provide an ideal foundation to launch yourself into many different directions in order to create a fulfilling and successful future.

What are some things to consider if you're thinking about starting a career in Massage Therapy?
If you're thinking about furthering your career by embarking on a Massage Therapy qualification, there are a few things to consider first.
Make sure that the course is accepted in the country you plan to practice in and find out which kind of massage therapy is best for you. You should also research which classes and courses you may need to complete prior to undergoing your qualification.
Furthermore, check with your local professional body for any prerequisites or qualifications required for registration so that you can start practicing as soon as possible.
Finally, it's important to investigate the cost of such qualifications as well as options such as student loans, grants, scholarship programs, or entry-level job opportunities that could help finance your new career.
Ultimately, if massage therapy is your passion and you'd like to pursue it as a career, a qualification can help you stand out, advance your career and open up more opportunities for you.  Contact Northwest Career College today to get started on achieving your massage goals.



Join one of the best Massage Therapy Schools in Las Vegas today!
At Northwest Career College, we operate one of the best Massage Therapy Schools in Las Vegas, and our Massage Therapy Course will teach you the skills you'll need to apply the benefits of sports massage.
The benefits of massage therapy are widely recognized, with employment for massage therapists expected to increase by 22% between 2014-2024, with an average massage therapist earning $39,360 a year. Additionally, many massage therapists maintain active, private practices, increasing both their flexibility and earnings.
Our massage student clinic is open seven days a week, for both your and your client's convenience, and we offer day and night classes to accommodate your work and family schedules.
Our instructors are experienced professionals who will prepare you to sit for either the NCBTMB (National Certification Board of Therapeutic Massage) or the MBLEX (Federation of State Massage Therapy Boards) exams, and we are proud of our 100% board pass rate. Call us at (702) 403-1592 to speak to one of our enrollment specialists today!