FAFSA 2021: the facts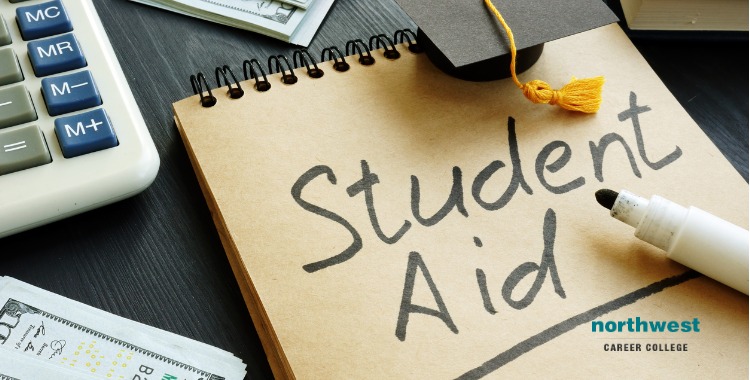 If you're considering applying to join us here at NCC, and you should be, one of the first steps you should take is figuring out what student financial aid is available to you. To help out, we';ve put together this brief guide to the facts for FAFSA 2021.
What Types of Federal Student Aid Are Available?
According to Student Loan Hero, while there are no overall FAFSA income limits, the type of aid you're eligible for and whether you qualify for need-based financial aid will depend on your family's finances.
Even if you don't think you qualify for need-based aid, though, it makes sense to fill out the FAFSA to see if you can get non-need-based aid. You have to complete a FAFSA each year to keep receiving federal student aid.
Below are the types of federal financial aid you can obtain as a result of filling out the FAFSA:
Federal Pell grant

Federal Supplemental Educational Opportunity Grant (FSEOG)

Federal work-study programs

Direct subsidized loan

Direct unsubsidized loan

Direct PLUS loan
What Is My 'Financial Need'?
The point of the FAFSA is to help schools figure out your financial need. That's right: The school determines what kind of federal financial aid package you get.
How much you need is decided by comparing your Expected Family Contribution (EFC) with the cost of attendance at your school. Here's what you should know about it, along with some other key points:
Expected Family Contribution (EFC)

Cost of attendance

Need-based and non-need-based financial aid
What Is My Expected Family Contribution (EFC)?
The EFC is calculated using a formula that is set by law. Financial aid offices at colleges use the information included on your FAFSA to determine how much your family can reasonably be expected to pay to cover your education expenses. Some of the items taken into consideration include:
Your family's income (taxed and untaxed) and current assets

Any benefits (such as Social Security and unemployment insurance) you or your family receive

The size of your family

The number of siblings you have attending college during the school year
Although there are no FAFSA income limits or maximum income to qualify for financial aid, there is an earnings cap to achieve a zero-dollar EFC. 
For the 2020-2021 cycle, if you're a dependent student and your family has a combined income of $26,000 or less, your expected contribution to college costs would automatically be zero. 
The same goes if you (as an independent student) and your spouse earn no more than $26,000 annually. Once your EFC is determined, it's subtracted from your school's cost of attendance.
What Is My Cost of Attendance?
When you fill out your FAFSA, you specify which schools you want the information sent to. Each school has its own cost of attendance, based on what you would pay to attend the school for two semesters.
In some cases, though, you might seek a certification rather than a degree. Such a program might last a different length of time. 
The cost of attendance estimate includes tuition and fees, as well as room and board. It also includes what you can reasonably expect to pay for books, supplies, loan fees, eligible study abroad programs and transportation. Finally, the estimate can also include an allowance for child care and disability costs.
What Is the Difference Between Need-Based and Non-Need-Based Financial Aid?
Once the school has your FAFSA, it can put together an aid package. You might be offered a combination of need-based and non-need-based options.

For example, your cost of attendance is $18,000 for the year and the EFC formula indicates that your family should be responsible for $14,000 of that amount. Your need-based aid maximum would be $4,000. It might be offered to you in the form of grants, subsidized loans or work-study programs.
Of course, you could run into a problem if your parents can't afford your EFC.
That's where the non-need-based aid comes in. You might be offered a direct unsubsidized loan, and your mom or dad might need to take out a PLUS loan as well. Your EFC doesn't determine your non-need-based aid. 
Instead, it looks at your cost of attendance and subtracts all the other aid you have, including your need-based aid, any merit-based scholarships you obtained from the school or private sources and all other sources of aid.
How Do I Apply For Student Aid?
First, just complete the Free Application for Federal Student Aid (FAFSA). You can find a copy of the FAFSA form, and a guide to completing it, on the Federal Student Aid website. www.FAFSA.ed.gov.  
You can also fill the FAFSA out online here.  Please make sure you enter our school code: 038385. This allows your records to be sent directly to our Financial Aid office so that when you visit the campus, our FA officers can discuss your financial aid package with you in person.
Financial Aid At Northwest Career College
Here at Northwest Career College, we have Financial Aid Officers on staff that can help determine the best financing option for you. 
To best support our students we offer a range of financial aid including the Pell Grant, Subsidized Loans, Unsubsidized Loans, and Parent Plus Loans. Call us today at (702) 403-1592 to speak with one of our experienced Financial Aid Officers who will help find the best financial support options for you.
Written by: 
Dr. Stephanie Kenny,
Chief Financial Officer