What to expect in a Massage Therapy Program?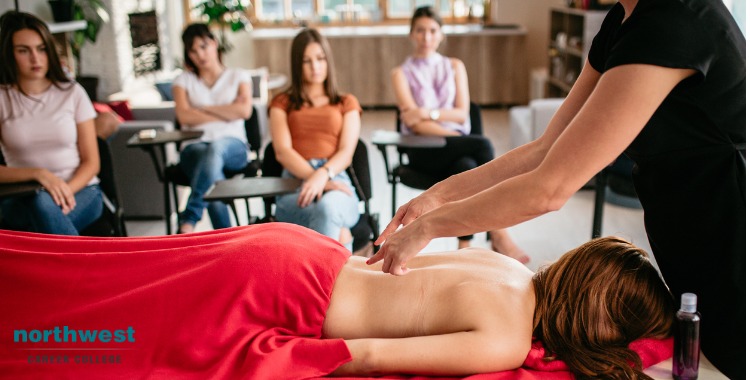 If you're considering massage therapy as a career, then it's important to know what is involved in massage therapy programs.
Massage therapists help those with pain and other physical conditions feel better by using massage techniques such as massage oils or lotions, pressure points, and gentle strokes.
In this blog post, we'll go over the basics of massage therapy programs so that you can decide whether or not this might be the right profession for you!
What is Massage Therapy?
Massage therapy is a form of healing that uses touch to manipulate the soft tissues of the body. It is used to treat pain, stress, anxiety, and other conditions.
What do Massage Therapy Programs involve?
Most massage therapy programs will teach you how to assess a client's condition, how to use massage techniques and oils or lotions, how to apply pressure points, and how to use gentle strokes. You will also learn about the history of massage, anatomy and physiology, kinesiology, and business practices.
Some massage therapy programs may also offer specialized training in areas such as prenatal massage or sports massage.
What are the benefits of Massage Therapy?
Massage therapy has many benefits.It can help with relieving pain, releasing toxins, increasing circulation and blood flow to the muscles, reducing stress levels in both client and massage therapist.
It can also help with improving the flexibility of joints and tissues through increased lubrication between them, decreasing symptoms associated with chronic conditions such as arthritis or fibromyalgia (a painful muscle condition). Psychologically, it improves mood and helps with depression.
What are Massage Therapy jobs like?
Massage therapists work in clinics, spas, or salons. They might also have private practices and travel to clients' homes for home visits/house calls. Some massage therapists work at sports clubs where they treat athletes before and after training sessions as well as during breaks if they are injured.
Massage therapists massage their patients on the floor, table, or massage chair using a variety of techniques and styles including Swedish massage, deep tissue massage, sports massage, and more. They also need to be able to use hot stones during massages for added effects such as warmth and relaxation.
What kinds of things can I expect while studying Massage Therapy?
There are a few things you can expect while you're in massage therapy school. First, your program will likely be very hands-on. You'll be learning how to massage people using different techniques and styles. In addition, you'll also learn about the anatomy and physiology of the body, so that you understand what massage can do to help your clients.
Most massage therapy programs last for about a year, and upon completion, you will be eligible to take the National Certification Examination for Therapeutic Massage and Bodywork (NCE). This is a voluntary examination offered through the National Certification Board for Therapeutic Massage and Bodywork (NCBTMB), and it is the credential that most massage therapists aim to achieve.
Once you have your certification, you can start working as a massage therapist in a variety of settings, such as private practices, clinics, hospitals, or spas. You may also want to consider starting your own business.
What should I know before applying for Massage Therapy Programs?
It's important that you're passionate about massage and helping people feel better because massage therapy is a very hands-on job where you'll be giving massages all day long. You also need to have good communication skills in order to explain the massage techniques that you're using to your massage clients, and good customer service skills so that they keep coming back!
What are some of the courses I can expect in Massage Therapy Programs?
Massage Therapy Foundation courses include anatomy & physiology, communication skills, ethics/professional practice, medical terminology for massage therapists (this course is usually taken after completing massage school), massage techniques & sequences, massage business management/marketing, and health conditions.

Other courses to expect in massage therapy programs are: massage for specific population groups (such as pregnancy or senior citizens); sports massage; oncology massage; lymphatic drainage massage; aromatherapy & reflexology.
Why NCC is the best place to study for your Massage Therapy qualification?
NCC is the only massage school to offer an on-campus massage clinic where you have the opportunity to work with real clients in a supervised setting. This clinic is open to the public and provides massage services at cost-effective rates.
In addition, NCC offers you the opportunity to learn from some of the best massage therapists in the country. Our team of experienced instructors has a wealth of knowledge and they are passionate about sharing their expertise with you.
You will also have the opportunity to learn about massage therapy business practices, so that you can start your own massage therapy practice after graduation.
Join one of the Best Massage Therapy Schools in Las Vegas today!
At Northwest Career College, we operate one of the best Massage Therapy Schools in Las Vegas, and our Massage Therapy Course will teach you the skills you'll need to apply the benefits of sports massage. 
The benefits of massage therapy are widely recognized, with employment for massage therapists expected to increase by 22% between 2014-2024, with an average massage therapist earning $39,360 a year. Additionally, many massage therapists maintain active, private practices, increasing both their flexibility and earnings. 
Our massage student clinic is open seven days a week, for both your and your client's convenience, and we offer day and night classes to accommodate your work and family schedules. 
Our instructors are experienced professionals who will prepare you to sit for either the NCBTMB (National Certification Board of Therapeutic Massage) or the MBLEX (Federation of State Massage Therapy Boards) exams, and we are proud of our 100% board pass rate. Call us at (702) 403-1592 to speak to one of our enrollment specialists today!
Written by:
Barbara Alcaraz, M.A., B.A., L.M.T.
Massage Therapy Program Chair
M. A. Organizational Management, University of Phoenix
B.A. University of Minnesota, American Studies
L.M.T. Northwest Health Careers