Choosing the Right Dental Assistant Training School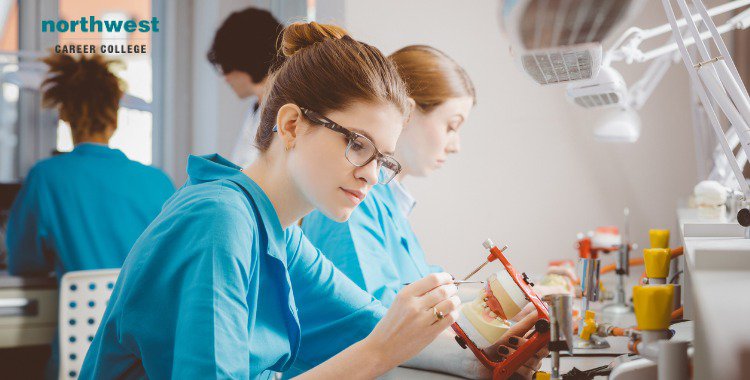 One of the hardest decisions you'll face when starting out on the road to becoming a dental assistant is choosing the right dental assisting school for you. In this article, we'll be looking at what makes a good dental assisting school and what factors you should consider when choosing one.
Do They Offer an Externship?
A good externship allows students to get a good grip on what the responsibilities of their role are in real life. They also allow for networking and mentorship opportunities that can be invaluable in establishing you in your career. 
With this in mind, you should always prioritize dental assisting schools that offer an externship. Here at Northwest, we work closely with local dental professionals to make sure that each of our students has the opportunity to spend an externship accruing vital real-world experience before they join the job market.
Do They Offer Financial Aid?
Title IV funding provides financial assistance towards the costs of education for more than 13-million students across the US every year. The U.S. Department of Education awards more than $120 billion a year in grants, work-study funds and loans to cover expenses such as tuition and fees, room and board, books, supplies, and transportation. 
Learning which grants and loans you are eligible for can be as simple as calling one of our experienced Financial Aid Officers at (702) 403-1592 today to discuss your options.
Do They Have a Career Services Team
Educating you on exactly how to function as a dental assistant is just part of getting you into the career you want. A great dental assisting school will also take an active part in finding you employment when you graduate. 
Here at Northwest, for example, we have our own dedicated Career Services team who work hand in hand with local dental practices to help secure our graduates the role of their dreams when they have finished their time with us.
Do They Offer Accreditation?
Depending on the state you are seeking employment in, you may require accreditation to work as a dental assistant. While you might not immediately require this accreditation, having it can offer greater career opportunities later in your career.
The positive benefits of becoming a Registered Dental Assistant, or RDA, are why we here at Northwest prepares our students to take their national exams as they move into their professional discipline, even though it isn't required under Nevada law.
Join One Of The Best Dental Assistant Training Schools In Vegas 
Here at Northwest Career College we firmly believe that learning is a process that continues on the job. Our Dental Assistant Training Course gives you all the key skills and experience you'll need to find the best dental assisting employment opportunity in Las Vegas. Our Dental Assistant School offers morning, afternoon and night classes to accommodate your busy work and family schedule and our established, seasoned instructors have helped our students achieve a 91% national exam pass rate. Call us at (702) 403-1592 to speak to one of our admissions assistants about your new dental assisting career.
Written by:
Cynthia Lofquist, R.D.A.
Dental Assisting Program Chair
Concorde Career Institute