America's skill shortage and your career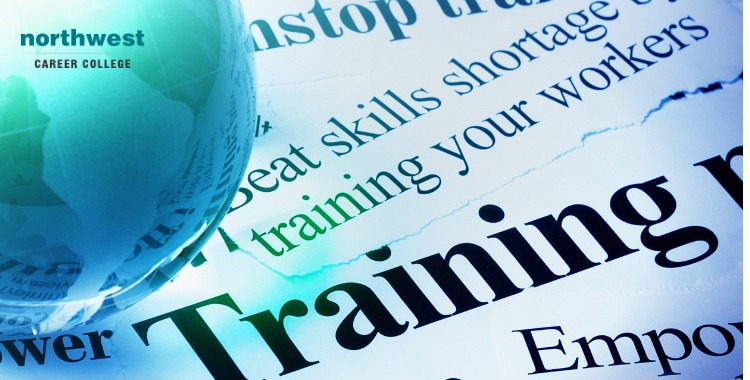 According to research done by the Department of Labor, there are currently 7.6 million unfilled jobs but only 6.5 million people currently looking for work. This has led to a so-called 'skill gap' in the American workforce, where vital jobs in the healthcare and tech industries are going unfilled.
The good news is that there is a solution to this problem and it starts with you getting the education you need to begin the new career you want.
How to Narrow the Skill Gap
One of the most commonly asserted solutions to the American skill gap is to promote more career and technical education (CTE) programs, such as the ones we offer here at Northwest. 
Many of the industries that are being affected by the skill gap are ones where you don't need a full bachelor's degree to start a career. These sectors include computer science, construction, and healthcare.
CTE programs offer the academic, technical, and employability skills needed for people to flourish in these sectors. Career-focussed education concentrates on the practical learning and application of these skills, rather than high-level theory. 
While both theoretical and practical educations have their place in modern America, the U.S. is currently lagging behind when it comes to skilled workers with a practical, technical education.
A Growing Healthcare Sector 
Because of a combination of an aging population and the ever-expanding ability of the healthcare sector to solve our medical issues, the U.S healthcare sector is booming. the Department of Labor expects the healthcare industry to add 3.8 million new jobs by 2024.
While some of those jobs will be for doctors and nurses, the majority will be for skilled technical staff, such as phlebotomists, pharmacy assistants, physical therapists, and medical assistants.
Despite the growing need for these jobs, there just aren't enough skilled graduates to fill them.
The Good News
While a lack of skilled workers for the healthcare industry might sound dire, and to some extent it is, it does open a number of opportunities. 
If you are looking for a career in the healthcare industry, but don't want to spend years in education accruing the tens of thousands of dollars in debt it takes to become a doctor, the good news is that there are multiple pathways to the career that you deserve.
At Northwest, our Medical Assisting Program offers you the opportunity to learn from established, seasoned instructors who will guide you through every aspect of medical assisting.

You'd learn about common and treatable medical disorders, cutting-edge diagnostic techniques, Pharmacology, Laboratory Procedures, infection control, and much much more. In order to give you the hands-on medical knowledge you need to set yourself apart while applying for jobs, we also offer all our students the opportunity for an externship with a reputable local healthcare facility.
The Department of Labor expects job opportunities for medical assistants to grow by as much as 19 percent from 2019 to 2029, faster than average for all other U.S occupations.
If you want to pursue a career in healthcare, but would like something with a more administrative, retail, or computer science focus, we also offer courses in medical administration, medical billing and coding, and pharmacy technician training.
All of these courses offer you value and employable skills that can help close the American skill gap while also giving you the career of your dreams. Even better, you can graduate from any of the above courses in as little as nine months!
Start Your Career In Medical Assisting Today!
Here at Northwest Career College, we have a student-focused attitude that prioritizes giving our graduates the training and skillset they'll need to excel as medical assistants. Our established and seasoned instructors work with you, teaching you every aspect of Medical Assisting. We help you build your skills, abilities, and confidence, and we are proud of our 88% national exam pass rate.
If you'd like to learn more about what our medical assistant course can offer you, call one of our enrollment specialists at (702) 403-1592 today. We provide flexible learning, with online and on-campus morning, afternoon, and night classes to accommodate your Las Vegas work and family schedule. Once you've graduated, our dedicated and experienced Career Services team will work with you to help you find the best employment opportunities in Las Vegas. Call us now on (702) 403-1592 to start your journey!
Written by:
Amanda Beardsley, C.M.A.
Medical Assisting Program Chair