Top 8 Skills To Refine As You Train To Be A Dental Assistant
August 11, 2021
521 views
5 min read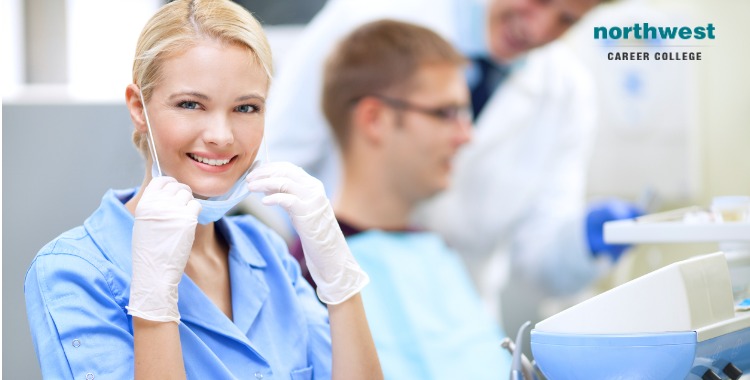 Employers are always looking for the right qualifications, but they aren't the only thing they're looking for. Today we'll be listing some of the common skills that employers in the dental sector value and that you can work on as you train for your qualifications.
Know More: Importance Of Dental Assistants In Every Practice
8 Skills To Refine As You Train To Be A Dental Assistant
Skill #1: Interpersonal Skills
This skill helps dental assistants properly interact with patients. Dental assistants must work closely with dentists and patients. Sometimes, patients are in extreme pain and/or mental stress, so the dental assistant should be sensitive to their emotions.
The dental assistant must have good conflict resolution and mediation skills which comes in handy when patients are in extreme pain or mental stress.
Interpersonal skills start with good communication skills including verbal communication, non-verbal communication and listening skills.
A dental assistant with good interpersonal skills is also a team player and works with others well in a group both formally and informally. Lastly, a dental assistant with good interpersonal skills can solve problems and make decisions, while working with others to identify, define and solve problems.
Skill #2: Listening Skills
Dental assistants should be able to listen to patients and other healthcare workers. They need to follow directions from a dentist or dental hygienist, so they can help treat patients and do tasks, such as taking an x-ray.
To be an effective listener the dental assistant must face the patient and maintain eye contact. An effective listener must keep an open mind without judging the dentist or patient while speaking in a conversation.
Lastly, an effective listener gives regular feedback to support and better understand what the dentist or patient is talking about.
Skill #3: Detail Oriented
Dental assistants must follow specific rules and protocols, such as infection control procedures, when helping dentists treat patients. Assistants also must be aware of what tasks they are allowed to compete in the state where they work.
A dental assistant that is detail oriented has a keenness to explore the topic discussed and the reasons behind the issue surrounding it. They have a proactive attitude to focus on the correcting of issues and handling daily tasks.
Lastly, a detail oriented dental assistant is patient and has determination to explore a problem or issue fully so it is resolved accurately.
Skill #4: Dexterity
Dental assistants must be good at working with their hands. They generally work in tight quarters on a small part of the body, using very precise tools and instruments. A dental assistant with good dexterity has control of their small muscles of the hand and fingers in conjunction with the eyes.
Skill #5: Professional Appearance
The dental assistant may be the first person a patient sees when going to a dentist office. Every dentist office is different however many dental assistants will wear clean scrubs. Good hygiene is important as dental assistants may work in close corroders with dentists and patients.
Consider the fact that a patient needs to trust the dental assistant in personal situations, create an appearance you would want your dental assistant to present if you were a patient at the dentist's office.

Dental assistants wear safety glasses, surgical masks, protective clothing, and gloves to protect themselves and patients from infectious diseases.
Skill #6: Organizational Skills
Dental assistants should have excellent organizational skills. They should have the correct tools in place for a dentist or dental hygienist to use when treating a patient. Organizational skills include physical, mental and time management. Physical organization includes keeping the dental workspace organized and uncluttered.
Mental organization involves keeping the dental assistant's mind organized or being a multi-tasker. Time management skills can come in handy throughout the day as patients come in and out of the dental office. Keeping patients and examination stations clean and ready for the next patient will help the dentist move from patient to patient smoothly throughout the day.
Skill #7: Basic Computer Knowledge
Knowledge of computer applications, Microsoft Office suite, average keyboarding speed and ten key are some of the basic computer skills needed to perform successfully as a dental assistant.
The dental assistant may be in charge of patient files, insurance claims and transcribing notes, basic computer skills are a must to be a successful dental assistant.
Skill #8: Passion
You have a love of assisting and take pride in the knowledge that you are a dentist's right arm and you make a difference to patients and the dental team. You have a can-do attitude and genuinely care about your patients.
Join One Of The Best Dental Assistant Training Schools In Vegas
Here at Northwest Career College, we firmly believe that learning is a process that continues on the job. Our Dental Assistant Training Course gives you all the critical skills and experience you'll need to find the best dental assisting employment opportunity in Las Vegas.
Our Dental Assistant School offers morning, afternoon, and night classes to accommodate your busy work and family schedule. Call us at (702) 403-1592 to speak to one of our admissions assistants about your new dental assisting career.