Steps To Start Your Career In Medical Administration By Training at NCC
Medical Administrative Assistant
October 12, 2021
525 views
4 min read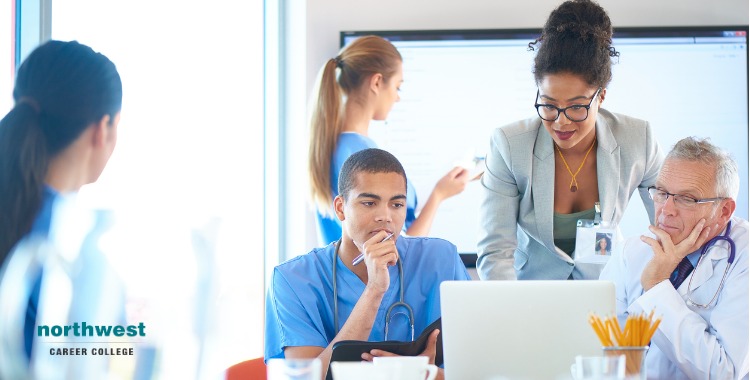 Are you interested in a career in medical administration? NCC Northwest Career College has the program for you.
NCC offers a Medical Administration Associate degree and certificate programs that cover all of the required knowledge and skills to launch your career.
NCC is a great place to start your career in medical administration with hands-on training, small class sizes, and personalized attention from our experienced instructors.
In this article, we will talk about 6 steps that you can take to get started on the path to a fulfilling career in medical administration!
Know More: Tips for Better Healthcare Administration
Steps To Start Your Career In Medical Administration at NCC
Step one: Choose the right school
The first step on the road to your dream medical administrative job is to find the right school to get your qualification from.
NCC offers an associate's degree and certificate programs that cover all of the required knowledge and skills to launch your career. We offer our students a friendly family atmosphere in which they can excel with small class sizes and friendly instructors.
Step two: Set up your schedule for success
Once you have found the right school it's time to set yourself up for success by choosing classes that fit into your busy lifestyle! NCC has day or night courses available six days per week at our campuses in Las Vegas as well as online.
We offer a fully flexible schedule that is designed to fit your needs. NCC also has a dedicated support staff that will help you register for classes and choose the right schedule for success!
Step three: Pick the right course for your needs
While we fully recommend our medical administrative course, it's not the only course we offer. NCC offers a variety of programs in addition to medical administrative including:
– Business Administration and Management
– Legal Assistant Studies
– Criminal Justice Studies
– and much more!

We recommend you look over our prospectus and make sure you choose a subject to study that really fires up your passions and makes you excited about your new career. NCC offers many courses, so you can find the one that's right for your personal goals.
Step four: Get signed up
Signing up for courses here at NCC couldn't be easier. NCC offers online registration through our website, or you can simply stop by Northwest Career College at any time during business hours.
If you have any questions about the enrollment process, just call one of our administration specialists and they will be happy to help you out.
Step five: Get ready to go back to school!
Once you've chosen a course and signed up with NCC, it's time to get started on your new career path. The staff here at NCC are here to give you as much support as possible and most of our programs include an externship so you can get some real hands-on experience to add to your resume.
Step six: Congratulations!
You've made the decision to become an NCC student, you completed NCC's medical administration training program, and are now working as an NCC graduate in that field of study.
What comes next? The sky is the limit for where you take your exciting new career and taking the first step on that path to that career is as easy as enrolling here at NCC.
Start Your Career As A Medical Administrative Assistant With Us
Here at Northwest Career College, our student-centered philosophy means that you come first. We offer a flexible schedule so you can care for your family and have a balanced life in Las Vegas while advancing toward your new career. 
We pride ourselves on being the premier Medical Administrative Assistant Schools in Las Vegas and our established, seasoned instructors offer online and on-campus night classes to accommodate your busy work and family schedule. Call us at (702) 403-1592 to speak to one of our admissions assistants about your new medical administrative assisting career.